This post may contains affiliate links for your convenience. If you make a purchase after clicking a link we may earn a small commission but it won't cost you a penny more! Read our full disclosure policy here.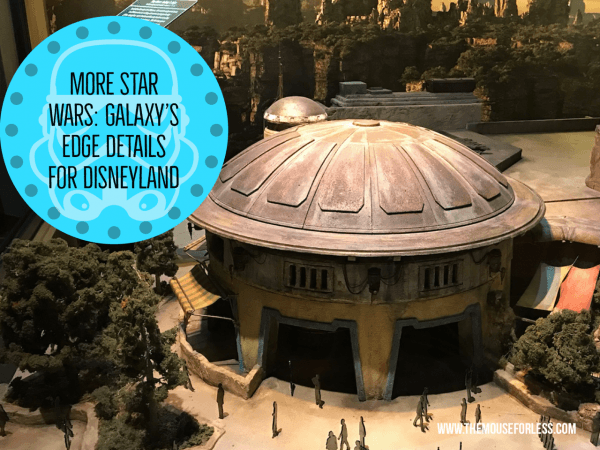 We are two weeks out from one of the biggest openings of a land ever at a Disney Resort. Star Wars: Galaxy's Edge will officially debut for Guests on May 31, but there have been a lot of questions that have arisen that I hopefully can answer.
During the Reservation Period – How Will Guests Be Asked to Leave?
Just how will people be asked to leave Star Wars: Galaxy's Edge when their reservation time is over? And how will Disney prevent those looking to stay behind?
Disneyland will be issuing wristbands to visitors for each of the four-hour windows. There will be a different color wristband that is given out for each time frame. Newly-admitted Galaxy's Edge visitors will mix in with those already in the land and then once the four hour window ends, Cast Members will turn away visitors attempting to enter Millennium Falcon: Smugglers Run attraction, Docking Bay 7, Oga's Cantina, Droid Depot, Savi's Workshop, and other shops based on the color wrist band that has expired.
To allow for Guests to be able to fully appreciate the land and experience the shops and restaurants, Disney is aiming to have those looking to ride Millennium Falcon: Smuggler's Run have a wait time of under two hours during these reservation time periods. If there is ever any downtime, accommodations will be made. Disney does suggest that Guests not race to the Millennium Falcon first thing though, and instead suggests that Guests try to get in line during the second or third hour of their reservation time. Disney suggests that Guests should take in the land overall first to disperse crowds, however, they don't want Guests waiting until the last minute to enter the line either, also.
Those looking to stay behind? They may be dealt with by patrolling First Order Stormtroopers.
Can I Use Mobile Order in Star Wars: Galaxy's Edge?
Yes! Guests looking to dine at some of the great restaurants at Star Wars: Galaxy's Edge will be able to do so via Mobile Order. (And hopefully save a TON of time in line!) Docking Bay 7 Food & Cargo, Ronto Roasters and the Milk Stand will offer mobile ordering via the Disneyland app. Do know that during this initial reservation period, you will need to be in the land to actually be able to order your food.
How does mobile order work? To place a mobile order, download the Disneyland app and make sure you've added a credit or debit card to your account. You'll then need to choose your dining location, select an arrival time and place your order from anywhere inside Galaxy's Edge. Once you get to the restaurant, press the "I'm Here" button found on the app and the kitchen will start preparing your order. When your food is ready, the app will then send you a notification. You'll then be able to skip the line and be able to head over to the Mobile Order pick-up window.
There are two locations where mobile order will not be available – Oga's Cantina and  Kat Saka's Kettle popcorn stand.
What Happens After the Reservation Period Ends on June 24?
Guests looking to enter Star Wars: Galaxy's Edge beginning on June 24 will need to partake in a virtual queuing system, by procuring a free boarding pass. How will that work?
First, early morning visitors will not have to have a boarding pass. Instead, they will be able to head directly into the land.
As the day progresses and as the land fills, Guests should check their Disneyland app. A status bar will be shown and will notify visitors when Galaxy's Edge is full and when a boarding pass to enter will be required. Once you have your boarding pass, push notifications will be sent out when it's time to enter the land. Once visitors are notified that via push notifications that their boarding pass time is available, they will have two hours to show up to enter the land.
Don't worry if you don't have a smartphone. Kiosks will also be found throughout the park and they will issue paper boarding passes to visitors.
In order to procure this boarding pass, you must be inside the park.
Disneyland will be introducing the boarding pass option because it will allow visitors to explore Disneyland's other attractions, restaurants and shops while waiting to experience Galaxy's Edge without having to stand in an extremely long line waiting to enter Star Wars: Galaxy's Edge. (Like Guests had to do with the opening of Pandora – The World of Avatar or Toy Story Land.)
Once the land opens on June 24 to all Guests, there will be no time limit on how long a Guest may spend in Galaxy's Edge.
The virtual queuing system will no longer be offered when crowds for the land die down.