This post may contains affiliate links for your convenience. If you make a purchase after clicking a link we may earn a small commission but it won't cost you a penny more! Read our full disclosure policy here.
Not familiar with Batuu, Black Spire Outpost, who drinks at Oga's Cantina, or where Kat Saka's grain comes from? Then let Star Wars: Galaxy's Edge A Crash of Fate introduce you. A Crash of Fate is a young Adult book written by Zoraida Córdovam as part of the Galaxy's Edge media project.
Galaxy's Edge A Crash of Fate is a fun book with a decent plot that brings in the characters and places of Galaxy's edge naturally. There is a fun story that holds up despite its corporate inspiration and the Young Adult categorization.
The Galaxy's Edge A Crash of Fate story
Izzy and Jules were childhood friends who grew up in the farmlands around the Black Spire Outpost. The only neighborhood children, they became fast friends, adventurers who dreamed of adventures soaring between the stars. In the middle of the night Izzy family packs up and leaves Batuu forever.
Thirteen years later Izzy returns as a smuggler only to run into Jules at Dok Ondar's. Steadfast Jules remained in Batuu dreaming of the stars but pulled toward home. Jules and Izzy, who's ship is being repaired, spend their days together attempting to deliver Izzy's package as they move about the outpost and its environs. Along the way they tour all of Galaxys Edge and meet all the key characters.
Can Izzy overcome her past to accept Jules love? Will Jules realize just what he was waiting for? Will they ever be able to deliver the package? While the reader wrestles with these questions Izzy's former smuggling boss arrives with plans of her own for Galaxy's Edge.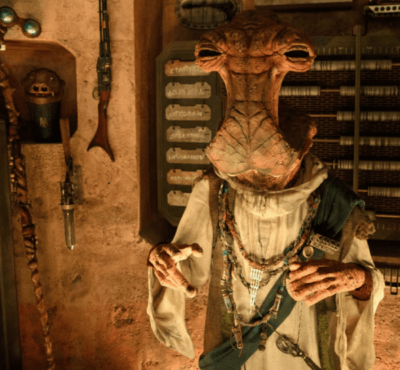 Galaxy's Edge A Crash of Fate Delivers on the Media Project Goals
Galaxy's Edge takes place on Batuu, a planet barely mentioned in any of the Star Wars movies, books or comics. This is in direct contrast with Universal's Harry Potter which interprets places well describes in the books and movies. As such, Galaxy's Edge is both familiar (a Star Wars location) and unfamiliar (a new Star Wars Location). Disney is working with a variety of authors to create works that close that gap. The book is the first released in this effort.
Any author writing a book commissioned by an enterprise must strike a balance between the corporate goals and the literary aspects of the book. I can imagine that Disney gave Zoraida Córdovam an extensive list of items to mention and the background required. I give Zoraida Córdovam credit in that she managed to deliver an engaging story while ticking of each location and person on Disney's list.
The resulting book is equal parts travelogue, Batuuan history and intergalactic love story and mystery. Zoraida Córdovam seamlessly integrates each of Disney's requirements without being heavy handed or diminishing her story. As such, Galaxy's Edge A Crash of Fate is both a fun read and a great way to introduce yourself to Galaxy's Edge before you go.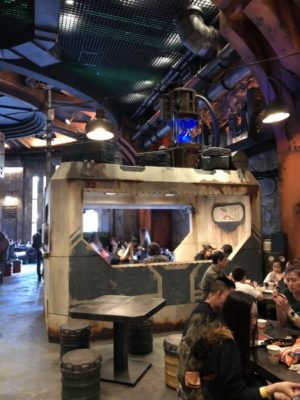 How this fits into the Galaxy's Edge Canon
Galaxy's Edge A Crash of Fate takes place between movies eight and nine (The Last Jedi and The Rise of Skywalker) just like Galaxy's Edge itself. However, the book takes place just prior to the period Galaxy's Edge is set in.
Shortly before the book opens  the Imperial Stormtroopers from the 709th, Red Fury arrive on Batuu.  The Resistance forces are rumored to be nearby. The battle for the hearts and minds of the Batuuans has begun.
For citizens of Disney's Galaxy's Edge reading the book would be akin to reading last month's news magazine. Not quite up to date but really good at letting you know what all the locals have been up to recently. Dok Ondor, runs more of a pawn shop than an antiquities store and is someone that no one wants to mess with. Kat Saka is a farmer outside of town raising grain praised throughout the quadrant.
A Word of Warning for Parents of Younger Young Adult Readers
Galaxy's Edge A Crash of Fate is an intergalactic love story. While the book remains true to Disney values concerning physical activity, some of the romantic thoughts veer more toward Touchstone. Izzy and Jules are 18 and 19 with thirteen years of pent up desires. At times the author stands at the edge of young adult acceptability.
Have you read Star Wars: Galaxy's Edge A Crash of Fate? What did you think? Let us know your thoughts in the comments, or on Facebook or Twitter!
Did you like this article? Make sure to share it with your friends! Check below for easy ways to share!
Want to visit Star Wars: Galaxy's Edge? Contact The Magic for Less Travel for more information and a free, no-obligation quote.