This post may contains affiliate links for your convenience. If you make a purchase after clicking a link we may earn a small commission but it won't cost you a penny more! Read our full disclosure policy here.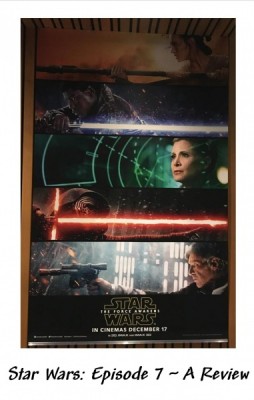 It was the 28th of May, 1977.  I was a normal 9 year old in the movie theater with her parents.  The lights dimmed and the trailers ran.  Then the screen went black; stars appeared and those famous words:
A long time ago, in a galaxy far, far away…
And my world opened.  I loved Episode 4: A New Hope.  It and a steady feed of Lucas/Spielberg late 70's and 80's movies formed my love of the adventure and sci-fi genre.  I enjoyed the next two installments of the Star Wars franchise and waited in line to be one of the first to see what George Lucas and his cast had prepared for me.  But the original movie was not beloved by all.  One headline that I read recently from the time says that Star Wars was 'one for the kids' and that the movie was never going to amount to much.  Well, not every reviewer can be on the same page with the audience.
It was with great excitement that I went to see the second trilogy when it hit the screens in 1999 and the 2000's.  Like many Star Wars fans, I felt let down by those movies.  I cannot point to any one thing that I disliked about episodes 1, 2, and 3 (okay, it was Jar Jar Binks) but they just did not shine like episodes 4, 5, and 6.
Feeling this way, what is the Star War fan to do when another trilogy is planned?  Honestly, I would not have gone if one faithful word had not been attached to the project…Disney.
'But aren't you afraid that they [Disney] will just make it into a princess movie?' my friends asked.  That was never a concern for me.  I knew that the amazing minds behind the Disney corporation would help to bring a true Star Wars feel to the screen for me.  When I heard that JJ Abrams was directing, I was thrilled.  So, I dutifully ordered my tickets as soon as I could for the midnight showing of Star Wars: Episode 7 – The Force Awakens.
The Force Awakens is now the largest grossing picture over the past two weekends.  No one should be surprised by that.  Just in the pre-ticket sales alone, it should have done well and Disney is amazing with its ability to conjure up buzz about new projects.  But hype aside, how was the actual movie?
Well, in that galaxy far, far away…not that long ago, I watched a new chapter unfold.  I was not disappointed.
The cinematography in this movie is breathtaking and harkens back to the original trilogy with actual, spectacular locations used.  And that is a theme that is carried throughout the movie – real.  Rather than using digital effects for everything, JJ Abrams brings back full sets, theater pyrotechnics, spectacular stunts, and puppets!  And who does not love a good alien puppet?
Most of your old favorites come back in cameos, at the very least.  The new characters have been cast well and with people who can actually act.  John Williams is back composing the musical score – so expect that full Star Wars experience there.  The sound foley was on point as well – both with some of our old favorites (lightsaber, tie fighter, and blasters) and new sounds we will come to love and associate with the franchise.
The story has a plot and developed storyline that works both on a single movie arc and also as the first of a new trilogy.  With Disney openly stating that they have thrown out the old canon of the Star Wars universe, we can only guess where we are going to go with this story.
For those who would like to journey to the faraway land in 3D, the understated effects in this movie are executed well.  3D has never really been my cup of tea, so I liked the 2D version better but your mileage may vary.
For those who are wondering if they should take their children, have a look on the IMDB website for an outline of subjects in the movie (be warned that this is a list of spoilers).  In the US, the rating is PG-13 (the UK rating is 12A and the Australian rating is M).
Ultimately, if you are a Star Wars fan, go see this movie.  And may the force be with you.
Have you seen The Force Awakens? Were you happy with the film?