This post may contains affiliate links for your convenience. If you make a purchase after clicking a link we may earn a small commission but it won't cost you a penny more! Read our full disclosure policy here.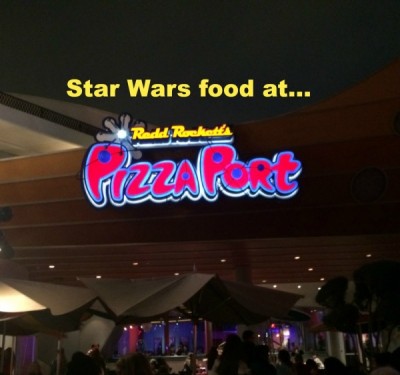 Redd Rockett's Pizza Port in Disneyland Park
Every once in a while, even a careful Disney veteran like myself makes a critical planning error. In this case, it was making a silly assumption that we'd be able to stroll into a table service restaurant in Downtown Disneyland on a Saturday at 5:00 p.m. and get a table. I know, I know. What was I thinking?
At any rate, we wanted food, we wanted it fast, and we didn't want to miss our next FastPasses. So we headed to the nearby Redd Rockett's Pizza Port for dinner. I had just been here in September and found the food to be decent if nothing special.
Imagine my surprise to see something new on the menu  – a bunch of new items, in fact – and many of them themed to Star Wars! I love salads, and under usual circumstances I would have picked the Fields of Naboo Salad. But tonight it was unusually cold in Southern California, and I was looking for something to warm me up.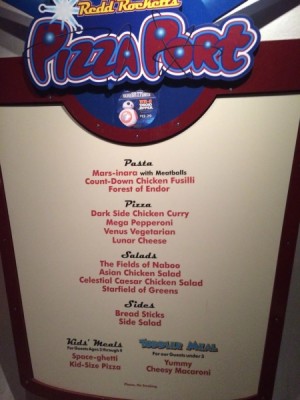 Look at that cute BB8 Droid Sipper!
So I decided to try the Forest of Endor Pasta, which was tossed to order. The pasta was cooked al dente, and the vegetables tasted fresh. The big surprise was the generous helping of red pepper flakes. I love red pepper, but if you are turned off by spicy foods, you may want to see if they can make you this pasta without it. It definitely had a spicy kick.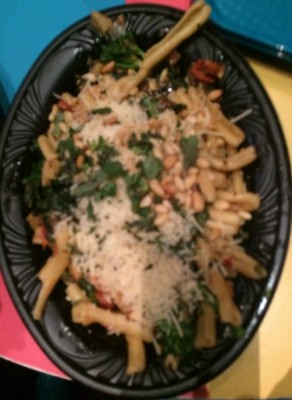 Forest of Endor Pasta
For dessert, I was intrigued by the two Star Wars themed items in the refrigerated case, Darth by Chocolate (a parfait of red velvet cake, chocolate mousse, and ganache) and the Chewbecca Cheesecake (topped with an edible Chewbacca face).
But, once again, the thought of eating something cold on this chilly night did not thrill me, so I went for the BB8 Rice Krispie Treat. This was quite large and I shared with our table. It's sweet, chewy, and crunchy, just like a classic Rice Krispie Treat. Inside there were M & M's which gave it even more sweetness. These come individually wrapped so if you're concerned about food allergies, you can read the label.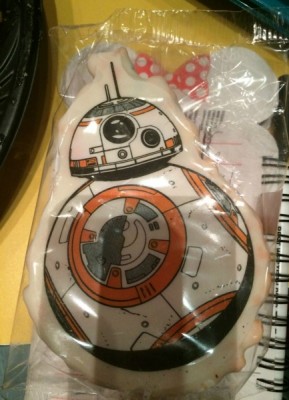 Almost too cute to eat!  ALMOST.
Once again, I went into a Disney restaurant expecting pizza and junk food, and was pleasantly surprised by a hearty meal at Redd Rockett's Pizza Port. I hope I can get back here on a warmer day so I can try that Naboo Salad!
Have you stopped and had a galactic meal at Redd Rockett's Pizza Port with this new Star Wars-themed menu. Let us know your thoughts in the comments!
Incoming search terms:
https://www themouseforless com/blog_world/star-wars-dining-redd-rocketts-pizza-port/