This post may contains affiliate links for your convenience. If you make a purchase after clicking a link we may earn a small commission but it won't cost you a penny more! Read our full disclosure policy here.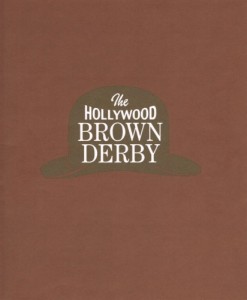 Earlier this year, Chris and I had the chance to take a trip with my Dad and my brother.  We rarely have a chance to get my Dad to Disney, and he isn't the biggest fan of it.  Actually, he says he isn't when he's not there, but when you get him to Disney, he's very into it.  Anyway, our trip happened to fall over Easter weekend, and we had some planned dining, but ended up lucking into one of the most amazing memories of our trip.
While in the Hollywood Studios, we had done Toy Story Mania, and we had Fastpasses for later in the day.  Chris and my brother both were planning to ride Tower of Terror and Rock 'n Roller Coaster (I get my ride weenie-ness from my Dad) but it was approaching noon, and it was hot, and we were tired, so we decided to stop in to see if, by any chance, Hollywood Brown Derby could fit us in as a walk-in.
It was around 11 am, so before the restaurant was officially open, but Dad and I headed in while Chris and my brother headed off to a ride.  There was a Cast Member there, and we asked if they could squeeze us in.  She told us that it wouldn't be a problem, and then started doing a lot of typing.  I was a bit confused, as it was a LOT of typing, but then she looked up and asked if we wanted to be the Family of the Day.  She explained to us that we would be treated as celebrities and taken out front for a photo shoot, and then brought back inside for another photo op, followed by a ribbon cutting ceremony, and then we'd be escorted to our table.
I should note at this point that my brother is quite easily embarrassed, so after looking at each other, we said, "Sure! He'd LOVE to do it!"  (This is why you never leave Dad and I alone, we're devious like that.)  The Cast Member had some questions for us, and this is where it got a bit confusing.  She asked for my name, and I gave it to her.  Then she wanted my Dad's name.  She gave him my last name, and we figured we should just leave it alone.  Then she asked how old our kids were.  We were like, well, they're not OURS, but, they're 23 and 32.   Finally we had all the names settled, though everyone was a Johnson, and Dad and I were able to go sit and wait.
Chris and my brother returned and we were able to taunt them with the news.  Not for long, though – soon it was show time.  A manager came and got us, and made a huge show of getting us and clearing a path for the "celebrities". She took us outside and down to the end of the canopy, where we had a group shot and an individual shot, then we came back inside (with much fanfare), and did a few more shots, before the ribbon cutting.  Then there was a confetti parade to get us to our table, and we were the first people seated.
At the end of the meal, we were presented with a custom photo album detailing our experience.  It was an interesting thing to be chosen for and a totally random bit of a magic!