This post may contains affiliate links for your convenience. If you make a purchase after clicking a link we may earn a small commission but it won't cost you a penny more! Read our full disclosure policy here.
From Our Magically Speaking Newsletter Archive – subscribe today!
By Roye Ann Morris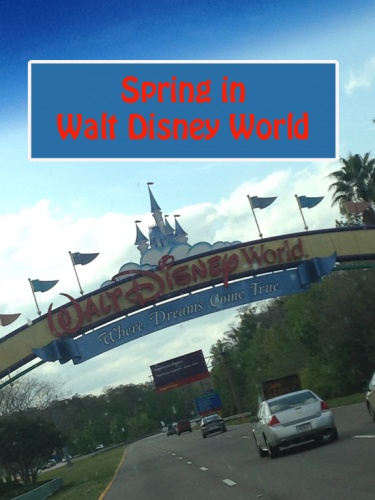 Our family of 6 spent the second week in March at the Walt Disney World Resort. In spite of the predicted crowds, we found most rides easy to get on, with waits of less than 20 minutes for all but the biggest headliners. As I looked back on our trip last week, the old wedding rhyme seemed to fit well with all the pieces of our trip!
Something Old
Although it's something I've done more times than I can remember, walking through the gates of any of the parks never gets truly old. It's more a feeling of coming home; the comfort of knowing where things are, my favorite places to eat or crowd-watch, the best way to get around the parks, the familiar sights and smells. We rode all our favorite rides, ate at some of our favorite restaurants, and watched the shows and fireworks we all love.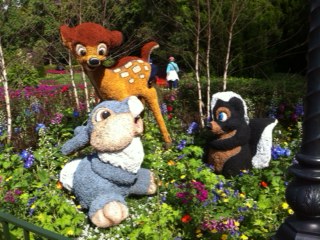 The Flower and Garden Festival is one of our favorite times of the year, and as always, the beautiful blooms were a welcome relief from winter. It was good to see that Peter Pan was keeping an eye on Captain Hook!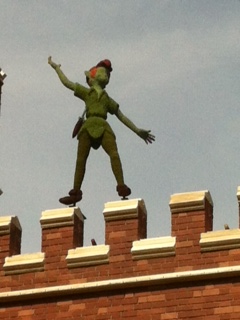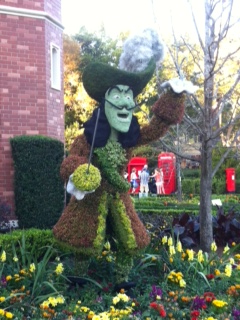 Another place that felt like home was the condo we rented for the week. When we go with the whole family, it makes more sense to stay off-site, not only for monetary reasons, but also for the extra room. This was our second stay at this particular resort, and having 3 bedrooms, 3 bathrooms, and a full kitchen was perfect for us. An added bonus was that it only took about 5 minutes to drive from our door to the parks.
We were also able to experience some things we had not done before, which leads me to:
Something New
One of our new family favorites is the Seven Dwarfs Mine Train! The ride was so much more than I expected, and every tiny detail made me and my family smile or catch our breath in wonder. We rode after dark, and the outside portions of the attraction were beautiful at night. I had read that the cars at the back of the train get the most motion during the ride, and we certainly found that to be true. In fact, my husband, who rode in the very last car, thought it was more thrilling than Big Thunder Mountain! I actually preferred the smooth motion of the Mine Train and its theming to any other coaster in the Magic Kingdom! It's a fairly short ride, but worth every second.
We were able to accomplish all we wanted to do in one day at the Magic Kingdom with the short waits and good use of our FastPass+. About 20 minutes before the fireworks started, we found an uncrowded place to sit on the low wall of the entrance to the New Fantasyland. It turned out to be an amazing view of the fireworks, although a bit different from what we were used to. Standing between Cinderella's Castle and the Beast's Castle, the fireworks were being launched on both sides of us. It was neat to feel like we were right in the middle of the show.
And to add to the magic, the cast members who were beside us were directing the action like the conductors of an orchestra! They knew exactly which side the next shower of light would come from, and were entertaining everyone around. There were a few kids, one in a wheelchair, who were particularly impressed with their magic! After the fireworks ended, I saw one of the cast members down on his knees talking to the children. Just another way they go over and above to make a special moment for a guest.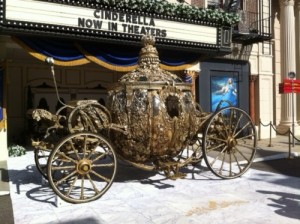 At Hollywood Studios, we made our way to the golden coach from the new Cinderella movie, on display for the spring. We decided not to stand in the long line for a picture, but it was fun to watch as each girl was handed a glass slipper on an elegant red cushion to pose with in front of the coach.
Our final something new was a meal at Spice Road Table, the new restaurant in the World Showcase. It's located in Morocco, with outside tables right on the lagoon and tables indoors in front of huge windows, perfect for watching Illuminations. Each of our party ordered a different small plate, and we all shared and tasted each one. I don't think there was anything we were disappointed with, although be prepared – the food is spicy! We will definitely be going back, hoping for an outside table to enjoy the fireworks.
Something Borrowed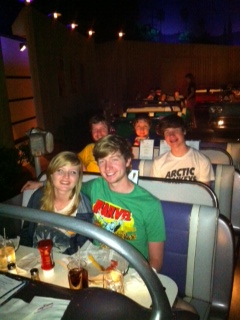 On our final day, we went to Disney's Hollywood Studios. After riding and watching all our favorite attractions, we 'borrowed' a sky-blue convertible and had lunch in it at Sci-fi Dine-In Theatre. Our waiter was amazing! He took time to ask us where we were from, where we were headed and what our favorite part of the day had been. When he learned that we all loved Toy Story Midway Mania, he took the time to tell the kids about some of the 'Easter Eggs' hidden in the games. Now we can't wait to go back and try to find them! The food was good as always; I branched out and got the Rueben and was pleasantly surprised at how much I liked it. Everyone else stuck with the burgers, and there were no complaints. Too full for dessert, although some of them sounded tempting, we made our way to the exit. Which, sadly, brings me to:
Something Blue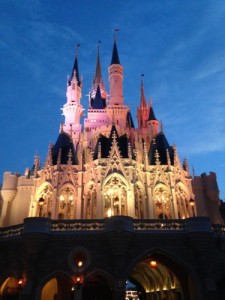 And that would be me, and the rest of the family, as we started the long drive home. Sure, it's all fun and games till you have to leave, and your GPS gets lost in the maze of roads and tollways around Orlando. Maybe she (we call it she because she recalculates so often!) didn't really want to leave, either! But we finally figured it out, and waved our goodbyes to the magic of Disney. It is hard to leave, no matter how tired we may be, but there is always the hope of another trip in the future. I think I'll start planning it tomorrow!
Magically Speaking Featured Article
Library of Congress ISSN:1556-3863