This post may contains affiliate links for your convenience. If you make a purchase after clicking a link we may earn a small commission but it won't cost you a penny more! Read our full disclosure policy here.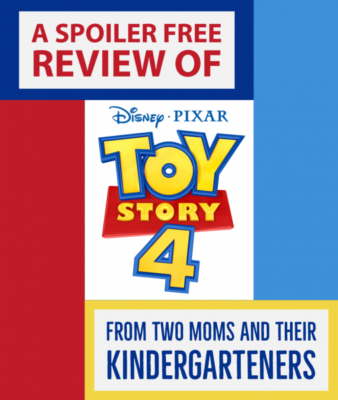 We last saw Woody, Buzz and the gang at Bonnie's house 9 years ago. It seemed like the perfect ending to the Toy Story trilogy. Andy found a perfect home for his childhood friends and everyone was happy.
I was surprised when Disney announced that the toys were back in town. I didn't know how to feel. But, you can bet I jumped on the opportunity to see the movie a week early during a D23 member screening.
My 5 year old son and I invited his 6 year old friend and mom for a mommy-son movie date. Here's a spoiler free review of Toy Story 4.
So did you like the movie?
Both boys – YEAH!
Both moms – Yes, it was really good.
Who was your favorite character and why?
5 year old (L) – Ducky and Bunny! I don't want to say why…
6 year old (B) – Forky! I don't know why.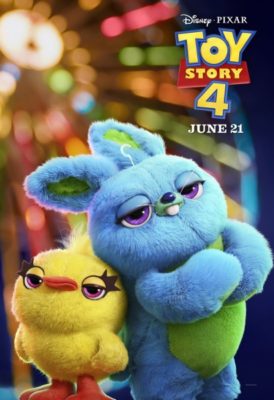 @ToyStory
Did you think Ducky and Bunny were funny?
L – Yeah, super!
B – Yeah they were funny.
Moms what did you think about Ducky and Bunny?
Mom of 5 year old (Me) – I was kind of concerned that they were a little scary at times with the way their imagination worked, but the boys seemed to enjoy them.
Mom of 6 year old (H) – Yeah they seemed fine with them.

©movies.disney.com/toy-story-4
B, I know that Forky was your favorite character. L, did you like Forky too?
L – Yeah, He was my 3rd favorite character. Ducky, Bunny then Forky.
Moms how did you feel about Forky? He seems to be a character that Disney is really advertising in the stores and on TV.
Me – He grew on me. I think he ended up having a good story.
H – He was cute and good comic relief. He was definitely different, but they did a great job developing his character into something that worked.
Me – But why did he want to go to the trash so much?
H – Because that's what he knew and what he was comfortable with. He didn't know any different.
Me – Mind blown! That is totally true!
Moms, who was your favorite character?
H – I think Bo Peep. I liked how strong and independent she was.
Me – I agree. I really liked that they told more of her story and made her a strong female lead. But she was also there for Woody and understanding of his feelings.
Did you think there was anything inappropriate for young children?
Both moms – No, I don't think so. I didn't notice any inappropriate language or scenes that I wouldn't want my young child to watch. The ventriloquist dolls were kinda creepy but the kids didn't seem to think anything of it. There were a couple jokes that the kids didn't get, but not because they were inappropriate, just geared to an older audience.
H – I will let my 3 year old daughter see it and I think she will enjoy it. I think Toy Story 3 had more intense moments and this was fairly tame for young kids.
Did you cry?
Boys – no
H – I got teared up.
Me – My kid started moving around and getting antsy at the emotional parts so I didn't really get the opportunity to cry.
Moms, do you think people will need as many tissues as Toy Story 3?
Both moms – No, definitely not. But it was still sweet.
L why were you so squirmy? Were you bored?
L – I just needed to stretch, I don't think it was boring. I liked it.
As a mom, what hit home with you the most?
Me – Comparing Bonnie going to kindergarten with our boys going to kindergarten. I want them to make new friends and feel excited.
H – Yeah, I wish they had made the idea of going to kindergarten more positive but I understand that is how Forky came to be. I liked the lessons of strength, independence and realizing that sometimes your meant for bigger things.
Me – Wow, that is profound! Yeah, they really did a great job with showing that didn't they?!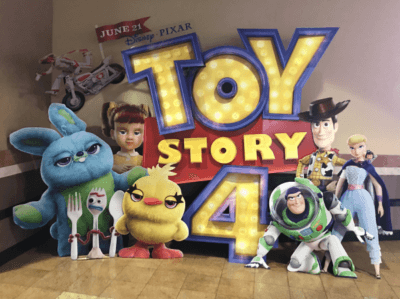 So are you glad they made a Toy Story 4 or should they have stopped at 3?
Boys – Happy!
H – Toy Story 3 was so good and ended so well. I love the Toy Story characters so I am always excited when there is something new with these characters. I think they did a good job with this movie and they exceeded my expectations. It kept me very entertained and I am glad they made it.
Me – I was excited to see these characters again but I didn't want them to ruin the franchise. Toy Story 3 was soooo good, so I was nervous. But I don't think they ruined the franchise, I think they added to it. It was very good.
Should people stay to the end of the credits?
All – YES! The very end!
Notes from me:
Keep your eyes peeled for some great Disney Easter Eggs, like Boo from Monsters Inc, a Grape Soda pin from Up and so many things in the Antique store!
This movie is a must see for any Toy Story fan, kid, or kid at heart! I say it is a summer must see!
Are you looking forward to seeing Toy Story 4? Let us know your thoughts in the comments or on Facebook or Twitter! 
Did you like this article? Make sure to share it with your friends! Check below for easy ways to share!
Want to visit the Walt Disney World Resort? Contact The Magic for Less Travel for more information and a free, no-obligation quote.