This post may contains affiliate links for your convenience. If you make a purchase after clicking a link we may earn a small commission but it won't cost you a penny more! Read our full disclosure policy here.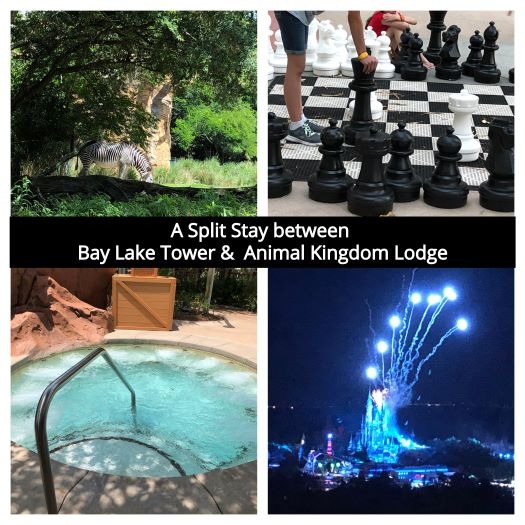 A week long trip to Walt Disney World is something that I try to indulge in once every few years- but there's no perfect resort that's close to every park.  So rather than pick a resort that is central to everything, I decided to indulge in my first ever split stay- two nights at Bay Lake Tower and five nights at Animal Kingdom Lodge.
What is a Split Stay?
A split stay is where you select two resorts and split your time between them.  This allows you to enjoy the amenities and location of two different resorts.  For some trips, this could mean staying in a value resort for the majority of the trip and then splurging for a deluxe resort for a few nights.  Or it could be a stay at two different moderates.  Realistically, it could be any trip where you stay at two or more resorts.
There are a few things that you need to know before committing to a split stay.  Your room will more than likely not be ready for you at the second resort when you checkout of the first resort.  You can leave your bags with bell services and take them yourself to your new resort, or allow bell services to move them for you.  Just realize that much like Magical Express, your bags will take several hours to go between resorts, so they may not be at your new resort when you want them to be.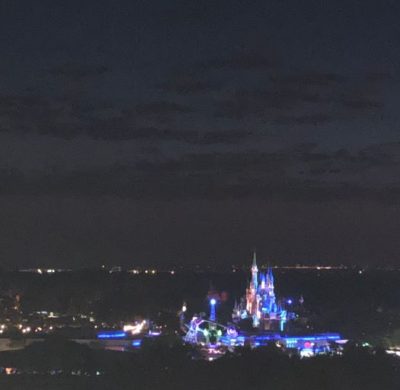 Why these two resorts?
My original aim was a three and four night split, but availability drove the decision of two nights and five nights.  I picked Bay Lake Tower due to its proximity to the Magic Kingdom, and Animal Kingdom Lodge due to its closeness to Animal Kingdom.  These two parks were our primary focuses this trip, so picking these two resorts made the most sense.
My experience moving resorts
We chose to pack up our luggage, and leave it with bell services while we spent the morning in Magic Kingdom.  I had specifically scheduled a lunch at Sanaa for 3:00 p.m. so that by the time our meal was over, our room should be ready.  At the end of our time in Magic Kingdom, we went back to Bay Lake Tower, picked up our luggage, and called a Lyft.  Our driver was there in under 3 minutes, and he delivered us directly to the lobby of our resort.
We left our luggage with bell services while we ate our meal, and by the time we were done, our room was ready.  With the magic of Disney's MagicBands, we were able to bypass the front desk and go straight to our room.
Pros of a Split Stay
There are several positives of a split stay.  First of all is budget. I would not have been able to afford to stay at Bay Lake Tower for my whole trip, but two nights was something I was able to fit in the budget.  The split stay allowed me to experience a monorail resort that I would have otherwise been unable to.
I was also able to enjoy short commutes to two different parks, along with the different atmosphere of two resorts.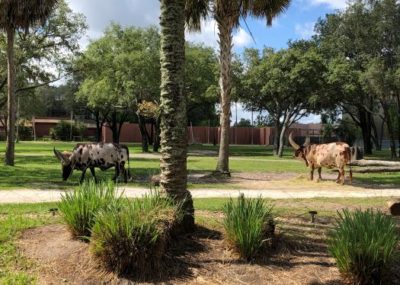 There are a few negatives to a split stay.  The largest is having to pack everything up and move rooms.  If you are someone, or someone in your party is the type that brings a lot of stuff, a split stay may not be for you.  This is mostly due to the time factor involved with unpacking, re-packing, and then unpacking everything.  Also, your new room may not be available until check-in time.  So if you are a park goer that wants an afternoon nap, you may want to take into account that your new room may not be ready until check-in time.
Would I do it again?
Without a doubt, yes, but only on a longer trip such as this one.  In my opinion, a trip shorter than five nights is too short to make a change in resort a good use of time.  I especially enjoyed the closeness to the two parks, making quick trips into the park to just do two or three things something that was easy to do.
Most of all, consider in your situation if the pros outweigh the cons.  If they do, then a split stay might be perfect for your next trip.
Have you done a split stay before? Let us know your thoughts in the comments or on Facebook or Twitter! 
Did you like this article? Make sure to share it with your friends! Check below for easy ways to share!
Want to visit the Walt Disney World Resort? Contact The Magic for Less Travel for more information and a free, no-obligation quote.

Incoming search terms:
https://www themouseforless com/blog_world/split-stay-bay-lake-tower-animal-kingdom-lodge/