This post may contains affiliate links for your convenience. If you make a purchase after clicking a link we may earn a small commission but it won't cost you a penny more! Read our full disclosure policy here.
Everyone talks about the four mountains in Disney World: Space Mountain, Big Thunder Mountain, Splash Mountain, and Everest.  But nobody talks about the fifth and sometimes scariest mountain of them all: Mount Washmore. Mount Washmore is located right in your resort hotel room.  It starts out as an empty space in a designated area of your room, and it grows day by day into a heaping, stinking mass of sweaty touring clothes that threatens to take over the place! Conquering Mount Washmore takes real fortitude, and sadly for this mountain there is no such thing as a FastPass.
Some people skip this mountain altogether because for them being on vacation means no chores – no cooking, no cleaning, and definitely no laundry.  But airlines are charging more and higher luggage fees all the time so packing more can get expensive, especially for large families.  There is also always the potential for unforeseen wardrobe emergencies to arise requiring an otherwise unanticipated use of a washer and dryer.  Those Mickey Bars melt fast in the hot Florida sun, after all! If you have a late flight on departure day and want to spend the day by the pool,but don't want to pack wet bathing suits in your luggage, you might want to use dryers in the laundry facility of your resort.  And even if none of the above applies, there's something wonderful about returning home with a suitcase full of clean clothes and not having to spend the whole first day outside the glorious Disney World bubble doing laundry.
Rethinking that plan of skipping this Mountain??  Read on about laundry services at Walt Disney World Resort and your options for how to conquer Mount Washmore while in the World.
Guests staying in a Deluxe Villa with one or more bedrooms have the most convenient of all laundry services at Walt Disney World Resort: an in-room washer and dryer.  It doesn't get more convenient than that, to be honest – pop a load in before you head out for the day, swap it over when you get back, and voila!  Clean laundry! But for guests not staying in this type of accommodation, there are still laundry services at Walt Disney World Resort that save both time and effort while still getting the job done without impacting a busy day of park touring and other vacation fun.
One of the laundry services at Walt Disney World Resort allows guests to pay for their laundering to be done by the resort, an option called valet laundry service; this service also provides dry cleaning options.  In each resort room, guests will find a laundry bag along with a form to fill out indicating their requests.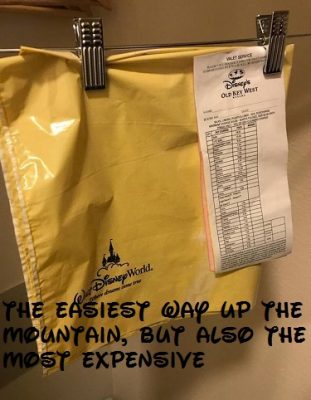 Photo credit: Rikki Niblett
This is certainly a convenient, nearly effortless option.  But it's also an expensive one!  At the time of this writing, valet laundering costs $6.00 per shirt, $7.00 per pair of shorts, and things like underwear and socks were $2.50 a pair!  Timing is also a concern with this service; in order to have your things back by the end of the day (7pm), they often must be picked up by 8:30a.m.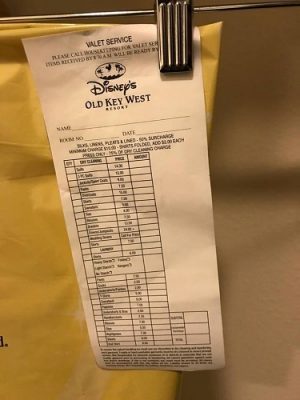 Guests complete a laundry slip to indicate their laundering needs.  Photo credit: Rikki Niblett
Another, of the laundry services at Walt Disney World Resort is far more affordable, but requires a little more effort.  I use this option every single trip and I just love it!  Guests staying at Walt Disney World Resort hotels have the option to use the on-site facilities at their resort.
Each resort has at least one to as many as fourteen (Fort Wilderness) laundry rooms, each with several washers and dryers apiece, and usually conveniently located near the pool and quick-service dining making it possible to toss a load in and go for a swim or a bite to eat without going very far.  The cost at the time of this writing is $3.00 per washer and $3.00 per dryer (which gives you an hour of drying time, more than enough I've found) and guests pay with credit or debit cards at a user-friendly kiosk located near the bank of machines.
Here's how it works: choose a machine and load your clothes in, adding laundry soap or dryer sheets as normal.  In case you did not bring your own laundry soap, single-use packages are available for purchase in each laundry room.  Close the door and head to the nearby kiosk.  Swipe your credit or debit card and select "Washer" or "Dryer".  A menu of available machines (those not currently running or recently completed) will pop up; choose the machine you loaded your clothes into and press "OK".  If you are using more than one machine, you can then select "Add Washer" or "Add Dryer" as applicable.  Follow the same steps to add that second and all subsequent machines.  Press "Finish".  The kiosk will prompt you to go back to the machine to select the appropriate washer or dryer cycle for the articles of clothing you are laundering.  This is important!  The cycle will not start until you have completed this step! Once you do that, the machine will lock and start.
If you're like me, after you've put your wash in you'll head over to the quick service and get yourself some coffee and go for a nice walk around your resort while you sip.  I tend to do my washing in the early morning; by nature I rise earlier than my family and I enjoy the quiet of a resort that is just beginning to wake up for the day.  Washers take just a bit more than a half hour – 36 minutes to be precise – which is just enough time for a little walkabout.
Can't remember when you put the wash in?  No worries!  LaundryView lets you select your resort and laundry room to see which machines are in use and which machines are available.  Here's a screenshot of which washers and dryers were in use and which were available at Animal Kingdom Lodge – Jambo House in the Zebra Trail 1st Floor Laundry Room at the time this blog post was written: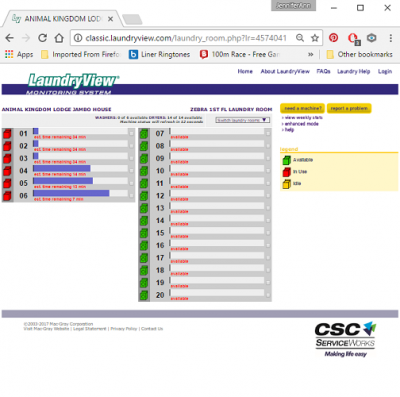 LaundryView lets you see which machines are available at your resort hotel.
You can refer to LaundryView as you're out on your walk to keep track of your machine and how much longer you have until the cycle is complete! LaundryView is also super handy if you are doing laundry at more peak times and want to know before you make the trip to the laundry room whether there are machines available or whether you should check back later. Not sure when a "peak time" might be?  On the upper right hand side of the page for any given laundry room, click "view weekly stats" to see when the machines for that facility have been most in use.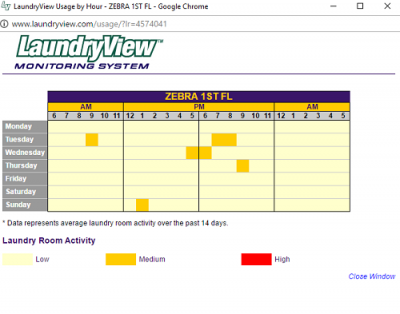 Guests can see when laundry facilities are often the most busy so as to plan their expedition to conquer Mount Washmore for a time when they are most likely to reach the summit.
After I finish my coffee and morning resort walk, I check in on my wash load.  By then the machines are nearly finished doing their thing, and I head back over to swap my laundry over from washer to dryer.  The process is the same for paying for and activating the dryer as for the washer.  Once I've flipped the loads, I head back to my room to get ready for the day and to wake up the sleepyheads to get them moving too.  One last quick trip to the laundry room to pick up my things after they're dry, and the laundry is done!  All before we are ready to leave for the day, and for just $6.00 per load – the same as the cost of one shirt laundered by valet laundry services.
If you take advantage of the self service laundry services at Walt Disney World Resort you'll want to remember to pack a few things from home.  I always bring a collapsible laundry bin or a laundry bag.  This makes it easy for my family to collect their soiled laundry in one neat place, and it makes it easy for me to move the laundry from our room to the laundry room and back again.
I always bring some laundry soap from home.  The laundry pods that have become so popular across most brands of laundry soap are really easy to transport both from home and from resort room to laundry room; I bag them up in doubled-up zip lock baggies.
Ialways remember to pack several dryer sheets too.  I also find it helpful to bring a bottle of some wrinkle release spray in case I don't get the chance to fold the clean clothes before we leave.  Finally, I never travel anywhere without my lint brush.  Really, though, if you forget any of these laundry items, don't forget that you can purchase single-use soap in the laundry rooms and many resort shops will carry the other items as well.
For more information on Laundry Services at Walt Disney World Resort visit the Walt Disney World Resort Laundry Services Information Page.  For more ideas on how to make your resort stay comfortable read Kelly N's Mouse for Less blog post.
For help in planning your next Walt Disney World Resort vacation where you too can check out the spin cycle and have your chance to this little-known fifth Walt Disney World mountain, contact a vacation planner at The Magic for Less Travel.  Agents there can help you set up a magical resort stay with convenient on-site laundry facilities perfect for conquering Mt Washmore while on your Disney World Vacation!
What are your tips for using laundry services at Walt Disney World Resort? Share them in the comments!
Did you like this article? Make sure to share it with your friends! Check below for easy ways to share!
Incoming search terms:
https://www themouseforless com/blog_world/spin-cycle-laundry-services-walt-disney-world-resort/
disney laundry service
disney valet laundry price
disney world laundry service
is there laundry machines at loews universal florida
laundry services disney world