This post may contains affiliate links for your convenience. If you make a purchase after clicking a link we may earn a small commission but it won't cost you a penny more! Read our full disclosure policy here.
By Teresa Pitman
[Editor's Note: Although the 2007 Food and Wine Festival has drawn to a close, it never hurts to start planning for next year! Special events sell out quickly.]
You can have a wonderful time at Epcot's Food and Wine Festival touring the booths set up around the World Showcase and dropping in on some of the free seminars. But here are also some special dining events that add another dimension to the Festival (not to mention a few more inches to your waistline).
When my son Jeremy and I attended at the beginning of October, I had two motives – sampling some delicious food, and thinking of questions I wanted to ask Executive Chef Christine Weismann during our interview scheduled for the next day. Weismann oversees the entire Food and Wine Festival and gave me some interesting insights into the logistics of this always-outstanding event.
But first – a little eating and drinking. The Party for the Senses, held on Saturday evenings, starts with reserved seating for the Eat to the Beat concert. On the night we attended, our determination to do Soarin' one more time kept us from catching the concert, and we arrived at the entrance to the pavilion (the usually empty World Showplace building near Canada) having been drenched in a sudden downpour. (Cast members handed us napkins to dry ourselves with once we got inside.)
As we came through the doorway, each person was given a program, a souvenir wineglass, and a notched plate (a plate with a groove to hold the wineglass).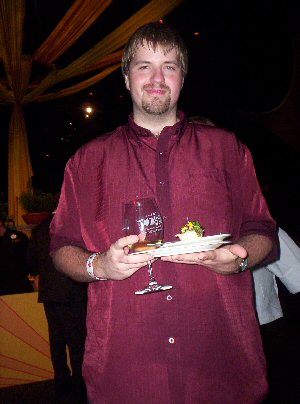 We immediately forgot about the rain outside as we gazed at the elegant setting. Small round tables had been set up around the building, leaving plenty of space for guests to mingle and to wander from booth to booth – more than 25 food booths in total, with an equal number of booths providing wine samples.  Colored drapes on the ceiling and walls identified the different areas, and in the program we'd been handed as we walked in, the food and wine we'd find in each area were listed. So if you wanted (for example) to try the Scallops with Cauliflower Risotto, Celeriac and Coconut Curry Sauce, washed down with some Guenoc Lake Country Sauvignon Blanc, you just headed over to the green section. Easy-peasy.
I'd heard that at some "Parties" the seating is in short supply, but that certainly didn't seem to be an issue the night we were there. The couple sharing our table were Party for the Senses experts – they'd been every year for the past five years and were  happy to give us some tips. They mapped out their route around the room much like I create my touring plans of the Magic Kingdom, pacing themselves so they could taste every offering by the end of the night. We were a little less ambitious – we read through the program, decided what we'd like to try, and aimed just for those booths.
I don't think you could go wrong with either method. At each booth, the chefs and their helpers dished up the food in elegant presentations; nearby, other staff poured wine to complement the food. The food was actually prepared at the site and the chefs knew all the ingredients – very helpful to those (like me) with food allergies. I'm allergic to shellfish, but at one of the booths in the blue section, I was able to get a double serving of Golden Gazpacho without the Grilled Shrimp that was normally part of the dish. Since both parts of this dish were prepared completely separately, there was no risk of contamination. (And the gazpacho was delicious!)
The one I liked best: Three Beans Two Ways with Cilantro-Cumin-Lime Vinaigrette and Whole-Wheat Lavosh Crisp. Not surprisingly, this was the creation of Chef Annette Grecchi Gray, who was until recently the chef at Jiko's, one of my very favorite restaurants. My son's fave: Spicy Ostrich Bobotie, created by Tjetjep Sudiswa of Boma. (I guess I know why we keep going back to Animal Kingdom Lodge for meals!)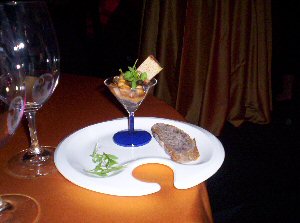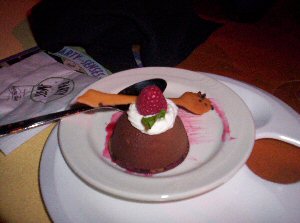 Just two of the many food offerings. Left is the Three Beans Two Ways and right is a wonderful chocolate dessert.
Our table-mates raved about the Root Beer-Braised Bison Short Ribs with Vanilla-scented Leek Fondue and Candied Bacon, and the Sugarcane Brochettes with Swordfish.  And the wines! The Mission Hill Reserve Reisling Icewine was popular with everyone at the table except me. But I loved everything else I tried. A beautiful assortment of desserts provided a sweet finish to the meal.
Lest you think that all we did was scarf down delicious food and wine, let me remind you that this was the Party for the Senses – all the senses. Periodically, we paused in our noshing to watch some absolutely stunning performers from Cirque du Soleil on the stage in the middle of the room and to listen to live music.  It all combined to make a wonderful evening.
My son and I were back in Epcot the next morning for one of the Sweet Sunday brunch events, in the old Odyssey restaurant, which is normally closed. We found seats at large round tables, and headed over to the buffet for part one of the event – the brunch. I actually found this rather disappointing, as it was a very standard brunch – the same eggs, potatoes, sausages, and fruit that you'd find at almost any restaurant in the park. I'd been hoping for something a little more innovative.
My favorite part of brunch – the Martini & Rossi Prosecco we were served with the food. Absolutely lovely.
After we'd eaten, guest Pastry Chef Will Goldfarb of Room 4 Dessert in New York took the stage for part two. He joked with his assistants, made fun of the sponsor, teased the announcer, and generally entertained us all while teaching us to prepare three quite different desserts. (We were given copies of the recipes to take home as well.) Along the way he offered a number of useful tips for dessert preparation, including some interesting ways to use plastic wrap. (Does flour fly all over the kitchen when you mix cookies or cakes with your stand mixer? Just cover the entire mixer with plastic wrap before turning it on and your kitchen will be flour-free.) We learned to make Mom's Chocolate Chip Cookies, Campari Meringue with Baked Peaches and Raspberry Sauce, and Kabocha Squash Cake with Brown Sugar Cream.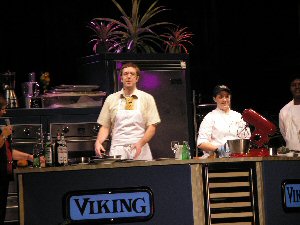 Chef Will Goldfarb presenting.
After the cooking comes the eating. Servers presented us with full-sized portions of each dessert, beautifully plated just as Goldfarb had shown us onstage. All three desserts were delicious, and definitely enhanced by the Asti Spumante that was served with them. Thankfully, we were not told the number of calories we had just consumed.
The next day I was able to interview Executive Chef Christine Weismann, who oversees the entire Food and Wine Festival  – an undeniably monumental task. In fact, she says, now that it's been expanded from the original 30 days to 45 days, "It's almost a year-round job now. We start in March with product development, holding weekly meetings with people from all parts of the Food and Wine Festival. We review what was successful the previous year and start taste-testing new things we'd like to try."
The food they choose have to meet very specific requirements, she explains. "For one thing, they need to be easy to eat for people who are walking around." So, for example, one of the dishes from Peru this year was a potato cake with crab meat, traditionally rolled up for eating. This proved too awkward to manage for a strolling guest, so the Disney chefs developed a version prepared more like a little cupcake – much simpler to serve and handle.
Weismann also seeks to combine the expected, traditional foods with the unexpected. "For example, I wanted to show people that German food is more than sauerkraut and sausages, so we offered a vegetable strudel. Something a little different."
She also looks for balance and variety: "We want some beef, some chicken, some fish, some vegetarian, and so on. And each year we look for some new things – so this time we had Oklahoma celebrating its anniversary and cooking food in a chuck wagon, and the Dominican Republic came for the first time with some excellent items."
While the logistics of the World Showcase booths are probably the most daunting part of the Festival, Weismann is also responsible for organizing the many demos, special events, and unique dining opportunities. "Once we make some decisions about what countries will be represented, what foods we'll have, what chefs will be preparing foods for the demos and other events, we create a huge spreadsheet to keep track of it all," she says. "It's not enough to be just a talented chef, you need the business and organization side as well."
And she adds that ultimately it's teamwork that makes the Festival succeed. Teamwork – and of course the Segway that Weismann uses to zip around Epcot as she checks up on the details, solves problems, and gets feedback from the guests. Maybe she should add Segway-riding to the list of skills needed by the top Disney chefs.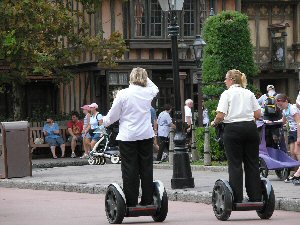 Christine Weismann zipping along on her Segway.