This post may contains affiliate links for your convenience. If you make a purchase after clicking a link we may earn a small commission but it won't cost you a penny more! Read our full disclosure policy here.
By Teresa Pitman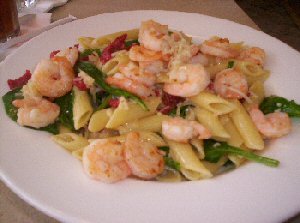 Want to know why my family LOVES vacationing at Walt Disney World? Okay, we do love the resorts, the rides, the shows, the characters, the Cast Members – but besides all that, there's another reason: we can all eat there.
My family includes people who need vegan, vegetarian, diabetic and celiac meals. Making plans for all of us to eat at a restaurant can be a frustrating experience – if the menu meets one person's needs, someone else is likely to be short-changed. (Even cooking for this crew at home can be pretty challenging!)
But when we go to Walt Disney World, we head into our favourite restaurants feeling confident that the talented Disney chefs will be able to provide all of us with delicious meals that meet our individual dining requirements. And that makes our vacations more relaxing and more enjoyable.
Of course, a little planning is required. Since vegetarian dining has been discussed in previous articles, I'll just focus on the diabetic and celiac concerns.
We begin our vacation planning by reading through the menus posted on www.themouseforless.com. These give us a good idea of what foods are generally available in different locations. Amberlee, who is celiac, can't eat wheat, oats or other grains containing gluten. She also has to avoid sauces made with flour as a thickener. She can eat rice and potatoes, though, so restaurants that serve these two items as side dishes are possible options for our meals. As a diabetic, I'm most often looking for restaurants with a good assortment of vegetables.
In terms of counter service restaurants, we've found some that offer good choices for us – and often they are the ones that focus on cuisines from other countries. For example, in Epcot, Yakitori and the Tangierine Cafe both have celiac-friendly foods as well as those that work well for diabetics. Sunshine Seasons in Future World also has a good variety of options. In Animal Kingdom, Tusker House is a favourite – the salmon with rice and vegetables not only fits into our diets, it's delicious! MGM's ABC Commissary and Studio Catering Company both have foods that can work with a little adjustment (having the filling without the bun or wrap, for example). We find Magic Kingdom the most challenging park in terms of counter-service meals, but we've eaten at Columbia Harbor House and the Tomorrowland Terrace – while we wouldn't rate the food as outstandingly delicious, it worked for our diets.
Table service restaurants generally have the most options and the most flexibility, but don't rule out all counter-service options without checking. Your resort food court, for example, may be able to make you some gluten-free pancakes or waffles if you ask the day before. (We like to eat breakfast in the room so didn't try this option.)
Once we've chosen a park for each day, we get down to the business of making our reservations. For people like me with diabetes, sticking to my eating schedule is important – especially because at Walt Disney World, I am walking more than usual. I can have a snack at times when a meal is delayed, but if I do that too often I end up feeling ill, and that's not what I want on vacation. Knowing that, we try to call in our reservations as early in the planning process as possible so that we can eat at normal mealtimes, and we make sure to mention our special needs when we make the ADRs (Advance Dining Reservations).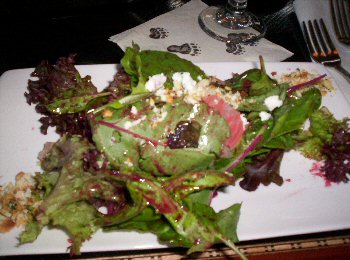 A mixed greens salad at Artist Point in the Wilderness Lodge is a healthy and delicious choice.
Buffet meals are often a good choice for diabetics because they mean "almost instant food." Sometimes at a table service restaurant there can be a long gap between the time you arrive at the restaurant, get checked in, meet your server, order drinks, order food and then actually have the food put on the table in front of you. At a buffet, if my blood sugar is low, I can grab a plateful of food on the way as we are being shown to the table. The variety of offerings usually includes foods suitable for a celiac diet as well.
Do ask your server about the ingredients if you have any questions. She will probably pass you on to a chef who will take you through the buffet and indicate which items are safe for you to eat.
For table service dining, we sometimes call the day before to let the chef know about our requests, but in recent years we've found that the chefs generally seem well-prepared to deal with these special diets even when you just show up. For example, when we stopped for lunch at the Liberty Tree in Magic Kingdom, we asked our server about celiac options. Minutes later, a chef emerged from the kitchen and sat down with us to discuss our needs. Amberlee had intended to just have rice as a side-dish, but the chef told us they had some gluten-free rolls and brought out a basket for her to enjoy with her meal. They were delicious and made a nice treat for her. I've also had some outstanding sugar-free desserts, including a dense chocolate cake at the Brown Derby that had everyone else at the table looking on enviously.
Taking the time to review the menus for the counter-service locations helps us pick out suitable possibilities well in advance. While other guests may plan their routes around the parks based on the rides they most want to hit, we plan ours to make sure we're near the restaurants we intend to eat at when mealtimes arrive.
When you get to the restaurant, remind your server about your requirements. (I know, you told them with the ADR, and you called the day before – but you need to say it again, just in case.) You can ask to see a list of ingredients for counter-service restaurant items, and even for the snack carts out in the parks. (We were able to confirm that the popcorn is gluten-free, for example, and that the chocolate-covered frozen bananas can fit nicely into a diabetic meal plan.)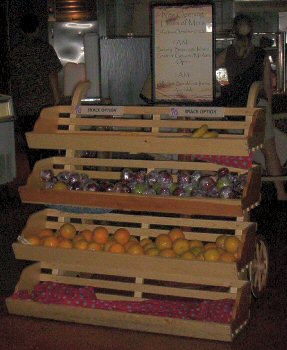 Fresh fruit is available in many locations, like this display at The Mara in Animal Kingdom Lodge.
We also bring snacks for those times when we get held up or the restaurant doesn't have what we need. For Amberlee, that means packing some suitable starchy foods – gluten-free muffins, corn chips, and rice crackers. My packing usually includes peanut butter, humus or cheese with whole-grain crackers. We also make a point of visiting the fruit and vegetable stands (there's one in each park) to pick up additional snacks – these are not only healthy but fit beautifully into our special diets.
If you have special nutritional needs, you're probably already used to doing a little extra planning. At Walt Disney World, you can plan with some confidence, knowing that the restaurants are prepared to go out of their way to make your dining experience safe, healthy and, above all, delicious for you.
Magically Speaking Featured Article
Library of Congress ISSN:1556-3863