This post may contains affiliate links for your convenience. If you make a purchase after clicking a link we may earn a small commission but it won't cost you a penny more! Read our full disclosure policy here.
By Teresa Pitman
We'd just been seated at our table at Akershus, ready for lunch with the princesses. Our server set a basket of breads on the table and picked up the card the hostess had left for him. Half a second later, before we could even sample a slice, the bread basket was snatched away. What had happened? Was this because we were on the Dining Plan? Had the hostess given us demerit points for bad behavior while waiting in line?
Nope, it's just part of Disney's strategy to meet our dietary needs.
You see, the hostess had asked us if we had any food allergies. We do – I am seriously allergic to shellfish. While it's not an allergy, we also have several family members who are vegan and eat no animal products, and on a previous trip had one of my son's girlfriends with us, who is celiac. But it was the notation about food allergies that had caught our server's eye, and he removed the bread basket just in case. No food for us!  At least, not until we'd met with the chef to discuss our special requirements.
Disney's helpfulness when it comes to meeting special food requests is one of the big reasons our family loves to vacation at WDW. You may remember the line from My Big Fat Greek Wedding where the star's fiancé explains that he's vegetarian, and his future mother-in-law says, "Oh, that's okay, we'll serve lamb." It gets a big laugh in the movie theatres, but doesn't seem so funny to those vegans who are served things like green beans with "just a little" ham mixed in or soup made with beef stock because the server didn't realize that made a difference.
At Disney, you won't need to spend ten minutes explaining what it means to eat kosher or gluten-free food. Your chef will know. And probably your server will, too. John Berko, formerly manager of the Sci-Fi Dine In Theatre and now at the Grand Floridian Café, explains: "Each day our restaurants have a pre-shift meeting to discuss operating hours, show times, etc. Each day a different menu item is highlighted for discussion. The chef discusses the ingredients, how it is prepared, and what types of allergies or special diets would be okay or not okay with this dish. That way, all of our servers are equipped with the menu knowledge they need."

The vegan option at Narcoossee's.
When you arrive at the restaurant, the server may be able to recommend particular options for you, or may have a chef come to your table to discuss your dining options. Nothing on the menu you can eat? The chef will usually prepare something especially for you. For example, I've eaten at Le Cellier several times (hey, I'm from Canada, it's required) and there are no vegan entrees listed. Each time the chef has come to our table, discussed several possible options, and ultimately served me something delicious.
Of course, I do mention these special diets when I make my ADRs. I've found this works fine for our needs, because they are fairly standard, but if your dietary requirements are less common, you might find it helpful to call the restaurant directly a few days ahead. Disney's quite willing to bring in special ingredients if you give them a little warning.
Speaking of warnings, I should warn you that the counter-service meals can be more challenging. The staff are less likely to know what's in various menu items, and you can't help but be aware of the growing line behind you as you ask questions about each one. The solution? Ask for "the book." Each counter-service place has a binder that gives the details of what's in each dish, so you can check it out and make your own choices. There are fewer options at counter-service places, though, and no handy chef to whip you up something special. You can also ask for ingredient lists at the snack carts.
Probably what I appreciate the most at WDW is that the chefs never seem to consider it an annoyance when you explain your special needs. In fact, they seem to enjoy the challenge of preparing something a little different. When I ate at Jiko, which has a separate menu of vegan options, the chef kept giving me "samples" of the foods I hadn't ordered – in the end, I got a taste of everything vegan. (And it was all delicious.)
Last month I stayed at the Polynesian for a week with a friend who'd never been to WDW before. I took her to Boma (it's a must-do on every trip for me) and when the chef arrived at my table, it was a familiar face – the wonderful TJ. Amazingly, he recognized me (from my many previous visits!) and chatted with me as we toured the buffet and he pointed out the vegan offerings (there were plenty – the vegan mushroom soup is the best I've ever tasted).  Then he warned me "don't eat too much, I'm going to make you something special." He's done this before for me, and other people in my family, and once again it was quite spectacular – a beautifully arranged and flavorful dish of tofu, vegetables and flatbreads.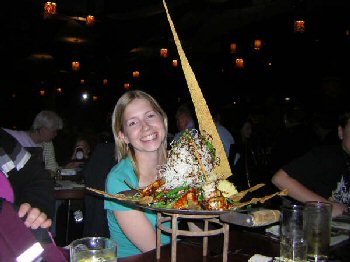 The author's daughter Lisa about to dig in to one of TJ's creations at Boma.
My friend was quite impressed, and now understands that the magic of WDW isn't just in the rides and shows – it's seeped into the restaurants, too.