This post may contains affiliate links for your convenience. If you make a purchase after clicking a link we may earn a small commission but it won't cost you a penny more! Read our full disclosure policy here.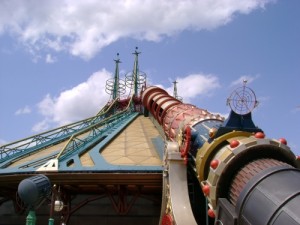 Just a note – This blog was ghostwritten by my husband, Chris.  It's not exactly a secret that I'm a big ride weenie, and all I can tell you about would be the benches outside of the rides.  Oh – and the brioche you can get in DLP, that was awesome!
There are lots of mountains in life that one must climb. There are only a few mountains that we have the opportunity to ride. Disney has quite a few mountains to ride but the most popular is, of course, Space Mountain.
There are five Space Mountains across the Disney-verse. They are:
Space Mountain (1975), at Walt Disney World Resort in Orlando, Florida
Space Mountain (1977), at Disneyland Resort in Anaheim, California
Space Mountain (1983), at Tokyo Disney Resort in Japan
Space Mountain: Mission 2 (1995), at Disneyland Paris in Marne-la-Vallée, France
Space Mountain (2005), at Hong Kong Disneyland Resort in Hong Kong, China
Unfortunately, I've only been on three. ; )
Space Mountain at WDW in Orlando is the original of the five. When it opened in 1975, it was the world's first all-indoors and completely dark roller coaster. The queue on the way in to the ride seems as if it is one of the longest walks on Earth…even when it isn't crowed! The ride has two sides to it which, believe it or not, are essentially identical except that one is ten feet longer than the other to allow it to cross over the other track. People often come off of Space Mountain in Orlando and Anaheim with the impression that the ride contained a loop or loops of some kind when, in reality, there are none. It is hard to describe an indoor roller coaster since you can't really see (although you can sometimes get a rare glimpse of the track with the lights on when riding the Tomorrowland Transit Authority!) it but one of the highlights is certainly the climb up the initial hill a mere few feet from the other track where a train is climbing it simultaneously. Just knowing that once you descend the hill the two trains will split in opposite directions to start their adventure is always a rush! The ride recently underwent its first extensive overhaul at a cost of over $12 million.
Space Mountain at Disneyland in Anaheim, California was the second to open in 1977 and its construction was largely propelled by the success of its older sibling in Florida. The concept of Disneyland's Space Mountain is much the same as that of the one in WDW. Riders on two separate tracks are taken through numerous twists and turns at speeds that often seem a lot faster than they are simply because you can see so little! The ride went through a complete rehab from 2003 to 2005, opening only a few days before the beginning of Disneyland's 50th Anniversary Celebration. A multitude of changes were made to the entire attraction including a COMPLETE replacement of the track!
Space Mountain: Mission 2 in Disneyland, Paris is an amazing attraction and one that is worlds apart from that of WDW or Disneyland's Mountains. Originally conceived as a Jules Verne ride stylized with many of his themes (namely "Journey to the Center of the Earth" and "20,000 Leagues Under the Sea") the ride opened much differently than originally Imagineered. The first major attraction to be built after the opening of Disneyland Paris (Euro Disney opened in 1992 and the attraction opened in 1995), its success was largely credited with saving the entire park after several opening years full of extremely low attendance. Mission 2 begins in a tunnel and then takes riders into a large Columbiad Canon that launches them up the hill at high speed to start the ride. Unlike the elements of Orlando or Anaheim, the Paris version of the attraction maintains higher speeds and has several loop elements integrated. While the ride is still dark, there are many more visual elements including comets, star clusters, a supernova and even a red neon vortex towards the end of the track. The ride is tremendous fun and quite a bit more intense than either of the others (in my humble opinion, LOL)!
Is any one mountain better than the other? Well, that's up to you! We still have two of them to check off of our list and I can hardly wait. So…what are you waiting for? If you haven't climbed one of these mountains then it just might be a perfect addition to your next trip to any of the Disney parks!