This post may contains affiliate links for your convenience. If you make a purchase after clicking a link we may earn a small commission but it won't cost you a penny more! Read our full disclosure policy here.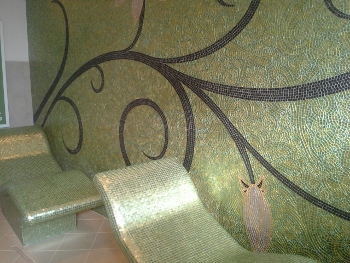 By Jessica Johnson
When I heard that Disney was redoing the spa at the Grand Floridian, I was intrigued.  When I heard that they were taking it back over (it was previously operated by the Nikki Bryan company) and re-theming the space I knew I had to try it.  So, I talked to Chris (my wonderful husband and our editor) and convinced him that I had to try out a treatment at the new spa in the name of "research." (Editor's note: We've been married for 14 years. I know when to surrender.)
And so I found myself pulling into the parking lot of Disney's Wedding Pavilion and walking over to the brand new Senses Spa.  When I checked in I was escorted back and they took a minute to explain the new concept of the spa to me before we paused at the Elixir Bar.  When you visit Senses your chosen treatment will determine your spa path, and to start your journey along this path, you begin with an elixir.  There are 3, one for each path, and they explained them all to me.  The one that corresponded to my hot stone massage was a pomegranate elixir, however, I decided that the strawberry one sounded better, so they poured me a small shot of that and I was off to the new locker rooms.
The spa has kept the same layout as the previous one, so the locker room and relaxation room are in the same area.  After being given a robe and slippers, I was invited to enjoy the refreshments in the relaxation room while I waited for my therapist to come and get me.  I always like to get to the Spa a bit early so that I can transition into a bit more of a relaxed mode, so I had some time to poke around a bit before my treatment.
In the locker room you can find the usual showers, lockers, a well equipped dressing area with blow dryer, curling and flat irons.  There is a separate room, contained in the relaxation/locker room area with a hot tub, and brand new from the rehab, heated tile loungers! Here you will also find a steam room, but that didn't interest me.  I love tile loungers, and they were the perfect way to get relaxed and ready for my treatment!
I rested in that area (where you might spot your favorite mouse!) and enjoyed the calming effects of the water wall for a bit before heading back to the seating area in the relaxation room to await my therapist.  On my way past, I peeked at the refreshments, and there was a full array of teas, cucumber water, fruit and mini carrot cake muffins.  I couldn't resist – it was delicious!
I had just sat down when it was time for my treatment.  My therapist and I chatted about the spa renovations and the treatment on the way to my room, and she explained that they had also outfitted all of the rooms with special lighting to help enhance the experiences.  My room would be green during my treatment to help with opening up a particular chakra (I must apologize as she spoke sort of fast and I didn't quite catch which one).  This was a new aspect of treatment that I'd never encountered before, so I was intrigued.
Once in the room, we went over the normal details about the massage, what sort of pressure, any problem areas, etc, and then she stepped out so I could get settled.  The treatment itself was wonderful, I always love hot stone massages.  I can't say for sure whether the green light helped or not, as I had my eyes closed the entire time, but by the time she was done, I basically felt like I was a rag doll.
She took me back to the relaxation room where I enjoyed the tile lounger for a few minutes while finishing my water.  Then I hopped in the shower, where I have to admit I did miss the old signature grapefruit products.  The products they have there now are quite nice, but, there's something invigorating about a grapefruit scent.  After getting myself  put back together, I headed back up front and paid for my treatment.  On my way back into the real world, I promised myself that I would definitely be back!