This post may contains affiliate links for your convenience. If you make a purchase after clicking a link we may earn a small commission but it won't cost you a penny more! Read our full disclosure policy here.
The first thing a child will ask at Disneyland or Walt Disney World is to see Mickey Mouse. The second thing he will ask is to buy something! Give your wallet a rest by planning ahead with souvenirs to buy before your Disney trip. You will save your budget and your sanity! Here's what to buy: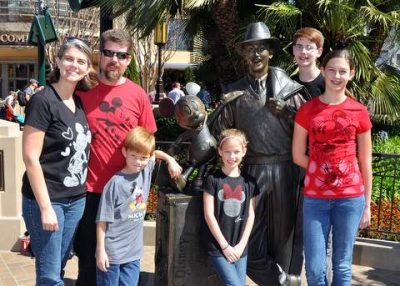 1. T-shirts — If you're sure you'll want a new T-shirt, try to find it before you go. T-shirts at the theme parks start at $25! I bought all six of the T-shirts in the photo above for my family at a local Disney outlet for under $60. And I found ones that coordinated! Walmart has a surprisingly good selection of inexpensive shirts in child and adult sizes. Another place to try is a consignment store. If you're crafty, you can try making your own custom shirts. However you buy or create, you'll have shirts that won't bust the bank or send you all around the World to locate!
2. Shiny pennies to smash — Pressed pennies are, hands down, my favorite inexpensive souvenir. They are available almost anywhere you travel and make a great collection for a child. Collect sets of one penny and two quarters ahead of time, and you won't be standing in line to get change from a store! Check the Internet for tips on using pantry ingredients like cola, vinegar, or ketchup to shine the pennies.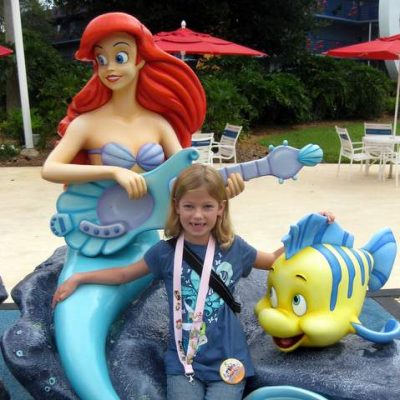 3. Pins to trade— Trading pins can be a fun experience, but the price can be overwhelming! If your goal is to trade with Cast Members rather than collect rare or exclusive pins, an assortment from eBay or other Internet seller can reduce your cost to a dollar or two per pin. Buy a lanyard along with the pins and you'll be ready to trade with the first Cast Member you meet!
4. Autograph books— Every store at Disneyland or Walt Disney World will sell you a generic book to get a character's signature. If you want something that stands out, make a cute custom autograph book from a spiral notebook! If you're lacking the time — or the crafty gene — plenty of Etsy sellers can make you the autograph book of your dreams. Don't forget a big Sharpie for Mickey to hold!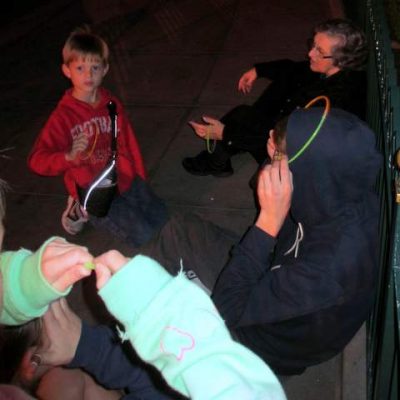 5. Glow sticks and light-up toys — Every evening, theme parks pulse with whirling lights, fiber optics, and glowing swords. Each tempting toy could be your child's — for a hefty price tag. Target, Michael's, and the dollar stores are good sources of inexpensive magic. They sell glowing wands, packages of glow sticks, and spinning toys for very little money. Watch your kids' eyes light up when you pull them out while waiting for the fireworks or Fantasmic!
6. Activity books— The car ride or plane trip can seem awfully long when you're little. Create an activity book full of Disney coloring pages, activities, and games to keep kids busy on the way and at the hotel. The Mouse For Less has a whole section of printables to download! The booklet you make could be stapled together, or spiral-bound for more durability.
7. "Tinkerbell" gifts— Some parents coax good behavior by hinting that a certain fairy might leave an especially well-behaved child a little treat on her pillow. If you want to try this, buy small stocking stuffer-type items ahead of time from the Target Dollar Spot, party section, or dollar store.
None of these ideas mean that you won't be purchasing some special souvenirs while you're on your trip. But these souvenirs to buy before your Disney trip will definitely help your budget; plus saving the time you won't spend rushing around at first for autograph books, matching shirts, or lanyards. Additionally, I have been amazed at the difference in a child's behavior when she walks into a theme park already wearing a crisp new T-shirt and holding a small treat. It's magic you can make on your own!
What are your tips for souvenirs to buy prior to your Disney vacation? Share in the comments, or on Facebook or Twitter.
Did you like this article? Make sure to share it with your friends! Check below for easy ways to share!
Incoming search terms:
https://www themouseforless com/blog_world/souvenirs-buy-before-disney-trip/
disney souvenirs to buy before you go
pack disney tiys instead of buying souvenirs
disney things to buy for your child before going to Disney World souvenirs
toys to buy before disney
what souveniers to buy before in advance of disneyland