This post may contains affiliate links for your convenience. If you make a purchase after clicking a link we may earn a small commission but it won't cost you a penny more! Read our full disclosure policy here.
Alright, I guess I've already kind of fibbed…this was technically not my first time cruising.  I've been on two other cruises in my life…once to six different Caribbean Islands (I can name them all if you really want to know) and the second was on The Big Red Boat which at the time WAS the Disney Cruise.  However, both of those cruises happened when I was just a youngin.  I was fortunate enough to have parents who wanted to show my brother and me the world.
But with that being said, I had never been on a cruise as an adult, where I was the one who was in charge of all the planning.  So, to me this really was my first experience cruising.  So, what better cruise line to start with than Disney?
My cruise was this June, the 21st – 26th.  It was a trip that included just my husband and me and was a 5 night stay on the Disney Dream with a stop in Nassau and two stops at Disney's private island, Castaway Cay.  I know that a lot of people suggest shorter trips for first time cruisers, but I didn't want to go with a 3 night cruise, as I felt that was too short of time and the same goes for a 4 night.  A 5 night cruise sounded like just the right amount of time to enjoy what the ship has to offer, but not be too long, just in case we didn't like the experience.  It turns out that both my husband and I thought that 5 nights still wasn't enough!  We would have loved to be on the ship for a few more days, though I think we both feel that any more than a 7 night cruise might be a bit too long for us.  (So we say now!)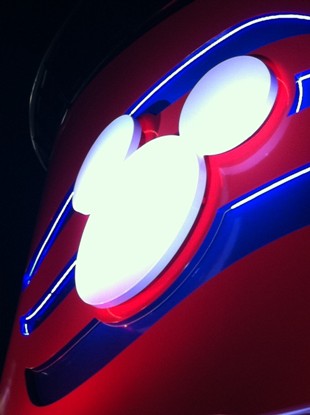 The first thing I learned about taking a cruise vacation is that it took much less planning than a typical Walt Disney World vacation.  It was so nice that I didn't have to figure out where I was going to eat (which was assigned to me once I boarded the ship), where I was going to go, or what events I was going to participate in.  I didn't even plan any excursions!  I just let the days take me where they wanted to go.  I pretty much did no planning whatsoever besides learning some of the basics of the ship. I just went with it.  I wanted a simple experience.  So, to quote my man Crush, one of the best things to do on a Disney Cruise is to "Go With The Flow."  Trust me, you won't regret it!
Something else that I enjoyed immensely is the Spa; particularly the Rainforest Room.  This was one of my favorite areas on the ship because my husband and I were able to use the hot tubs that can be found here and (bonus) we didn't have to fight a bunch of people to use them.  As a matter of fact, most of the time we were the only two in the hot tub area.  (A little tip, go to the Rainforest Room at night…there is never anyone there, so it's like you have the whole place to yourself!)  In addition, we both enjoyed the 3 different types of saunas they had, with our favorite being the one that was a mixture of steam and heat.  Oh, and if I could have brought home one of those heated chairs that can be found in here, I probably would have!  I took many a nap on those heated chairs!  They were just so cozy.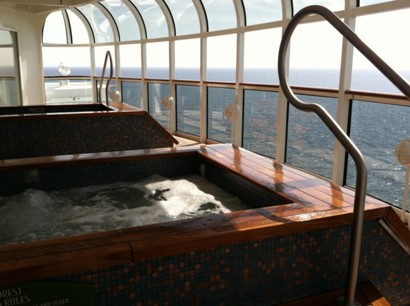 The one thing that I didn't quite get the hype for was the actual Rainforest Showers that make this room so famous.  While they are nice…their purpose was essentially lost on me. The room as a whole was well worth the money we paid.  (Another tip:  go on the first day of your cruise to get the special Rainforest Room pass.  There are a limited number sold per cruise.  On ours, I believe there were only 40 sold, but you'll get access to the room during the entire length of your stay.  To me, it was WELL worth the money.  I would buy the pass again in a heartbeat!
I also really enjoyed the restaurants onboard the ship.  Of course, who wouldn't when it's pretty much all you can eat?  My favorite restaurant was Royal Palace as the food was excellent and I loved the atmosphere.  I really felt like I was a princess, enjoying dinner at one of Cinderella's special soirees.
I was also lucky enough to dine at Palo for dinner not once, but twice this trip!  If you're a fan of seafood, their scallops are excellent and you can't go wrong with their chocolate soufflé!  While Palo does have an additional charge (at the time of this article, it was an extra $20 per person) it is well worth the money, given the experience you will have.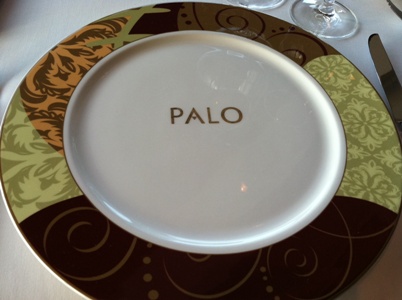 The fun thing about all the restaurants is if you want 2 desserts, you can have 2 desserts!  If you want to try something on the menu that you never thought you'd ever eat, you can!  (I tried duck for the first time! Tasted like a mixture of pork and chicken to me, but I liked it!)  You may gain like 20 pounds while you're on the cruise though!  It feels like you are constantly eating at every corner!
Of course, there are the things that everyone raves about that I enjoyed immensely as well.  The Pirates in the Caribbean night was a ton of fun!  I loved getting to dance on deck in my pirate garb and the fireworks at sea were a sight to see!
I also really liked getting a double dip at Castaway Cay.  Since we got to go twice, I got the chance to really experience a lot of aspects of the island and learned what areas I really liked to hang out in.  I really enjoyed the new Pelican Plunge area.  There was always a ton of action going on, but it wasn't as crazy as the first family beach seemed to be.
We did try out Serenity Bay, the adults only beach too.  It most certainly was serene!  It was very quiet with plenty of chairs and umbrellas, and the ocean wasn't so deep, so it allowed you to pull a chair out into it to just sit there and talk or read.  Serenity Bay was the perfect place to take a nap.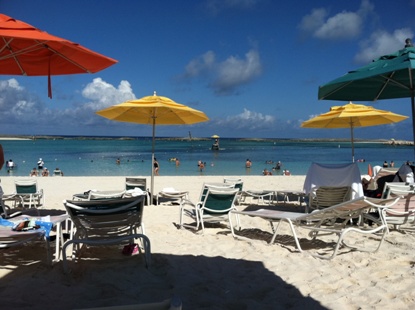 I conquered the AquaDuck, too!  I didn't get the chance to ride it a ton, but I did get to enjoy it both in the daytime and at night.  I liked riding it both ways, as they were totally different experiences.  I suggest if you're gonna ride the AquaDuck, you try both too!
My final tip, if you can ever manage it, is to take a cruise with a group!  It is a ton of fun cruising this way.  The cruise I went on was for The Be Our Guest Podcast, as I'm a co-host of the show, and let me tell you, I have certainly been spoiled!  I would never cruise without going with a group of people again!  It was always so much fun running into people you knew in the halls, getting to participate in a Fish Extender exchange (kind of like a secret Santa game, in case you didn't know), eating dinner together, experiencing the shows together, and getting together to hang out as a group at the different ports.  You never felt alone!  There was always someone fun to hang out with, talk to and laugh like crazy!  Even the kids enjoyed it too!  So many friendships were quickly cemented amongst the younger set!  As a matter of fact, some became as thick as thieves. I hardly saw them all cruise!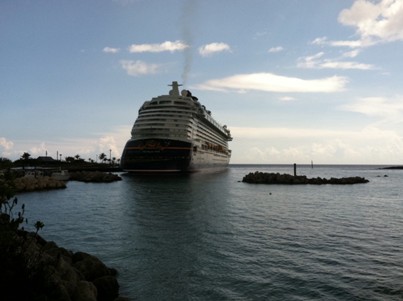 A lot of people ask the question, should I take a Disney Cruise if it's just two adults?  Won't it be too kiddy?  I'm not going to lie…in the middle of the summer…on a Disney Cruise….yes…there are a lot of kids, especially in that family pool area.  (There were a lot of people in general on the ship, since it was the summer.  From my understanding, it was a completely full ship, as Disney's cruises tend to be.)  That being said, if you are an adult, even in the summer there are plenty of areas and things that you can do, where you can go and not only will you not see a lot of kids, but you may not see a lot of people in general.  You sometimes have to search these places and activities out a bit but, trust me, they are there and we took full advantage of them!  So, don't be scared to cruise as an adult without kids on the Disney Cruise Line.  There really is plenty to do.  We weren't bored once.
In all, the whole cruising experience was truly a blast!  I will leave you with one tiny warning though, which is that cruising is addicting.  Once you try it, you will never look back.  I know…I've been bitten by the cruise bug myself…I've already got my second Disney cruise all lined up for the future!