This post may contains affiliate links for your convenience. If you make a purchase after clicking a link we may earn a small commission but it won't cost you a penny more! Read our full disclosure policy here.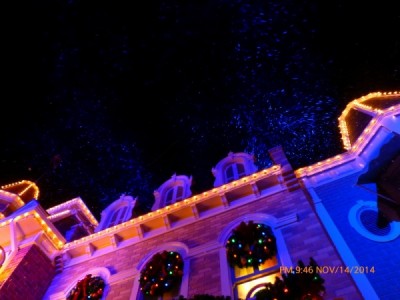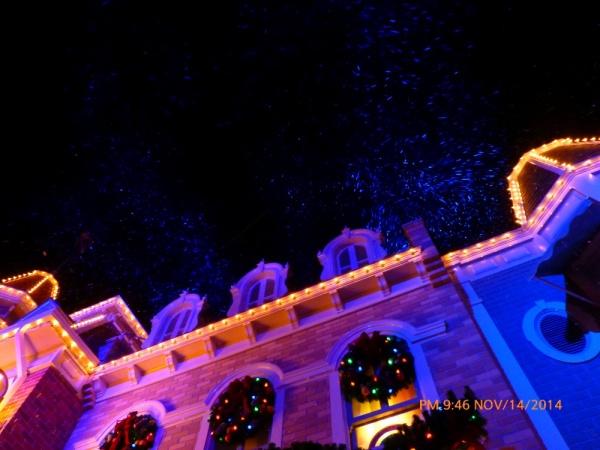 On our recent trip to Walt Disney World, my family and I attended Mickey's Very Merry Christmas Party for the first time.  It was awesome and a lot of fun.  But, boy was it COLD!!!!  Yes, we were fortunate enough to be at the World during the polar vortex….
Well, the silver lining was that it definitely felt like Christmas.  Being from the Northeast, we felt as if it were really Christmas back at home – cold!
The party itself was a lot of fun, but I will admit the downside was running around from one event to the next.  Although the party officially began at 7:00 p.m., we were allowed in at 4:00 p.m., which was great.  But, soon, after getting on a couple of rides, we were making our way over to Cinderella's Castle to watch Queen Elsa freeze the castle at 6:15 p.m. and transform it to look like it was covered in icicles.  It was absolutely breathtaking.  After that, it was over to Peco's Bill's Tall Tale Café for a quick dinner, and then it was time for Mickey's Once Upon A Christmastime Parade at 8:00 p.m. which we watched in Frontierland.  I absolutely loved it.  No spoilers, but there was definitely A LOT of Frozen in the parade, which was absolutely fine by me.
Then, we were off and running again towards Main Street for Holiday Wishes-Celebrate the Spirit of the Season fireworks show.  This was by far my favorite part of the party.  The light show on the castle was simply amazing as the castle transformed from candy canes to the 25th anniversary cake, and so much more.  And then the fireworks began.  Simply beautiful.  Standing on Main Street with my family, even surrounded by so many people all around us, it still felt like we were the only ones there once the show started.  It was truly beautiful.  Disney at it's finest.
And then, once the fireworks were over, the truly magical moment occurred – at least for me.  I thought I saw little white specks floating down to the ground.  It looked like snow, but it couldn't be…could it???  I did say it was very cold that night (it really, truly was – I actually bought a blanket to wrap around me!), but there was no way it was snowing in Florida!
Well, I soon realized it was indeed snowing.  Here we were, standing on Main Street USA in Walt Disney World, and it was snowing all around us.  It was a truly magical moment for me, and if you read my first blog, you know that I'm all about the Disney magic.  Well, this moment certainly delivered that for me.  I don't know if it was Cinderella's Castle draped in icicles in the background or looking up at the beautiful buildings on Main Street and watching the snow coming down, but it just felt like I was enveloped in a wonderful moment with my family with the festive Christmas music playing in the background.  This was truly Disney magic in its finest form.  I can honestly say I've never enjoyed being out in the snow before.  It's definitely never been magical back home – it's wet, it's cold, it messes up my hair!  But in that moment, at the World, it was that perfect moment, just like in the movies (you know – the ones where the actress's hair never gets wet the snow) – and only Disney could have provided that kind of magic.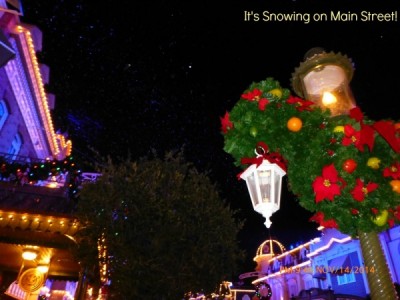 So… if you ever get the chance, I urge you to attend Mickey's Very Merry Christmas Party and experience the snow on Main Street.  You'll see what I mean…
~ Monica