This post may contains affiliate links for your convenience. If you make a purchase after clicking a link we may earn a small commission but it won't cost you a penny more! Read our full disclosure policy here.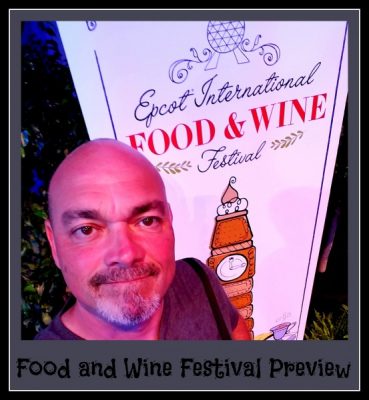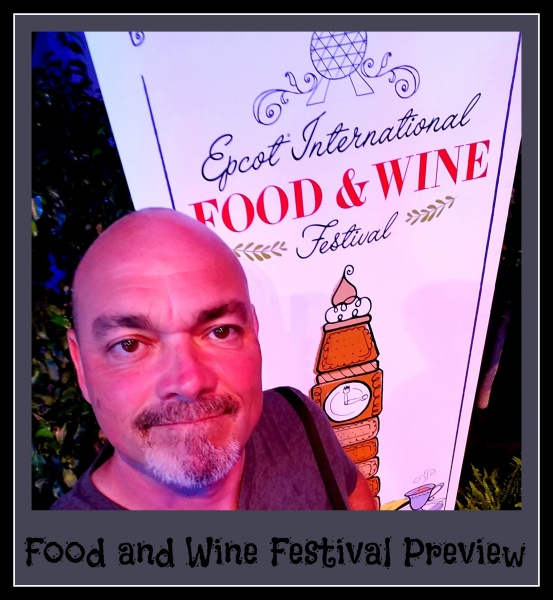 I was delighted when I received an invitation to participate in this year's Epcot Food and Wine Festival Preview Party. I have been a regular on opening day of the Festival for years now, but have never had the privilege of attending this shindig.
The Epcot Food and Wine Festival preview event was held in the World Showplace Pavilion. The building itself is actually backstage, between the Canada and UK pavilions. There is a huge pair of brown wooden doors that lead back to the area. We checked in here, and within a few minutes, the doors were flung open.
Once we entered the building, we were greeted by a Cast Member with a tray of chilled towels, a nice touch on a muggy July day. There was also a server circulating with a tray of Sauvignon Blanc slushies. An even nicer touch!
The event space was set up in stations, each representing the new outdoor kitchen being unveiled at the Epcot Food and Wine Festival in August. (August!! That's an early start this year.) Every station offered one or two dishes to sample. There was also a wine or beer pairing served alongside. A nice sized crowd was assembled, and there was plenty of seating. This can sometimes be an issue with special events at Disney. I have been to more than one event that was over-sold, and I was hopeful that this would not be the case here.
On a personal note, we were also excited to meet with a good friend of ours, Chef Gregg Hannon. He is the Culinary Director at Epcot, and one of the key creative minds in the development of new dishes for all of the festivals in World Showcase. We met Chef a few years ago, just by random coincidence. We were attending a Mickey's Not So Scary Halloween Party, and my then 5 year old daughter Giada, was dressed as a Chef for the party. We were at Epcot for a late lunch before the festivities, and he noticed G in her costume. He asked if he could get some photos with her, and they were instant buddies. I later sent him some pictures, and the rest is history. We have kept in touch ever since, and he always makes time to see us. He is a really nice guy, and he loves G. I think he just puts up with me because I bring her along! (a very common occurrence in my life)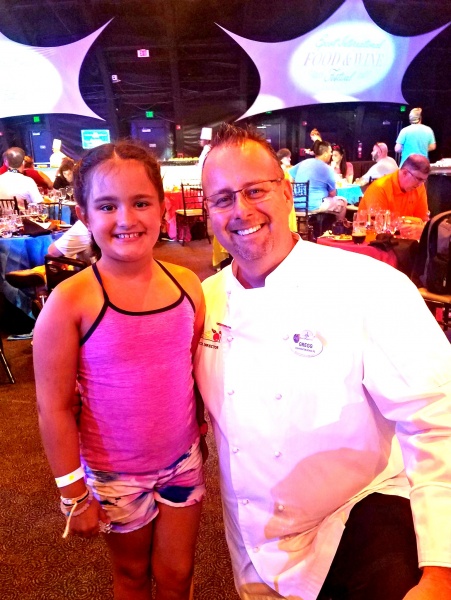 Enough about that, let's talk about the food. There are 14 items being introduced this year, 4 of which are desserts. The overall quality of the new offerings was off the charts. There were only a couple of savory items which I thought were a miss, and one of the desserts was just ok. Here are my findings, starting with the two misses.
Red Hot Spicy Thai Curry Beef (Thailand)…the beef was tough, and the sauce was not spicy at all. I think a little longer braise on the meat would be helpful. Hopefully they can work on this before opening day. Rice was good.
Sweet Pancake with Spicy Chipotle Chicken Sausage (Flavors From Fire)…bland pancake, bland sausage. Disappointing considering the name of the kitchen. Onion jam was a delight. Pass.
Here are the dishes I recommend seeking out:
Madras Red Curry Vegetables (India)…very representative vegetable curry. Perfect spice blend. Firm/tender veggies and a grassy Basmati rice(my favorite). Recommend for curry lovers
Cheese Trio (The Cheese Studio)…Adorable display of three small bites. The profiterole was nice and moist, with a garnish of Boursin cheese. Salmon pinwheel was fresh and yummy. The strawberry macaron was playful, with a spicy cheese surprise. Fun little shareable.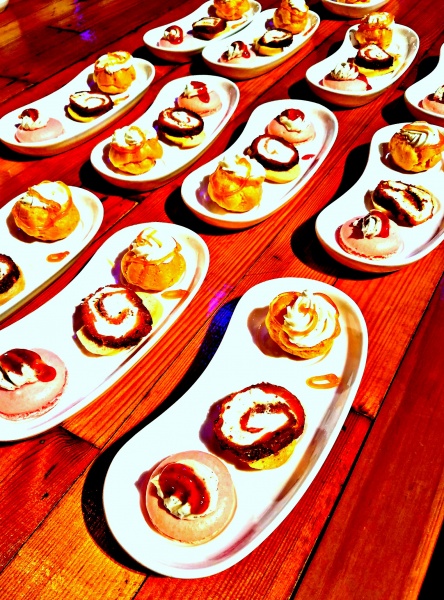 Warm Irish Cheddar Cheese and Stout Dip (Ireland)…a dense version of Irish Brown Bread served as dippers for this rich, rarebit-like appetizer. Sharp cheese, good bitterness from the stout. Excellent and shareable.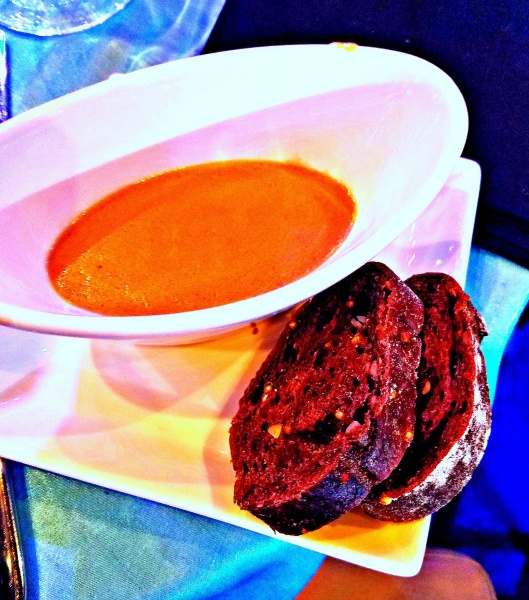 Seafood Salad (Spain)…Chilled and served in a cute little shotglass, the seafood could not have been any fresher. Poached and marinated octopus, mussels, shrimp and scallops were perfect. Acidic and light. Recommend.
Seared Scallops with Corn and Butterbean Succotash (Coastal Eats)…crispy and mid-rare scallops were spot-on. Fresh and rich. I loved the use of corn here, a natural flavor pairing with these mollusks. The butterbeans stole the dish. Tender and creamy, yet still a little toothy. Great succotash (I love that word!), Great dish.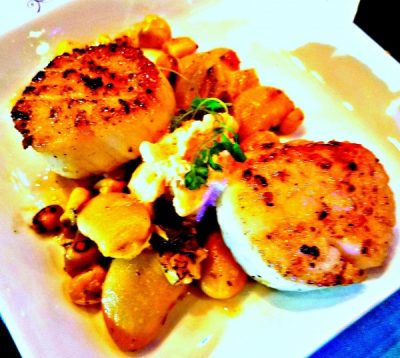 Teriyaki-glazed Spam Hash (Hawaii)…You had me at Spam. Any dish centered around that fatty, salty, porky, gelatinous loaf of pig parts is good with me! (wait what? that doesn't sound good to you?) So…you do have to like Spam to like this hash, and I do, so it works out just fine. Nicely seared meat, with tender potatoes and a spicy chile mayo. Love. This. Dish.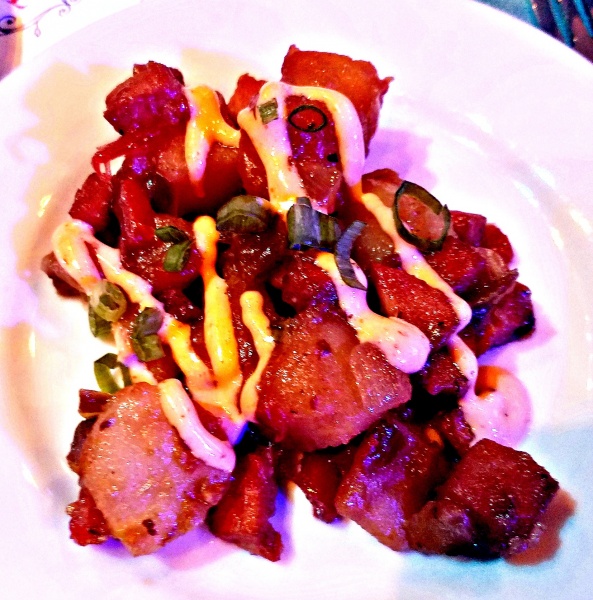 Smoked Corned Beef with Warm Crispy Potatoes (Flavors From Fire)…Chef said his inspiration for this dish came when he had a corned and smoked brisket on a vacation in Carolina. The beef is brined for four days, then smoked. Juicy shards of the meat are piled over crispy housemade potato chips. Topped with a Blonde Ale cheese fondue and pickled onions. Did I just hear you say "Irish Nachos?" My thoughts exactly. I don't recommend ordering less than two of these, I guarantee the lines here will be long.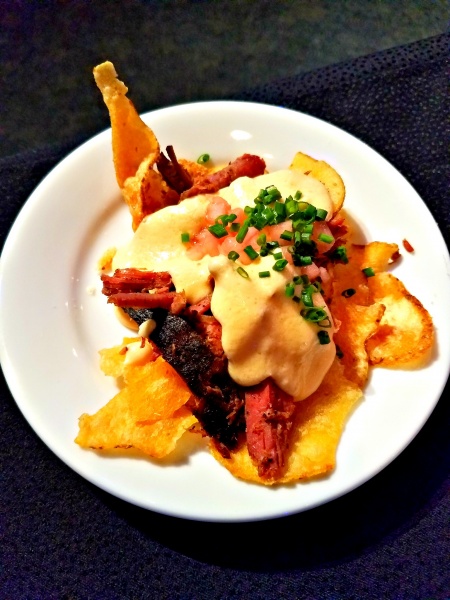 Ok, don't tell anyone this, but my favorite dish of the entire day was…wait for it…VEGAN!! Anyone who knows me would be aghast at this revelation. I am a total carnivore. Any animal, any time, raw or cooked. But I have to be true to my taste. The Spicy Ethiopian Red Lentil Stew (Africa) was to die for. Red lentils are very difficult to prepare in such a way as to maintain their texture. These were on point, suspended in an uber-rich and thick broth. Toasted cumin dominated this dish in all the right ways. Tart vegan yogurt was a nice diversion from the smoky broth. Nutty and al dente quinoa garnished for a little more texture. Total underdog dish for this year's Epcot Food and Wine Festival.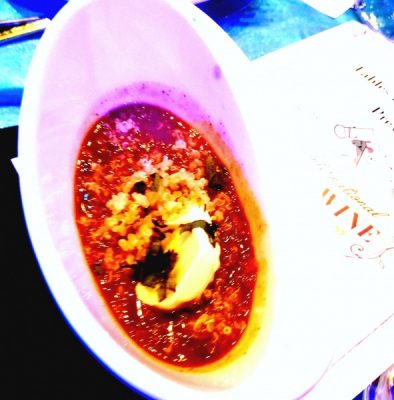 On to the desserts that will be new for the Epcot Food and Wine Festival. As I mentioned before, I thought there was only one slight miss here.
Sweet Olive Oil Cake with Lemon Aioli (Spain)…this dessert was fine, but it lacked the rich olive oil flavor I was expecting. Serviceable. The lemon curd was very good, and helped a lot. Not a bad hunk of cake, just not quite worthy of the prime real estate.
All three of the remaining sweets were quite good.
Sweet Avocado Crema with Strawberries (Active Eats)…I loved the use of avocado here. Rich and not too sweet. Fresh berries were a nice garnish. The kicker here was the crispy sweet/salty tortilla streusel. Very unique. Dessert guac?? Nice dish.
Chocolate Picante: Dark Chocolate Mousse with Cayenne, Chile and Raspberry Dust. (Flavors From Fire)…The deep and dark mousse was velvety smooth. Watch out for that sneaky back-end heat after you swallow. Creeper spice for sure. Totally worth the calories.
Banana Almond Soft Serve Sundae (The Almond Orchard)…easily my favorite of the finishers. Frozen ripe banana puree, sweet/tart berries, crunchy chocolate and oat topping. The flavor and texture contrasts in this dessert were fabulous. Very impressive for such a tiny little dish. Please seek this one out.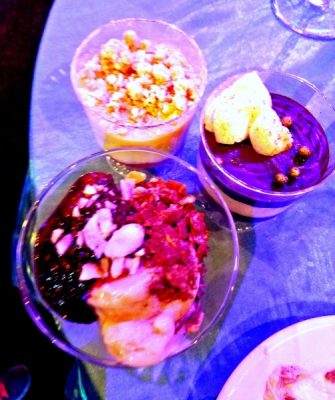 One quick beverage note:
Shofferhofer, the brewery that makes the very popular grapefruit beer served in the Germany Pavillion, created a special brew exclusively for the upcoming festival. It is scented with pomegranate, and is a lovely shade of red. I'm not a huge fan of fruit in my beer, but I thought this was very light and refreshing.
So by now, I hope everyone has their menus and maps out, plotting and planning your attack strategy for this year's Epcot Food and Wine Festival. I will be there for the first five days of the event if anyone wants to say hi. I will be the one with a plastic fork sticking out of his hat! Ciao for now.
What dish are you looking to try during this year's Epcot Food and Wine Festival? Share in the comments.