This post may contains affiliate links for your convenience. If you make a purchase after clicking a link we may earn a small commission but it won't cost you a penny more! Read our full disclosure policy here.
At the edge of Liberty Square in the Magic Kingdom, the unmistakable smell of sweet funnel cakes and warm waffles fills the air. Disney is known for making some really delicious waffles and those served at Sleepy Hollow are no exception. Here, you will find waffles and funnel cakes garnished with some of your favorite toppings such as powdered sugar, cinnamon, or strawberries and whipped cream (definitely my personal favorite). Ice cream, floats, soup, and coffee are also on the menu, making it the perfect stop for a yummy afternoon snack or dessert.
Sleepy Hollow also offers a new twist on this classic favorite with their waffle sandwiches. During our most recent visit to Magic Kingdom, we found ourselves unable to resist the delightful smell of powdered sugar mixed with Disney magic and decided to make a pit stop on our way to Main Street. We had trouble deciding, so we each chose a different sandwich to try. Since there were three of us, it worked out perfectly!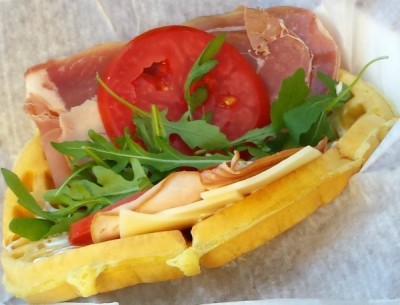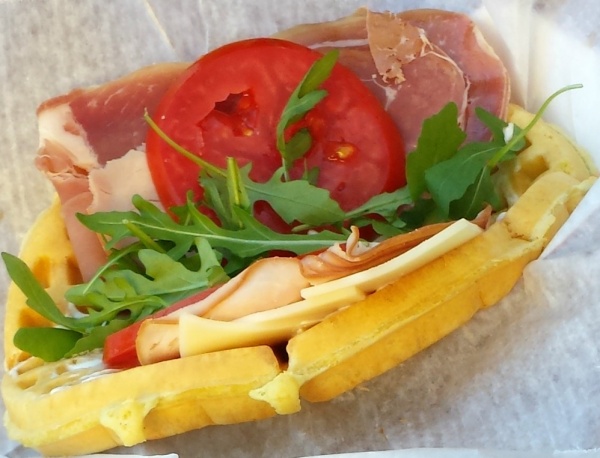 First up was the ham, prosciutto, and Swiss cheese waffle sandwich. This one had all of the elements of a submarine sandwich, but the "bread" was anything but typical. The meat was fresh and the sweetness of the waffle added a nice contrast to the strong flavor of the cheese. The sandwich was topped with tomatoes, arugula, and a light spread of mayonnaise.  We were a bit disappointed that, though the waffle was warm, the cheese was not melted and the meat was not hot. We would have loved to have seen it served as a hot sandwich, but the overall flavor was very good.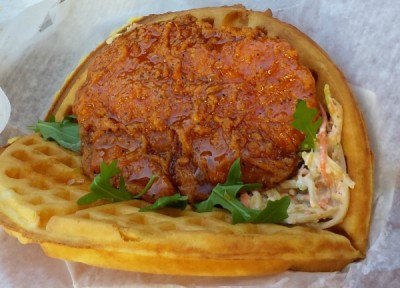 Next, we tried the sweet and spicy chicken waffle. This was served on the same waffle as the previous sandwich with a deep-fried chicken breast. The chicken was dipped in a sauce that had the sweet flavor of warm honey with just a little bit of a kick and topped with a slaw that blended really nicely with the sweet and spicy sauce. It was delicious! I can definitely see myself going back for another next time I visit.
Last, but most certainly not least, was the Nutella and fresh fruit waffle. This tasty treat was covered with warm, gooey Nutella and topped with ripe strawberries, blueberries, and bananas. This one was, by far, the crowd favorite. It was the perfect dessert to compliment the savory flavors of the previous two waffles. Plus, it has fresh fruit, so it is healthy, right? We had ours for dessert, but I think this would be a perfectly acceptable brunch as well!
One thing to note, if you're looking to enjoy either the Ham and Swiss or the Sweet and Spicy Waffle Sandwiches, they are only available from 11:00 a.m. until 5:00 p.m.  The Nutella and Fruit Waffle Sandwich is available all day.
We all agreed that Sleepy Hollow was one of our favorite stops of the weekend.  Next time you visit the Magic Kingdom, you may want to swing by and give one (or two) of these delightful treats a try!
Have you stopped for a snack at Sleep Hollow? What did you think?