This post may contains affiliate links for your convenience. If you make a purchase after clicking a link we may earn a small commission but it won't cost you a penny more! Read our full disclosure policy here.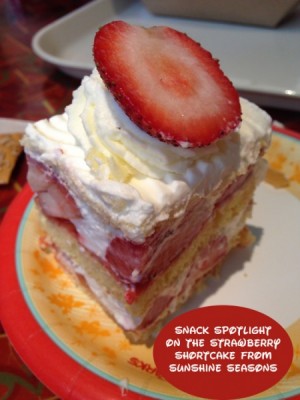 Um…summertime is almost over? What? How is that even possible?  The kiddos are going back to school and Labor Day is right around the corner at this point.  But down in Walt Disney World, it's still going to be summer time hot for a while.  Which means that summer time treats are still perfect to enjoy.
One of my favorite summer time treats is actually strawberry shortcake. There is nothing better than strawberries, whipped cream, and vanilla cake.  Did you know that you can get one of the best versions of strawberry shortcake at Epcot's Land Pavilion? It's at Sunshine Seasons and it is light, airy, and delicious.
Guests looking for this great treat need to head to the bakery section and they will see it sitting in the display case, looking all glorious.
Once you get it to your table and dive in, you will see why this is a must get.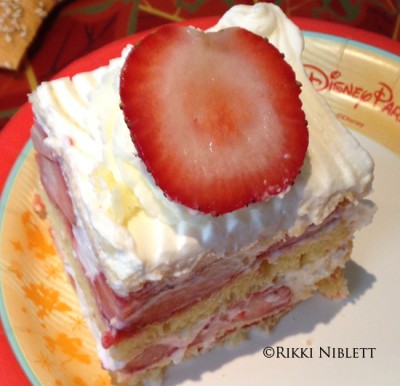 The cake itself is light, not dense at all. It's not like angel food, but a yellow cake. Then you get to the whipped cream, which is super plentiful. I mean really, it's almost like eating whipped cream with cake added to it.  Not that there's anything wrong with that.  Then you get to the strawberries. These are actual real strawberries, not a strawberry jam or syrupy mix. It features honest to goodness strawberries cut up and mixed in with the whipped cream layer.
Speaking of the layers, I love that there are so many layers to be found in this dessert. It makes it so you have a nice combination in one heaping forkful.
While I have had many, many delightful desserts from Sunshine Seasons, this, I think, is my go-to dessert to get in the middle of spring or summer. (Want to know my favorite winter-time dessert at Sunshine Seasons? I wrote about that this past winter and while they said it was temporary, I really hope they bring it back this year, but that's for another time and place.)
Have you ever gotten the strawberry shortcake from Sunshine Seasons? Which dessert is your favorite to get?