This post may contains affiliate links for your convenience. If you make a purchase after clicking a link we may earn a small commission but it won't cost you a penny more! Read our full disclosure policy here.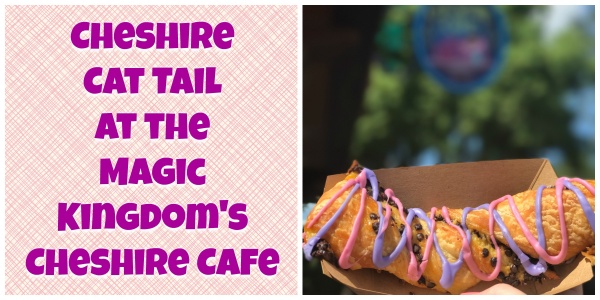 I'm always looking for a good snack at Walt Disney World and I have a brand new option for you to try on your next visit to the Magic Kingdom. Located at the quaint snack shop, Cheshire Cafe, is the offering called the Cheshire Cat Tail.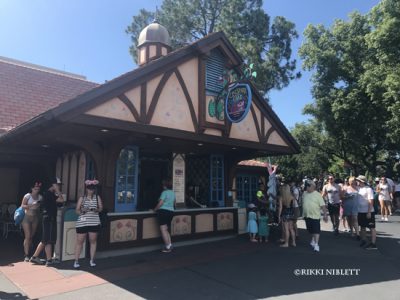 Cheshire Cafe is a relatively small location found just on the fringe end of Fantasyland, right near Tomorrowland. It's located right near The Mad Tea Party. (Many of you will remember me talking about this location for my beloved Cake Cups…which I miss dearly! Disney…if you're reading this…please bring back the deliciousness that is the cake cup…) Anyway, Cheshire Cafe mostly offers snacks and beverages, like the Lemonade slushy. It doesn't have a varied menu, but if you're thirsty or need a small treat, it's a good stop.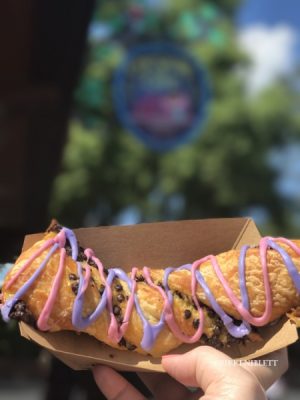 Recently, the spot started offering a new treat though…the Cheshire Cat Tail. Well, I knew I was going to have to try it! The Cheshire Cat Tail is a braided pastry that includes a chocolate filling. It has a drizzle of pink and purple icing to give it that Cheshire Cat name and chocolate chips sprinkled on top.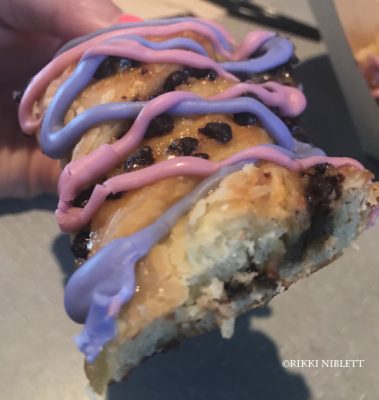 One bite and I was hooked. The pastry was quite flaky – reminiscent of a croissant mixed with a doughnut. (It was unlike a cronut….it was actually more of a doughnut texture, with a flaky outside.) The icing on top gave the treat a nice amount of sweetness. On the inside was a smooth chocolate flavor. The Cheshire Cat Tail wasn't overpoweringly sweet.  Matter fact, as a choco-holic, I kind of wished that there had been more chocolate filling; it was really just a thin layer. With all that said, the Cheshire Cat Tail was a perfect pick me up so I could continue touring for the rest of the day. It hit the sweet spot.
Given how not overpoweringly sweet it was, and due to its similarity to a doughnut, I would actually even suggest that you pick up one of these in the morning, as a breakfast treat. Mix it with a cup of coffee and I think it's a perfect combination.
What do you think though? Would you want to try the Cheshire Cat Tail on your next trip? Or have you tried it already and what did you think? Share your thoughts in the comments section! 
Did you like this article? Make sure to share it with your friends! Check below for easy ways to share!
Incoming search terms:
cheshire cafe cat tail
https://www themouseforless com/blog_world/snack-spotlight-cheshire-cat-tail-cheshire-cafe/