This post may contains affiliate links for your convenience. If you make a purchase after clicking a link we may earn a small commission but it won't cost you a penny more! Read our full disclosure policy here.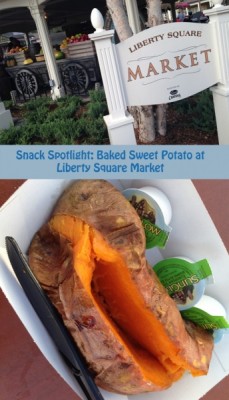 I like to share my hidden gem finds with you; to let you in on some of my little secrets of dining. Well today, I have another great option for those who are wanting either a healthier snack or even a lighter lunch. What am I talking about? I'm talking about the baked potato and baked sweet potato that can be found at the Liberty Square Market in Liberty Square at the Magic Kingdom!
Wait…I know you're going to ask me two questions…first…they sell baked potatoes and baked sweet potatoes at the Magic Kingdom and second…where on EARTH is the Liberty Square Market?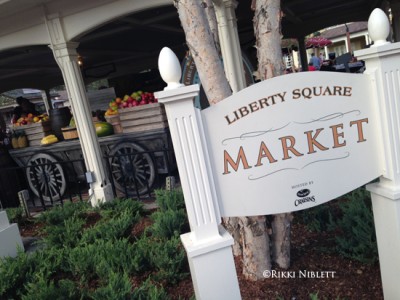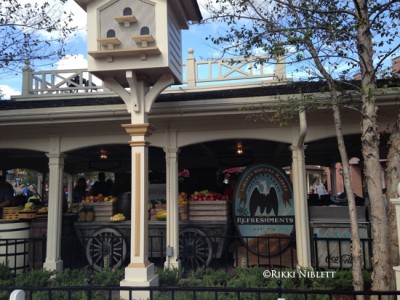 Well, I can easily answer both. They do indeed sell both kinds of potatoes, as well as corn on the cob at this quick snack stand and the Liberty Square Market is actually hiding in plain sight in Liberty Square! It's the giant pavilion in the middle of the land, nearby the Liberty Square Riverboat. You literally can't miss it, as there are lots of tables surrounding the open air stop.
Most people stop here to grab a piece of fruit, some chips, or a soda, but if that's all you are getting, you are missing out!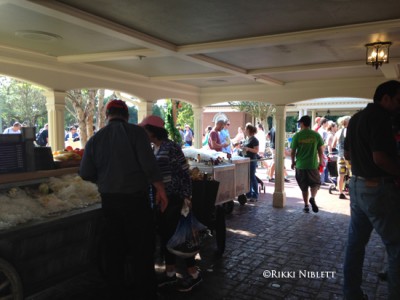 So, one day, I was strolling through the Magic Kingdom and I wanted a healthier snack to enjoy while I had some time to kill. It was nearish lunch time, so I thought, why not head to Liberty Square Market? I knew I wanted a potato and as soon as I saw the sweet potato, I knew that was what the doctor ordered!
I found a table, though it was a bit difficult because a lot of people tend to stake out those tables and just sit, since they are out in the open. Also, know that these tables are in the elements, so if it's hot and sunny or raining, this may not be where you want to sit. It was a comfortable day when I visited, so I didn't mind sitting outside.
The potato itself was cooked to just the right consistency. It wasn't overly mushy, but it wasn't undercooked either. (Nothing worse than an undercooked potato.) It was a good size potato too, so it was the perfect option for snacking on.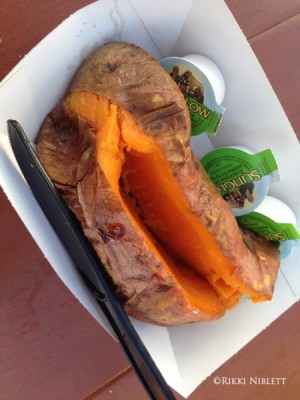 They served it with butter, which was good, however, they didn't have any other accompaniments available. They did have sour cream, but that wouldn't really work on a baked sweet potato; that was perfect for the regular potatoes tough. There was unfortunately no brown sugar, no cinnamon, nothing. While it made eating the sweet potato a bit healthier, I would have liked for them to have offered more choices.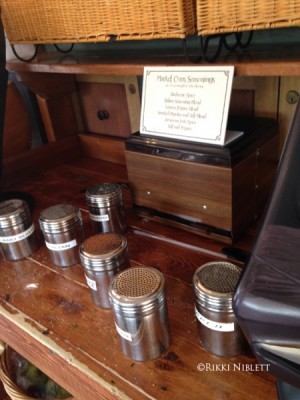 Overall, I thoroughly enjoyed my snack and strongly encourage you to try a potato from here too!  Of course, you could always try the corn on the cob option…and what's great about that is they have a lot of different seasoning options for the corn on the cob! They include Barbecue Spice, Italian Seasoning Blend, Lemon Pepper Blend, Smoked Paprika and Salt Blend or Jamaican Jerk Spice. Come to think of it, that corn on the cob may need to be my next snack stop on my next visit to the Magic Kingdom!
Have you ever stopped for a snack at Liberty Square Market? What are your thoughts?
Incoming search terms:
https://www themouseforless com/blog_world/snack-spotlight-baked-sweet-potato-from-liberty-square-market/