This post may contains affiliate links for your convenience. If you make a purchase after clicking a link we may earn a small commission but it won't cost you a penny more! Read our full disclosure policy here.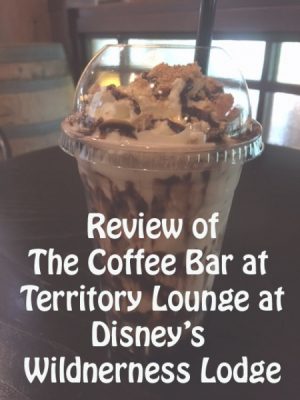 One of the great places to relax at Disney's Wilderness Lodge is Territory Lounge. Each night, Guests can stop for a beverage or a light meal or snack and enjoy the calming atmosphere. But did you know that a visit to the Territory Lounge isn't just an evening experience any longer? Nope! In fact, Guests are invited to make a stop here in the mornings and afternoon for a quick coffee pick me up at their coffee bar!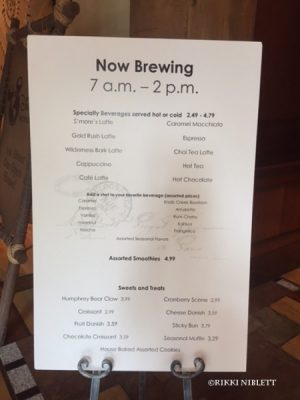 Territory Lounge has a classic Pacific Northwest vibe. It features large carved animals, paintings of the great outdoors, and a giant map on the ceiling showcasing the adventures of Lewis and Clark. It emphasizes woods, leathers, and dark colors.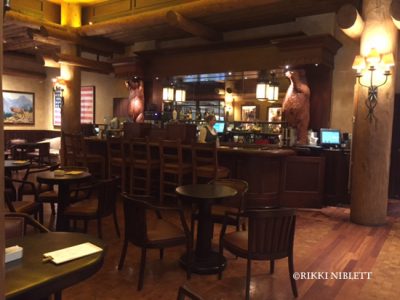 Guests looking for a great cup of coffee can head to Territory Lounge from 7:00 a.m. until 2:00 p.m. and pick up a hot or iced beverage, add a shot of flavor (or a shot of something stronger), grab a smoothie, or pick up a breakfast pastry. (I love that they have the option of the Humphrey Bear Claw. For those who don't know, Humphrey is a classic Disney character and basically the unofficial mascot of Disney's Wilderness Lodge.)
What's great about the lattes at Territory Lounge is that they have some unique to this location options, such as the Gold Rush Latte (a vanilla latte with caramel), the Wilderness Bark Latte (a chocolate hazelnut latte), and the option that I choose, the Smores Latte (a marshmallow chocolate latte)
The option for these beverages is one size fits all. There's not grande, venti, or tall here. The beverage consists of swirled chocolate sauce, mini marshmallows, and crushed graham crackers on top. Oh and don't forget the whipped cream!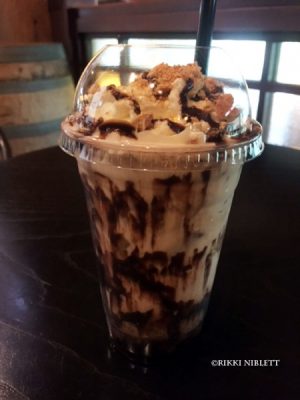 So, as soon as I took my first sip, the first thing I thought was holy sweetness! This was an incredibly rich coffee treat. If you don't like a sweet coffee, this is not the drink for you. It had great flavor though. The chocolate was indulgent and mixed well with with the latte. I was originally going to get the drink hot, but the Cast Member suggested to try it iced and I have to say, it was a good call. Once I was able to mix the drink up a bit, it cut down on the sweetness, but it was still pretty darn intense.
So the question is, would I get this again? Absolutely! I thought it was great. Though I have to admit that the other two specialty coffee options do sound intriguing, as well. I'm a sucker for vanilla lattes, so a vanilla latte with caramel sounds heavenly. Plus, I want to try the hot version of the smores latte, just to compare. So, yes, I'll be back to Territory Lounge for their coffee bar and I look forward to enjoying more delightful treats and getting a caffeine buzz too!