This post may contains affiliate links for your convenience. If you make a purchase after clicking a link we may earn a small commission but it won't cost you a penny more! Read our full disclosure policy here.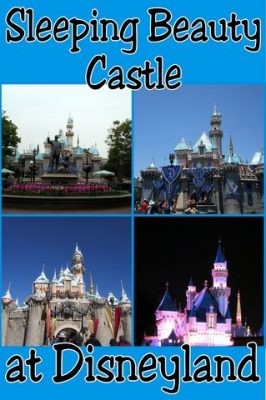 Every "happily ever after" needs a castle, right? Disneyland's crown jewel is Sleeping Beauty Castle, at the center of the park and instantly recognizable as an icon of the Disney company. Disney has built fairy tale castles at all of its flagship theme parks around the globe, but this is the original model.
Fun fact: The castle was inspired by European castles, primarily Neuschwanstein Castle in Germany.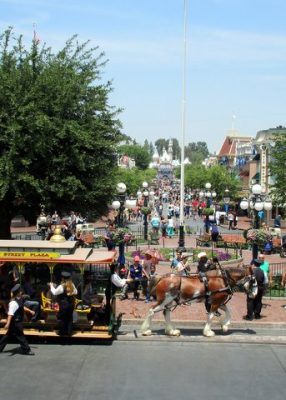 Fans who have been to Walt Disney World and then visit Disneyland often remark how small the castle appears. You won't see it from outside the gates like the Magic Kingdom in Florida. But there is magic — and a plan — in letting the story unfold. You first step onto Main Street, absorb its old-fashioned charm, and only then spot the castle beckoning you from the Hub.
Fun fact: Sleeping Beauty Castle is 77 feet but looks taller thanks to forced perspective.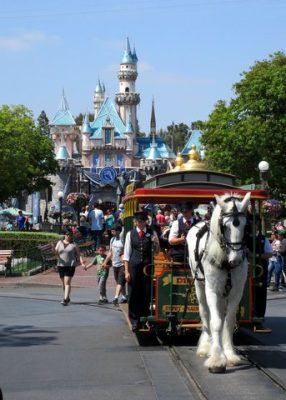 Check out some of the Main Street entertainment as you ride to Sleeping Beauty Castle on one of the Main Street vehicles.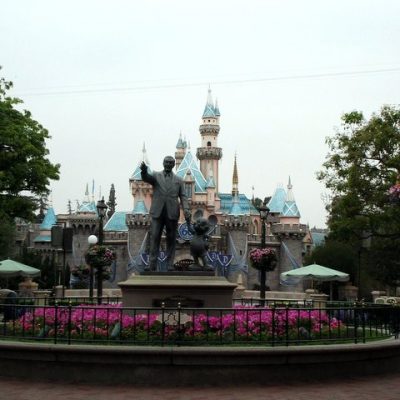 The man and the mouse responsible for Disneyland, in front of their famous creation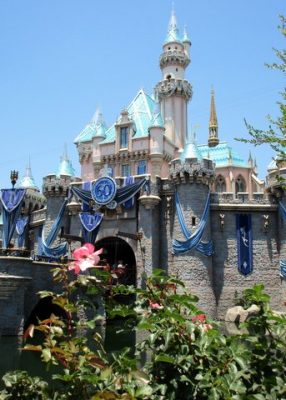 Disneyland has dressed the castle many ways over the years. The castle got gold spires for the 50th anniversary, and blue and silver trimming for the 60th diamond anniversary a few years ago.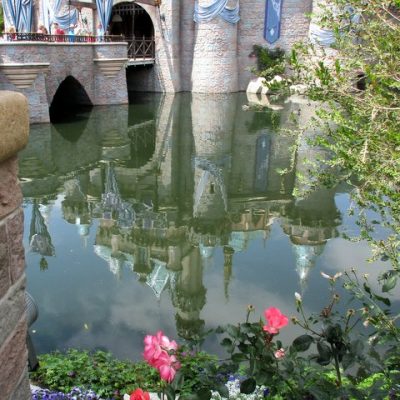 The castle's reflection
Up to $75 Disney Gift Card!
Deal
Book a Disneyland package of $1500* or more and receive a $25 Disney gift card. Packages of $3000 or more receive a $50 Disney gift card. Packages of $5000 or more receive a $75 Disney gift card. Gift cards are accepted at many Disneyland Resort locations and can be used to pay for shopping, dining, and so much more. We are sure you will find a way to put this to good use!   Read More
More
Less
Fun fact: Sleeping Beauty Castle opened with the park in 1955, four years before the "Sleeping Beauty" Film debuted.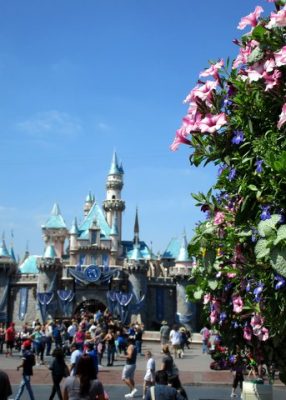 Disneyland's castle lacks a restaurant, but it includes the charming Sleeping Beauty Castle walk-through that tells its namsake's story.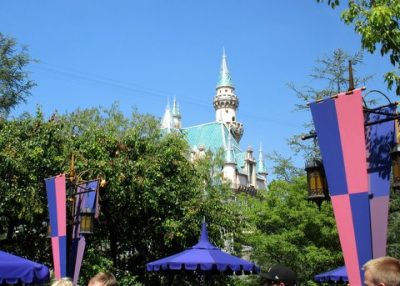 The castle as seen from Fantasy Faire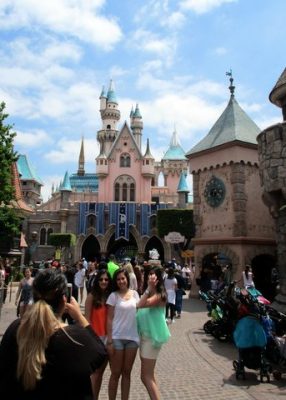 Ladies and gentlemen, the backside of Sleeping Beauty Castle (from Fantasyland)
Fun fact: Look for the Disney family coat of arms above one of the archways!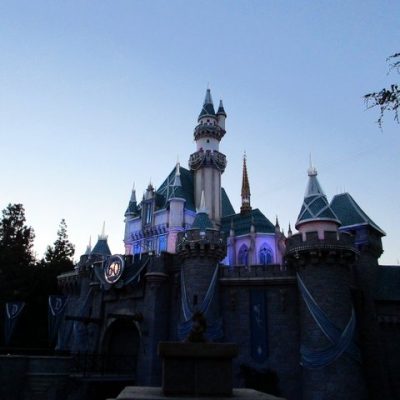 One of my favorite relaxing Disneyland activities includes a seat outdoors, maybe with some food from a Hub eatery — Jolly Holiday Bakery Cafe, Plaza Inn, or the Little Red Wagon. Then I watch the light soften as the sun sets and the castle changes hue.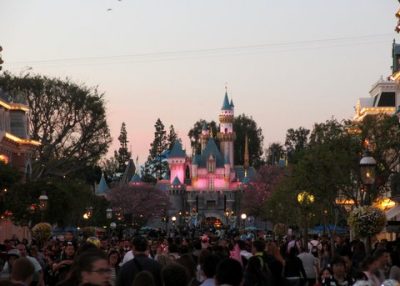 I don't care about the mass of humanity in the foreground, I love the lights of Main Street and the tint of the castle in the twilight.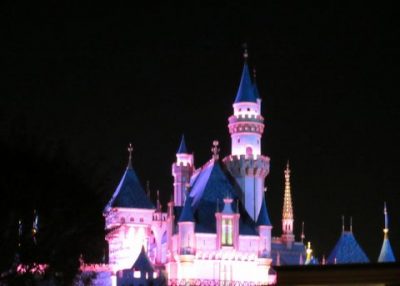 That waiting-for-the-fireworks glow of Sleeping Beauty Castle at night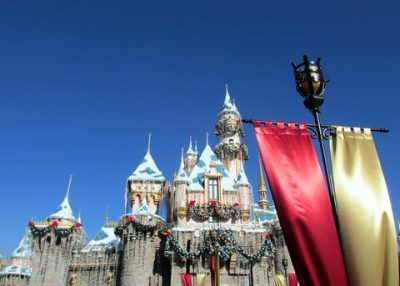 If you think Sleeping Beauty Castle can't be improved on, you haven't seen it during the holidays at Disneyland. The castle turrets receive a layer of faux snow, and Christmas bunting draped everywhere.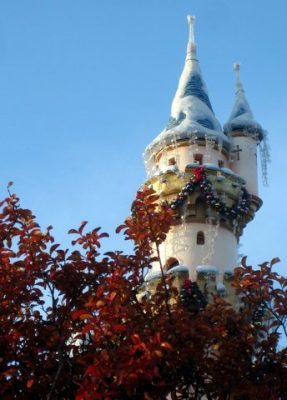 Seasonal specialties at Disneyland: fall foliage, snow, and icicles
All of those icicles transform this icon into Sleeping Beauty's Winter Castle after dark. Lights from around the Hub and onto Main Street cast a glittery glow on the festive atmosphere. It's the most beautiful castle in the Happiest Place on Earth.
Which view of Sleeping Beauty Castle is your favorite? Share in the comments.

Did you like this article? Make sure to share it with your friends! Check below for easy ways to share!