This post may contains affiliate links for your convenience. If you make a purchase after clicking a link we may earn a small commission but it won't cost you a penny more! Read our full disclosure policy here.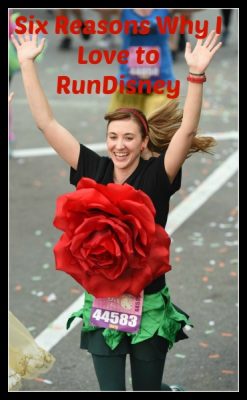 I've never been much of a runner and certainly never pictured myself running a long distance race. That all changed about a year ago when I signed up for my first runDisney event, the Princess 5K. I never knew that it could be so much FUN to run! Since then, I have been hooked.  Here are a few reasons why!
The Characters
One of the fun aspects of runDisney is that there are characters at every race. RunDisney events are usually a good place to find some of the more rare characters that you may not see in the parks every day. There are character spots along the race route and you can stop for pictures if you would like. Lines tend to form at each character, so you have to keep your time in mind if you choose to pose for a photo.  Looking forward to seeing which character pops up next along the route is one of the things that keeps me moving.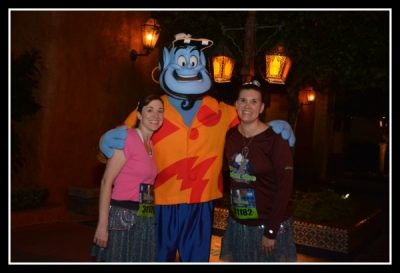 Quick Stop to Meet the Genie at the Wine and Dine 10K
The Early Start
I know what you are thinking. Surely I can't be excited about getting up at 3:00 a.m. to run!  Truthfully, this is not my favorite aspect of a race, BUT there are some advantages to the early start time. Races begin early in the morning before the park opens. The nice thing about this is that you get to see the parks from a different perspective. Have you ever seen the sun come up over the World Showcase Lagoon?  It is a beautiful sight and not one that you get to see on an average day. This alone is worth the ridiculously early wake up call.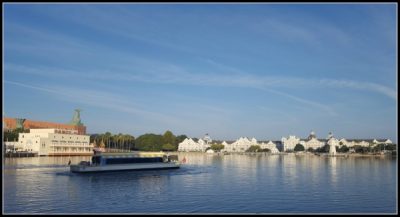 Early Morning View from the Boardwalk
The Medals
It's all about the bling! Each race has a unique medal that runners receive at the end of the race. There are even special medals for runners that participate in "challenges." Challenges typically include running multiple races in one weekend.  (For example, the Glass Slipper Challenge includes running the Enchanted 10K and the Princess Half Marathon.) It is always fun to wear that medal around the parks after completing a big race. You've earned it, show it off!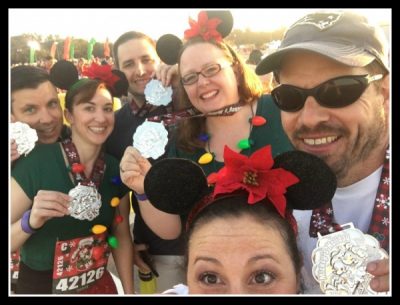 Showing Off Our Medals After Mickey's Holiday 5K
The Memories
No matter how many runDisney events you attend, each race is different and special. My first 5K will always be special because I did the race with my mom. We walked the whole thing and our time was nothing to brag about, but we did it together and I enjoyed every minute of it!  I did my next 5K and 10K with my husband and some really good friends. We had a great time posing for photos with all of the characters. I am always looking forward to my next race because I know that it will be unique.
The Costumes
At a runDisney race, you will find people who go all out on their costumes.  Even if you don't choose to dress up, you will see some really fun outfits at every race. In my first few races, I was pretty conservative and just found some fun skirts to wear. For the 2017 Princess 5K though, I decided to have a little more fun with my outfit.  The race was Beauty and the Beast themed and I expected many runners to dress as the main characters. I went for something different and dressed up as the rose. I think my outfit turned out great and I had a good time running in it.  Where else can you dress as a giant flower and run a race?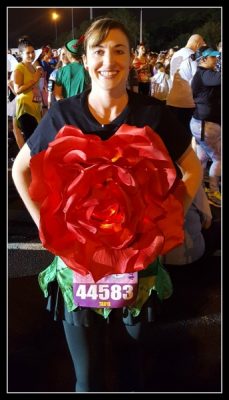 This Rose is Ready to Run
The Finish Line
The number one reason that I have become so addicted to runDisney is this…
The pure joy of crossing the finish line!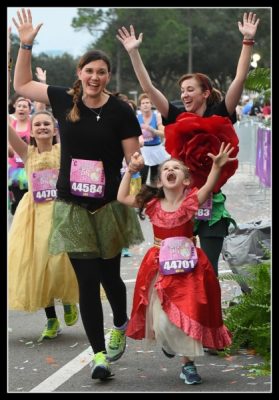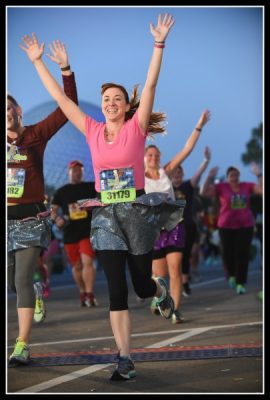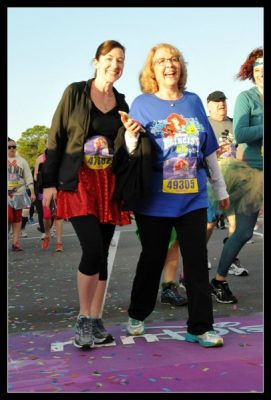 There is no better feeling of accomplishment than the rush I feel when I cross that finish line! This is why I run while on vacation. This is why I get up in the middle of the night to run these races. This is why I spend hours on the treadmill preparing for a race. This is why I run in silly outfits. This is why I runDisney!
What is your reason to runDisney? Share your fun experiences in the comments!
Did you like this article? Make sure to share it with your friends! Check below for easy ways to share!