This post may contains affiliate links for your convenience. If you make a purchase after clicking a link we may earn a small commission but it won't cost you a penny more! Read our full disclosure policy here.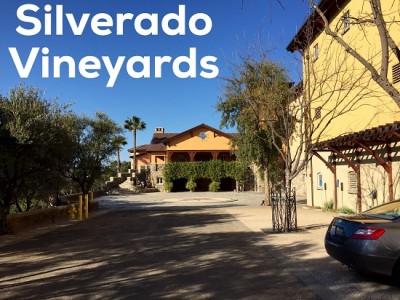 For me it all started with the inaugural runDisney Star Wars half marathon at Disneyland. Coming from Florida and never having visited the west coast I wanted to pack as many things as possible into a whirlwind vacation. So for the two weeks around the race I made my way around California making sure to hit as many Disney destinations as possible. Disneyland, California Adventure, and the Disney family museum were givens, but I also wanted to visit places like Napa Valley and the Monterey Bay Aquarium. Little did I know my excursion to Napa would lead me to the most unique and unexpected Disney destination, Silverado Vineyards, a winery co-owned by Diane Disney and her husband Ron Miller.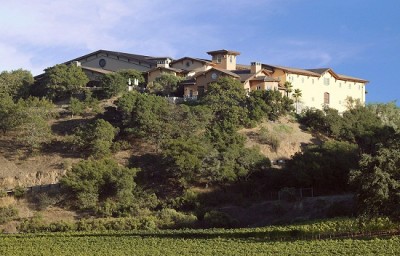 The palatial winery atop a hill
Diane was Walt's only biological child and spent copious amounts of time and money preserving her father's legacy. Among other endeavors she was instrumental in the construction of the Walt Disney Concert Hall in Los Angeles. She was also the president of the board of directors of the Walt Disney Family Foundation, the non-profit organization than owns and operates the Walt Disney Family Museum located in the Presidio in San Francisco. Diane passed away in 2013 at the age of 79, but Ron Miller, husband and former Los Angeles Rams tight end, lives on.
What began as just a vineyard in the seventies is now a full fledged winery in the Stag's Leap AVA (American Viticultural Area) six miles north of Napa City on the Silverado Trail. The trail runs parallel to St. Helena Highway, the main vein running through wine country. There is no direct connection to the Disney corporation, but Diane and Ron have harnessed some of that Disney magic and integrated it into the winery. Most notably the enchanting sense of place similar to what you find at Disney parks.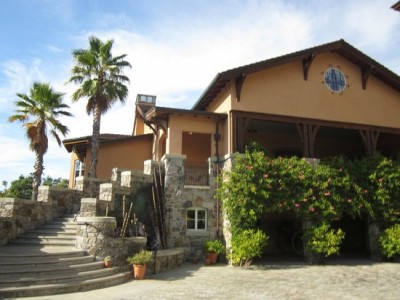 The flowing staircase leading to the tasting room
View of the drive up
As you drive up the only thing alerting you to the presence of Silverado Vineyards is a simple sign. So simple in fact that you might miss it if you're not careful. Once on property you start your climb to the top of a hill, but before you see the winery you're greeted with the first of many gorgeous vistas overlooking Stag's Leap. Eventually you'll make your way to the top as the winery comes into view. The beautiful Spanish hacienda blends into the surroundings and seems to hide itself until you reach the top. The whole area has an air of calmness and feels otherworldly. Being out-front of a beautiful building, on the top of a hill, alone was an experience unlike anything else.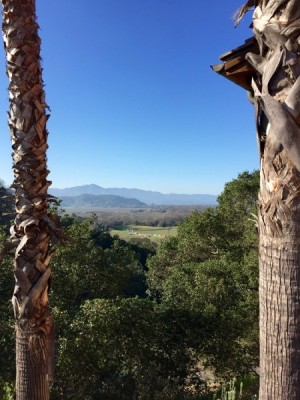 After climbing the curved staircase at the front of the winery you enter the tasting room. Inside, your attention is drawn to a colorful Ratatouille movie poster, one of the only blatant tip of the cap to Disney/Pixar. The rest of the tasting room was what you'd expect: the Spanish theming flowing throughout, high ceilings, access to an outdoor seating area offering more spectacular views of the valley, and a peek into the wineries aging room stacked to the rafters with barrels.

Panorama from the outside seating area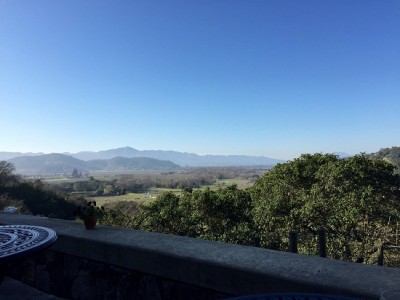 Beautiful vistas seen throughout the property
The winery offers tastings as well as tours (I would recommend doing a tour during harvest season). I decided on just a wine flight which included several wines from recent vintages. In the middle of the tasting an employee brought out an older vintage from the mid 90's and offered me a taste. It wasn't included but it reminded me of the customer service typical at a Disney resort where the customer comes first. That moment left an indelible impression, as well as pointing out the flaws in other tasting rooms where the staff wasn't as helpful or just plain rude.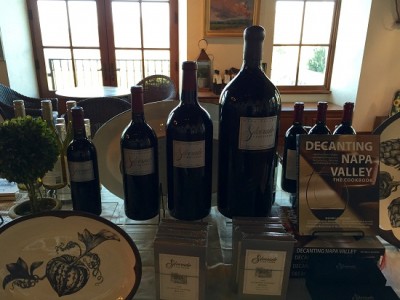 Cabernet sauvignon is king here as evidenced by their SOLO line of wine featuring 100% cabernet sauvignon grapes, but Silverado does offer other varietals such as sauvignon blanc, chardonnay, merlot, and sangiovese. Like other wineries in the area, Silverado prides itself on wines from specific plots or vineyards, as opposed to bulk wines which generally take grapes from a larger geographic area and blend them all together. This singular focus ensures each vineyard, each grape varietal, and each vintage offers a unique taste and allows the terroir, or environment, to shine.
Silverado Vineyards is like something out of a dream: beautiful architecture, amazing scenery, and great wine, but like I found when visiting Napa, this triumvirate is few and far between. Luckily for the Disney fans out there you can get your Disney fix, great wine, and an amazing experience all in one go.
If you're lucky enough you might be able to find a bottle of Silverado Vineyards wine at your local wine shop, but from my experience retail stores that offer Silverado are few and far between. If you can't find a bottle at a local store you can always purchase a bottle online.
If you want to take your own trip you can find their website Here and their address below.
6121 Silverado Trail
Napa, California 94558
(707) 257-1770
Next stop the Lasseter Family Winery!
Have you ever stopped at the Silverado Vineyards? What were your thoughts? Share in the comments.
Incoming search terms:
https://www themouseforless com/blog_world/silverado-vineyards-disneys-winery/
disney silverado 英語
https://www themouseforless com/blog_world/silverado-vineyards-disneys-winery/#:~:text=Little did I know my and her husband Ron Miller &text=Diane was Walts only biological money preserving her fathers legacy
silverado wine Disney