This post may contains affiliate links for your convenience. If you make a purchase after clicking a link we may earn a small commission but it won't cost you a penny more! Read our full disclosure policy here.
Our Disney Side Party is over and done, and it turned out to be a great way to get ready for our trip coming up in March! All of our family members going on the trip were able to attend. Everyone got very excited as we ate, laughed, and talked about our favorite rides and shows. The supplies and decorations provided by Disney were perfect, and the food turned out well, if I do say so myself! Here's a look at what we had.
My initial plan was to serve only desserts themed around the four parks, but when I realized how many teenagers were coming to the party, actual food seemed to be a better choice! I still tried to represent each park, and those who had been to Disney World before were able to recognize which food was for which park (with a few hints!).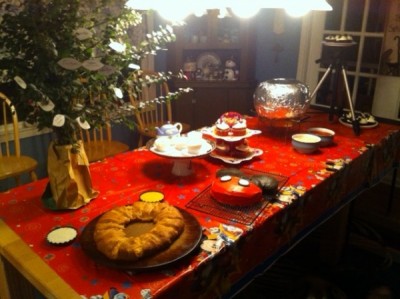 Animal Kingdom was represented by our Family Tree attached to a live Tree of Life replica! The Circle of Life Buffalo Chicken Ring was delicious, and included both Ranch and honey mustard dressings for dipping. It turned out really spicy, and my family vetoed the blue cheese which the recipe called for, but it was a nice contrast to all the desserts.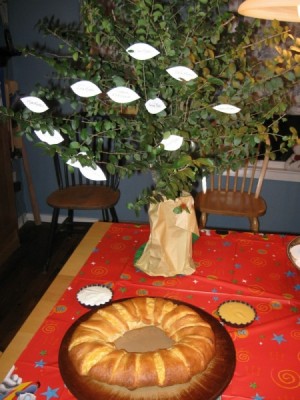 Next was the Magic Kingdom, with red velvet cupcakes in the teacup bakers I found. The batter didn't rise very much in the silicone teacups, but I actually liked that the cupcakes ended up looking a little like cappuccino! I think of all the desserts, these were the party favorites. I also made a Mickey cake for this section of the table.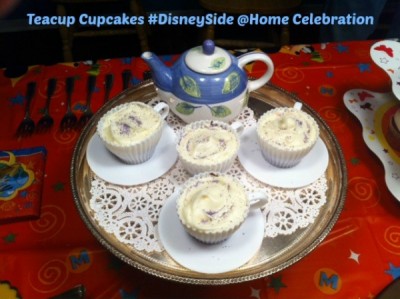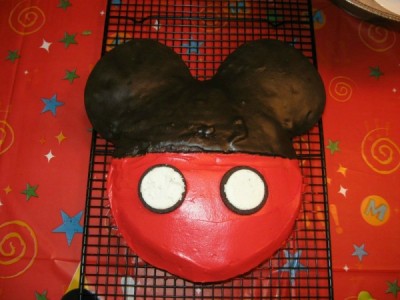 I covered a couple of large bowls with aluminum foil for Spaceship Earth in Epcot, and filled them with tortilla chips. We had both regular and cream cheese salsa. You can't go wrong with teenagers, chips and salsa! I also made a few flatbread pizzas, something my kids love.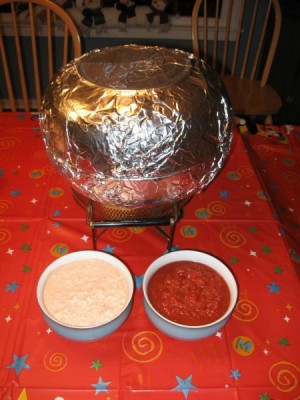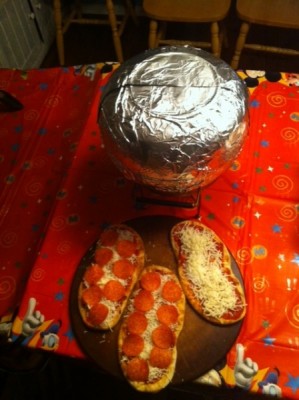 Our last dessert represented Earful Tower in Hollywood Studios. The chocolate cupcakes with cream cheese icing and mini Oreo Mickey ears were a big hit! This was the only icon my kids had a hard time recognizing, since they don't see it every time we visit the park.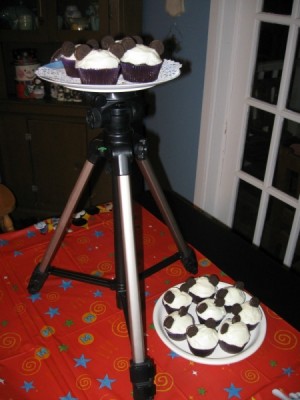 While we ate, each family member filled out a short form I had made with a list of all the attractions for each park, marking their top three choices. We are also taking a friend, who is going back to Disney for the first time since she was a young child, on our trip in March. She chose to watch "The Aristocats" during the party, and wanted to watch videos of all the attractions before making her "must-do" list! It was fun for my kids to watch, too, and they were happy to answer any questions she had, and try to sway her to pick their favorites.
The whole family had a fun night, eating and remembering previous Disney trips while planning the upcoming one. Our daughter and her daughter, the newest member of the family, were even able to Skype in for a while. Of course, she was wearing her Minnie pajamas!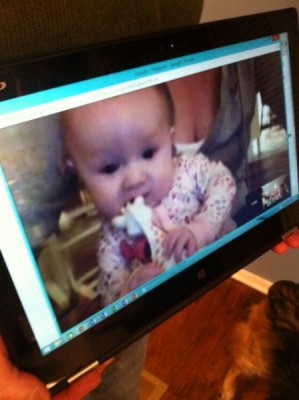 And now, armed with their lists, I'm ready to make all our FastPass+ reservations, one of my favorite things to do! We are staying off-site this trip because of the number of us going, so the thirty-day mark for getting our FastPasses is coming up. Planning is almost as fun for me as being there. Well, not quite! Spring Break at Disney, here we come…..
I received free products from Disney in order to host a DisneySide @Home Celebration. The opinions expressed here are my own.
Have you ever had a fun party to ramp up excitement for one of your trips?