This post may contains affiliate links for your convenience. If you make a purchase after clicking a link we may earn a small commission but it won't cost you a penny more! Read our full disclosure policy here.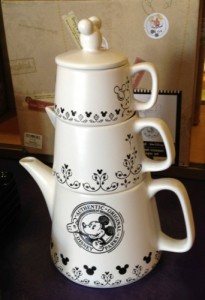 While Downtown Disney is currently undergoing a major renovation it is still a great place to get some serious shopping done. So while we are all waiting for Downtown Disney to undergo its metamorphosis and emerge like a phoenix as Disney Springs I invite you to follow me on my latest shopping spree.
My first stop at Downtown Disney is always Mickey's Pantry. Disney-themed culinary items, such as dinnerware, waffle irons, tea kettles, aprons and toasters galore. I love the recently added Spice & Tea Exchange, a collection of a variety of spices, tea, sea salts and organic sugars but it was a Mickey teapot with stackable milk and sugar pot ($34.95) that caught my attention.
I had to have it and while I really wanted the elegant Mickey Mouse tea kettle ($39.95) too, I restrained myself, after all there is nothing wrong with the one I have at home. I did however cave in and bought the Mickey Mouse tea strainer which, I convinced myself at $9.95 was a bargain.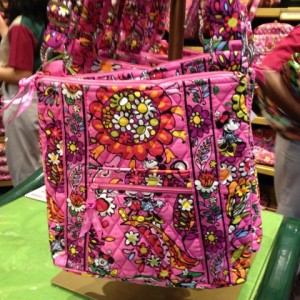 Next I had to check out for myself what all the Vera Bradley Disney inspired bag craze was all about.  I had read about the pink "Just Mousing Around" and the black "Midnight with Mickey" bags but nothing prepared me for what happened next.  The World of Disney, arguable the largest Disney store on earth, had very little Vera Bradley merchandise to show for.
I had been dreaming of backpacks, cosmetic bags, duffel bags and totes but found out that my choices were very limited.  I still went for the pink tote bag and blamed Stitch for buying out the rest of the stock!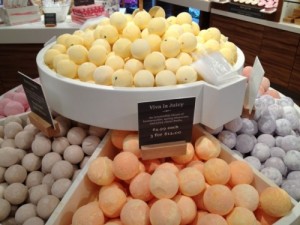 An absolute must is a stop at Basin. The fresh-cut soaps are made with natural ingredients such as almonds, cranberry, vanilla, oatmeal, honey, and sea salt and are handmade vegetable oil glycerin or olive oil based soaps. I went for a Halloween themed bar and a stash of bath bombs, which came in handy in the aftermath of my 10-Miler Tower of Terror race two days later. At $3.99 the bath bombs also make for reasonable priced gift.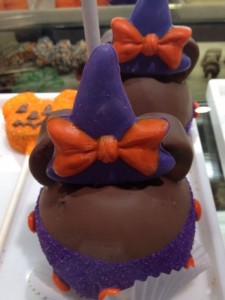 Although you find candy and caramel apples all over Walt Disney World I still think that the Candy Cauldron Downtown Disney is THE place to go for sweet treats. I am amazed at the creativity that goes into the seasonally themed caramel apples and with Halloween just around the corner I could not resist and bought a purple apple with a chocolate witch hat.
The House of Blues was my last stop and while most associate it with live music, Cajun and Southern favorites such as Voodoo shrimp, creole seafood jambalaya and Louisiana crawfish the House of Blue also has a fabulous shop. It's eclectic selection of original folk art and Mississippi Delta music really stands out. I love their incense and got a supply of Fairy Dust and Summer Day.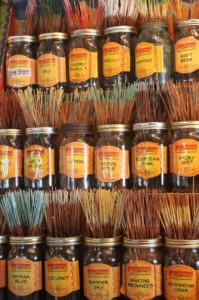 It was time to revitalize and I decided to have dinner at Ragland Road, my favorite Downtown Disney restaurant. I went for Chef Kevin Dundon's traditional Shepherd's Pie, made with ground lamb nestled on a generous portion of mashed potato. And did I mention the Irish Soda Bread served with house made Guinness reduction-dipping sauce? To wash it all down I ordered a beer flight. Being a beer aficionado I appreciated that at Raglan Road I can customize my own beer flight.  But what would be an Irish Pub without music? Every night, starting at 5 PM Raglan Road puts out authentic Irish live entertainment featuring dance shows and music by their house band Creel. So next time you are Downtown Disney go and discover your Irish side. You won't regret it!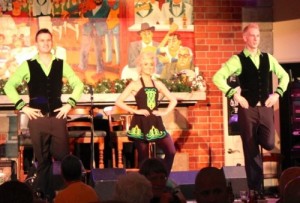 Transportation: If you are staying on property a.k.a. at a Disney Resort regular Disney bus transportation is available. If you are staying off property getting there is not a problem either and there is plenty of free parking available.