This post may contains affiliate links for your convenience. If you make a purchase after clicking a link we may earn a small commission but it won't cost you a penny more! Read our full disclosure policy here.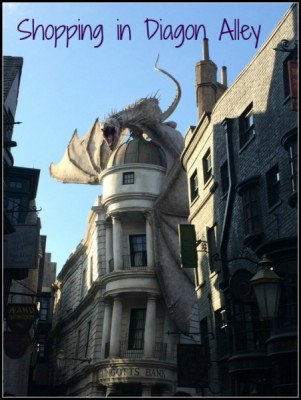 The Mouse For Less Blog welcomes new blogger Lauren! She shares her experience in Diagon Alley at Universal Orlando Resort.
From the time I was a teenager and picked up my first Harry Potter book, I was captivated by the world that J.K. Rowling created through her writing. Through my own imagination, I pictured how Hogsmeade, Diagon Alley, and Hogwarts would look like. I was thrilled when the Harry Potter franchise was brought to the movies and even more when Harry's world would be brought to life at Universal Studios. I was at the Wizarding World of Harry Potter during the grand opening weekend in 2010 and managed to catch Diagon Alley a week before its opening date during a soft launch this summer. As a fan of the original Wizarding World of Harry Potter at Universal's Islands of Adventure, I had big expectations for Diagon Alley. My expectations were blown out of the water the minute I stepped through the London waterfront facade into Diagon Alley.
As a lifelong Disney fan, I notice the attention to detail that is put into attractions, and the theming of Diagon Alley will not disappoint anyone, whether they are a Potter fan or not. While Harry Potter and the Escape from Gringotts, Diagon Alley's main attraction, is something to be marveled at alone, some of the greatest details of all can be found in the shops throughout Diagon Alley. Being the sucker that I am for great themed merchandise, I would like to take you on a virtual tour through some of my favorite shops in Diagon Alley.
I'm going to start off at Weasley's Wizard Wheezes, owned and operated by George and Fred Weasley themselves. This shop offers novelty items (such as extendable ears), magical jokes, and toys. The shop is beautifully themed and definitely the most vibrant and colorful of all the shops in Diagon Alley.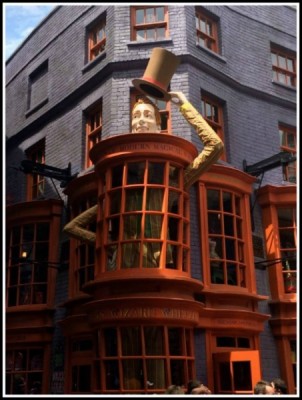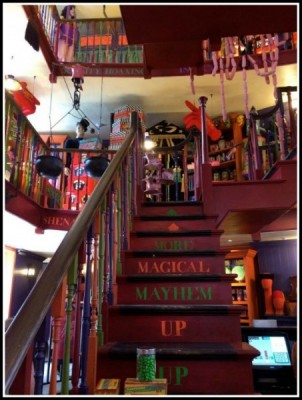 Next, and possibly my favorite shop, is Madam Malkin's Robes for All Occasions. This shop features uniforms and authentic wizard robes, scarves, lanyards, and many other accessories. I basically want everything in this shop and finally purchased my very own Gryffindor scarf from here. Perhaps my favorite detail of this shop was seeing Hermoine's dress that she wore to the Yule Ball on display.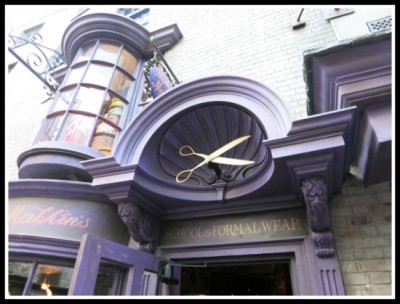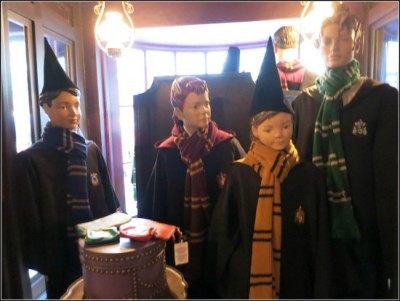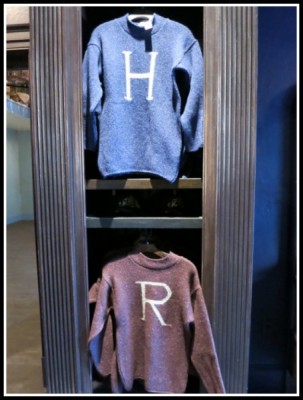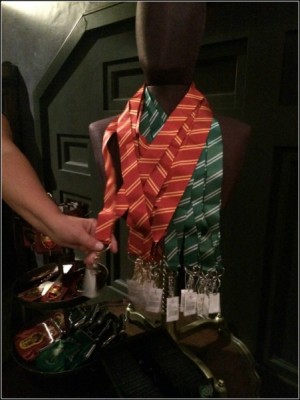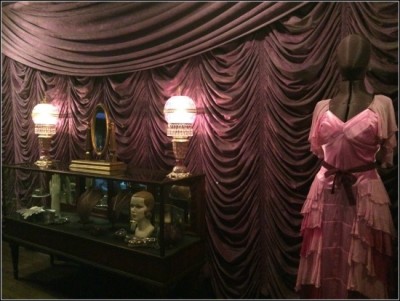 For all the animal lovers out there, you'll love Magical Menagerie. This shop is home to all kinds of plush collectables, including Cornish Pixies, owls, Hippogriffs, and unicorns. This shop is also incredibly detailed with some of your favorite Harry Potter pets, such as Crookshanks, Buckbeak, and Fluffy. Watch out for the giant snake though!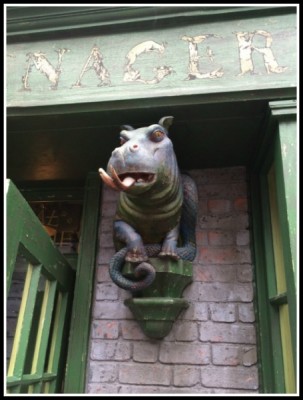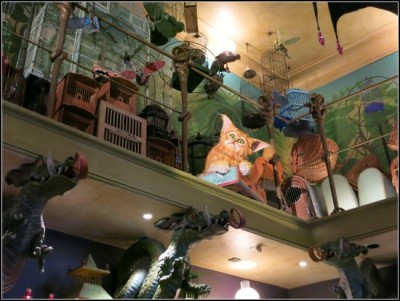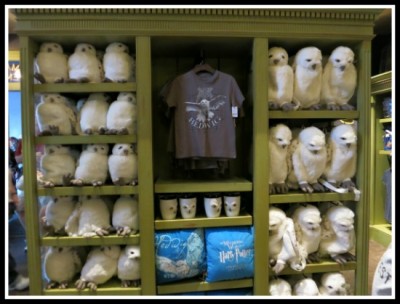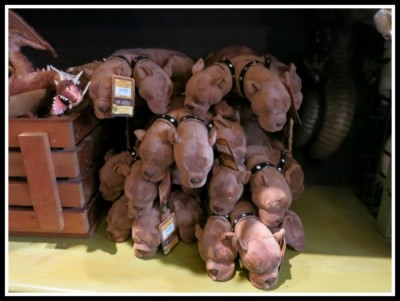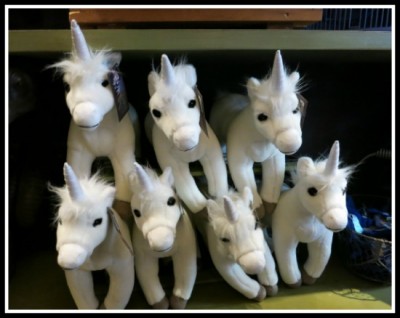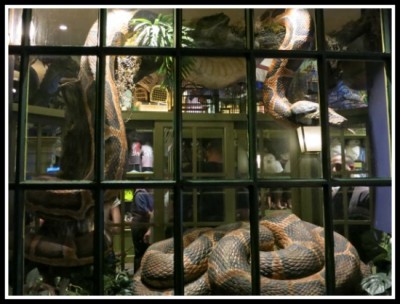 Wiseacre's Wizarding Equipment offers a variety of wizarding supplies, such as telescopes, magnifying glasses, clothing, and much more. This shop has such magical touches to it and I was in awe when I walked in and saw the giant globe and stars affixed to the ceiling. Attached to Wiseacre's is Scribbulus, which is a small shop that sells various types of writing supplies, such as feather quills, parchment paper, journals, postcards, and ink. The writing supplies are absolutely beautiful and a great gift idea for those who appreciate true penmanship.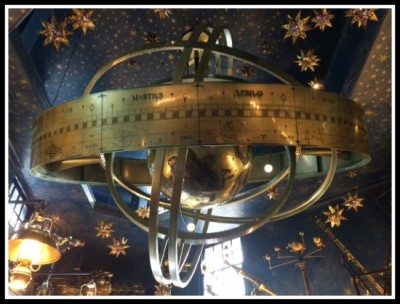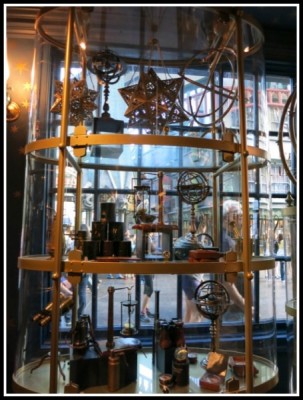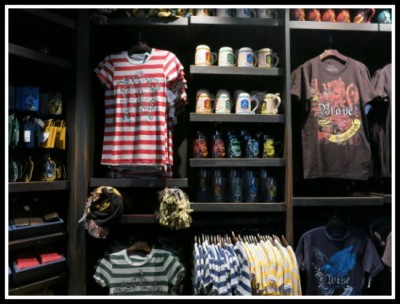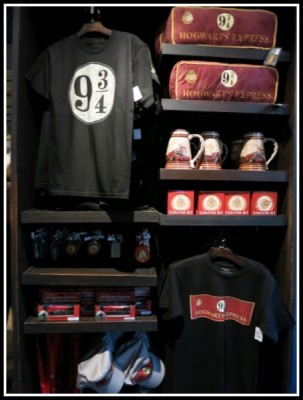 Another favorite, Borgin and Burkes, caters to those with a darker side. Offering skulls, Death Eater masks, apparel, jewelry, and accessories, this is your one-stop-shop for sinister gifts in Knockturn Alley. The jewelry especially is beautiful and really high-end quality for those with an edgier style.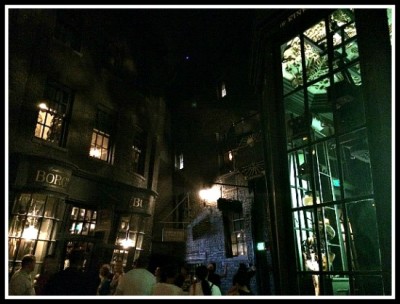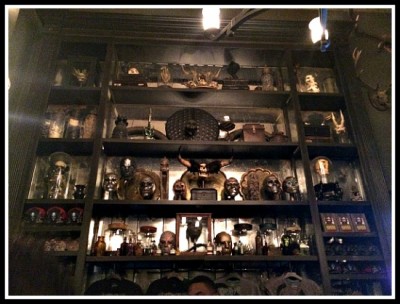 Quality Quidditch Supplies is the perfect place to pick up team sweaters, brooms, the golden snitch, and other necessities for every wizard's favorite sport. Once again, the quality of these items are top notch and you can find something that every Potter fan will appreciate.
Finally, what's a trip to Diagon Alley without getting your very own wand? Due to the popularity of Ollivanders in the Wizarding World of Harry Potter, another Ollivanders has been added to Diagon Alley, along with Wands by Gregorovitch. Both shops offer wand replicas from all your favorite Harry Potter characters, as well as unique wands available at Ollivanders. With the addition of the new interactive wands to Diagon Alley, this is sure to be one of the items on my Christmas wish list.
Well there you have it–a first-hand look into all the amazingly detailed shops of Diagon Alley! Be sure to keep an eye out for more articles on Diagon Alley coming soon!
Have you had the chance to visit Diagon Alley? What was your favorite new shop or merchandise available?
Looking to plan a Universal Orlando Resort Vacation? Let one of the Universal Specialist from The Magic for Less Travel assist. Their expert services are provided free of charge and they can help you plan a spectacular Universal Orlando vacation.   Plan your Universal vacation for less! Request your free no-obligation quote today – TheMagicForLess.com