This post may contains affiliate links for your convenience. If you make a purchase after clicking a link we may earn a small commission but it won't cost you a penny more! Read our full disclosure policy here.
From Our Magically Speaking Newsletter Archive – subscribe today!
By Debbie Boehm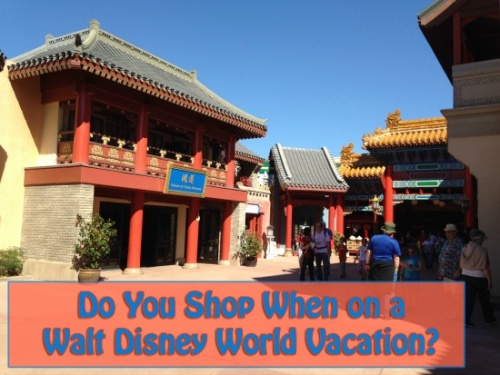 Shopping – you either love it or hate it. If you love it then you're probably just like me at Walt Disney World.
Shopping has changed a lot since my first vacation to Walt Disney World in 1975. Lake Buena Vista Village was a fraction of what is now Downtown Disney. Some of those original buildings are still there but so much has changed. The Magic Kingdom was the only theme park and Main Street was the place to find all the goodies to take home. The first time I saw The Emporium I was hooked. I felt as if I had stepped back in time to a general store. I remember reading that Walt Disney wanted it to feel like you stepped into another time.
Fast forward to August 2014 and we eagerly wait while Disney Springs comes to life. The addition of 75 additional venues for shopping and dining is very exciting to me. Change can be difficult but this is a change I can't wait to see. Right now the walls hiding the construction are up all over the area but the treasures behind them will be fun to explore.
Where does your shopping expedition begin? How about the gift shop at the resort? From key chains to sweatshirts, the resort gift shop is a treasure trove. For example, in March at the Old Key Resort I was fortunate to find a phone cover for my daughter's Android phone. The only other place I found covers for that phone was on the West Side of Downtown Disney several days later. I recommend perusing your resort gift shop first. After all, you're closer to your room if you want to drop off your bags. Also, it's so much easier to complete the paperwork for shipping items home as the resort shops are not as crowded as the big shops.
I definitely have some favorite spots to shop on vacation. Pretty much every shop on Main Street can make me happy. I've bought Mickey ears at Le Chapeau, a Dooney & Bourke purse, charms for my bracelet, and a sterling silver Mickey head bracelet (which doubled in price in six months) right on Main Street.
When you're walking through any of the parks at WDW there are merchandise carts and shops for everything you can imagine. If you see something that is specific to an attraction or area please be sure to pick it up.   Contrary to what you may have been told, every item for sale at Walt Disney World is not sold at the World of Disney. So, if you see an amazing gift for your niece who plays guitar at the gift shop after Rock N Roller Coaster, then you should get it there. You won't find it at the larger shops. Some things truly are unique to a location in a park.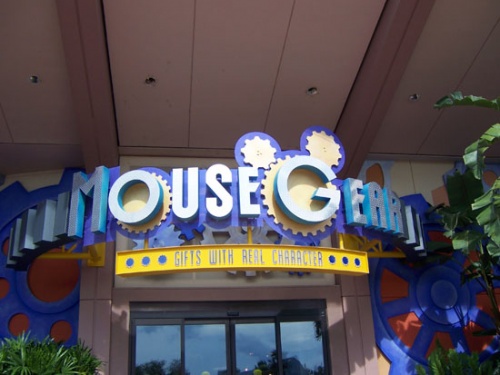 At Epcot, Mouse Gear is always hopping. That sound you hear when you enter this maze of fun is generated by the gears above you. Be sure to look up. My appreciation for the Imagineers grows every time I enter a new area. They truly leave nothing unfinished. I've found tee shirts at Mouse Gear that I hadn't seen anywhere else on property.
Shopping in the World Showcase at Epcot is so much fun.   We love to try new candies or cookies from each country. Buy maple syrup in Canada; tea in the UK; perfume or wine in France; leather goods and more perfume are available in Italy; German treats and yes, more wine can be found in the Germany Pavilion, along with beautiful dolls and cuckoo clocks from the Black Forest. Each country showcases items that are unique. If you shop in Japan you're bound to find origami paper and more anime characters than you knew existed.
Have you been into Villains in Vogue at Disney's Hollywood Studios? It's been a favorite location for me for many years. As villains become more popular, this shop has become more crowded but still worth checking on every trip. The Cast Members are pretty entertaining there too.
Now, you're thinking that this woman must be nuts. She's at Walt Disney World and all she does is go shopping, aren't you? While it's true that I love to shop and find something unique on each trip, I can assure you that my family has never sacrificed ride time. I'm more interested in the tame rides that small children can ride so I utilize the time that my family is enjoying things like Rock N Roller Coaster to browse, perchance to buy.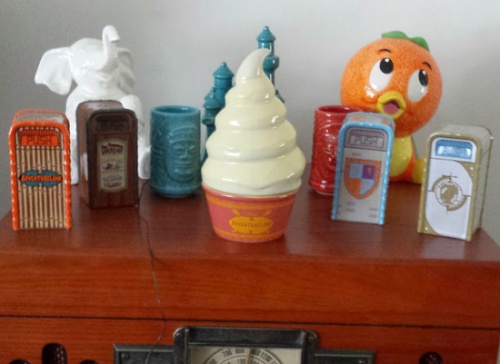 Though when the Marketplace Co-Op opened this spring I was so jealous of my friends who were going to be in Florida that week. I love the new merchandise that is an homage to the earliest attractions. Ceramic castles, Jungle Cruise elephants, Tiki cups and toothpick holders and my favorite Orange Bird have returned!   Also, four different salt/pepper shakers in the shape of trash cans at Magic Kingdom were introduced. Sometimes you can get lucky and get these items online at Disney.com but I urge you to complete your purchase quickly and not wait like I did recently. It was only thanks to the kindness of a friend who lives in Florida that brought me a ceramic dish that looks like a perfect Dole Whip and the PUSH trash cans.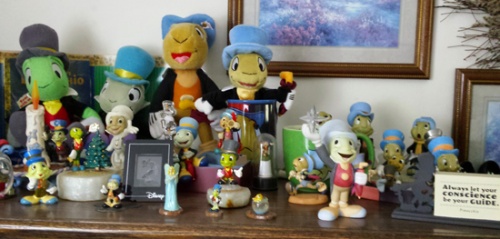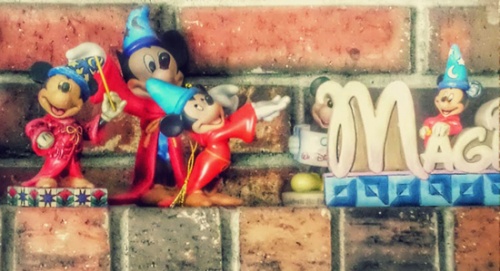 Of course one of the most fun parts about souvenirs is that almost everyone has a collection of something. Here at our house we collect two characters on just about every trip. For me it's Jiminy Cricket, a character I loved from the first time I saw him in Pinocchio and who taught me how to spell the word "Encyclopedia" on television. My husband's go to souvenir is Sorcerer Mickey. We have plush, Christmas ornaments, statues, mugs, tee shirts, hats and even antenna toppers and pens. These collections make us happy and first time guests to our home have been heard to say "wow, they really do like Disney!"
I hope you will take time to walk into just one new gift shop the next time you're on vacation. Say hello to the Cast Members, ask what's new or what's coming in and hopefully, find something fun that will remind you of the fun you had while spending time at my happy place, The Most Magical Place on Earth.
Magically Speaking Featured Article
Library of Congress ISSN:1556-3863