This post may contains affiliate links for your convenience. If you make a purchase after clicking a link we may earn a small commission but it won't cost you a penny more! Read our full disclosure policy here.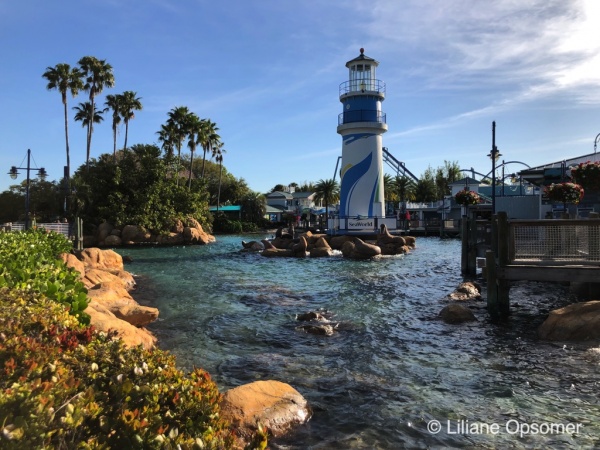 The best way to enjoy the festival is to visit SeaWorld Orlando early in the morning, before the lines get busy and after enjoying the major rides. Sip and sample the many culinary delicacies of the Seven Seas Food Festival.
More than 180 amazing eats are available Fridays at 4:00 p.m. and Saturdays and Sundays starting at 11:00 a.m. The festival runs now through May 5th and offers, on select nights, live performances. Check out the complete lineup here.
The mouth-watering dishes are created by Executive Chef Héctor Colón and his team and include Asian, Polynesian, Mediterranean, German, and Brazilian offerings, just to name a few.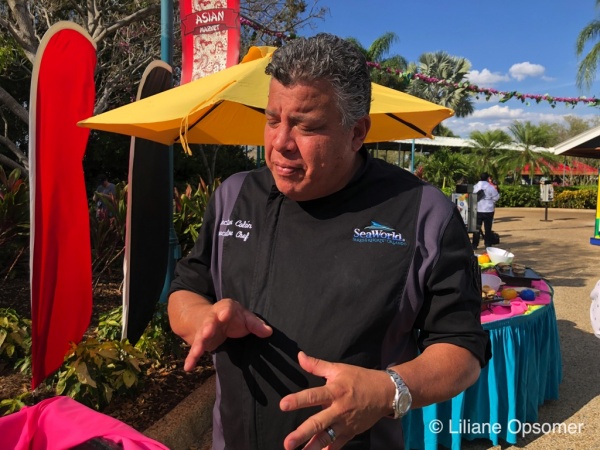 New this year is an Italian market offering Lasagna, Caprese Salad, Cannoli, and a fabulous Melanzane Alla Milanese (Grilled eggplant topped with prosciutto and fresh Buffalo mozzarella).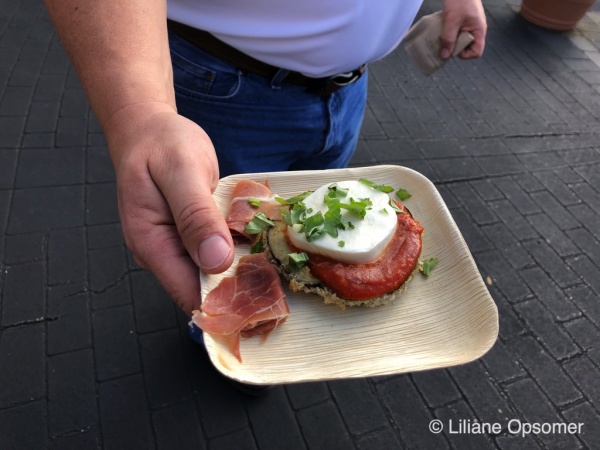 Also new this year is the Vegan Market where you can enjoy the Impossible Meat Slider (Caramelized balsamic onions, jalapeño ketchup, and fresh arugula on a mini pretzel bun), Avocado Corn Tostadas, and a homemade nutty butter protein bar for dessert.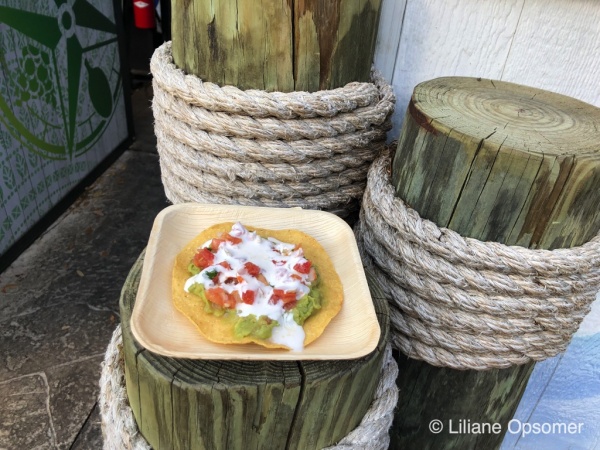 An array of Caribbean dishes from Jamaica, Cuba, and the Dominican Republic are beckoning in the Caribbean Market section. Check out the Jamaican Beef Patty or the Traditional Cuban Slider served with plantain chips and mojo.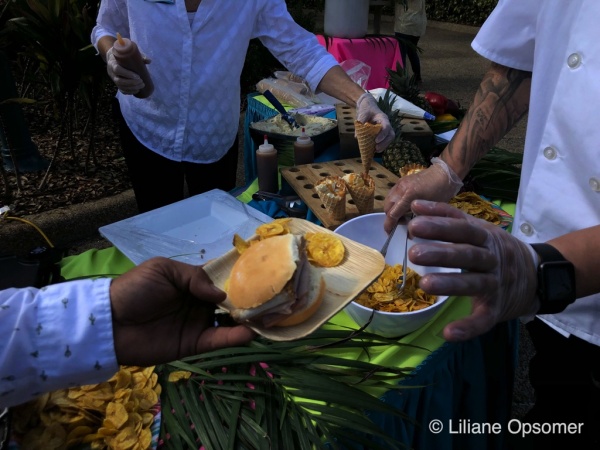 Mofongo (Garlic mashed plantains with onion mojo served with fried pork) and yummy Baccalaitos (Thin, crispy salted codfish pancakes) are specialties from Chef Colón's native Puerto Rico.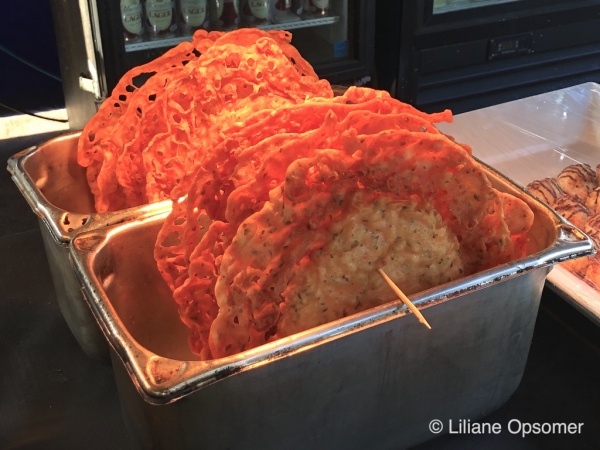 From the returning favorites, I liked the Grilled Lamb Chop from the Mediterranean Market and the Bar Siu Bao (Steamed pork buns with gingered grilled pineapple and Hoisin sauce).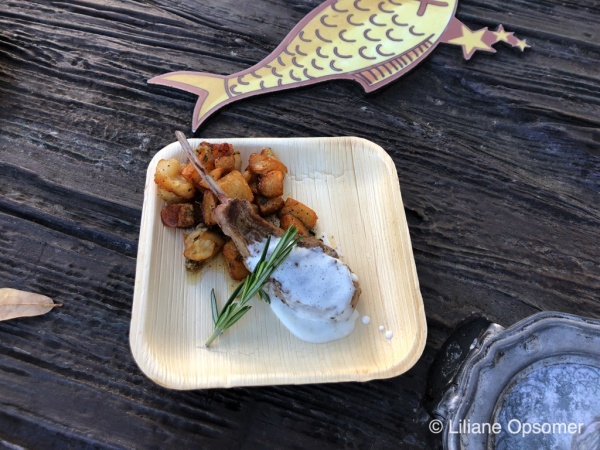 At the German Market, Wiener Schnitzel Slider and Knockwurst, as well as a Chocolate Dipped Footlong Pretzel, are winners.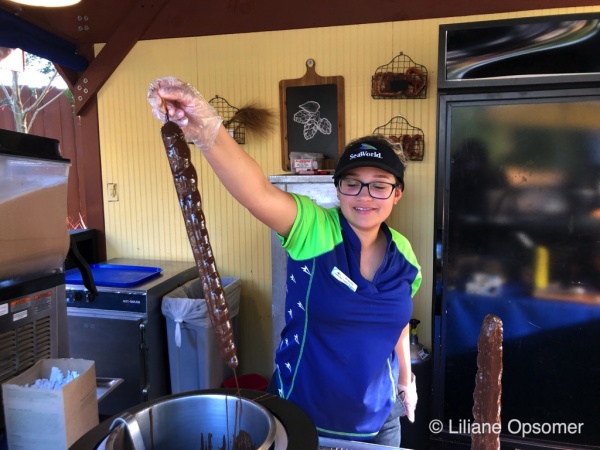 New on the menu at the Polynesian Market is the Oahu Poke Bowl (Hawaiian-style smoked salmon and seared tuna over seaweed salad and steamed rice). It is really good and very filling, but the New Orleans Crawfish Boil next door at the Gulf Coast Market, paired with a Mayport Red, was my favorite. Satisfy your sweet tooth with a Cajun Lobster Cheesecake Drizzled with Lingonberry Sauce.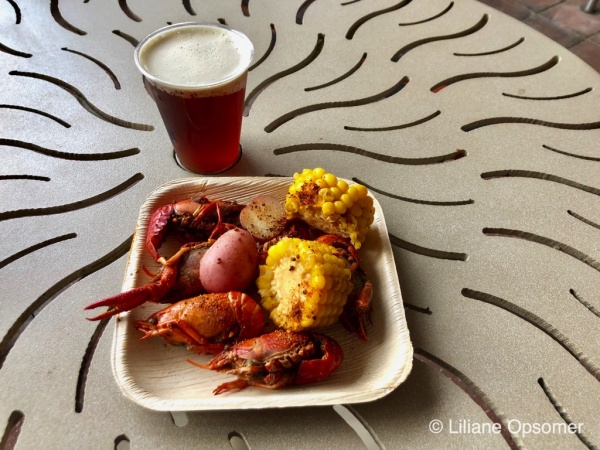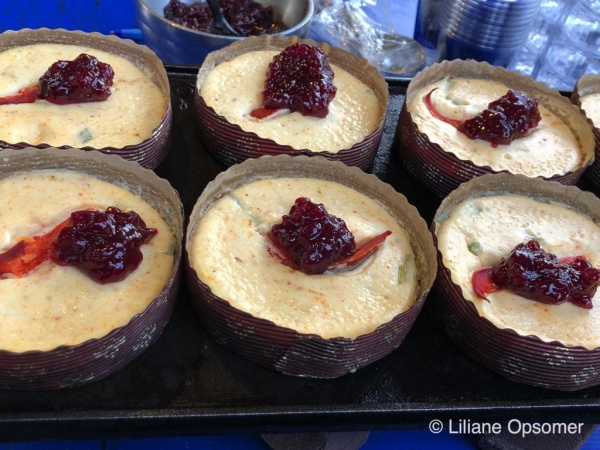 Meat lovers will enjoy the Brazilian Picanha Steak (served with roasted potatoes and tomato chimichurri) and the Bacon Wrapped Sweet Plantain at the Brazilian Market. I enjoyed the Acaraje (Brazilian black-eyed pea and shrimp fritters), and the Mousse de Maracuja (Passion fruit mousse with fresh passion fruit coulis) is tart and refreshing.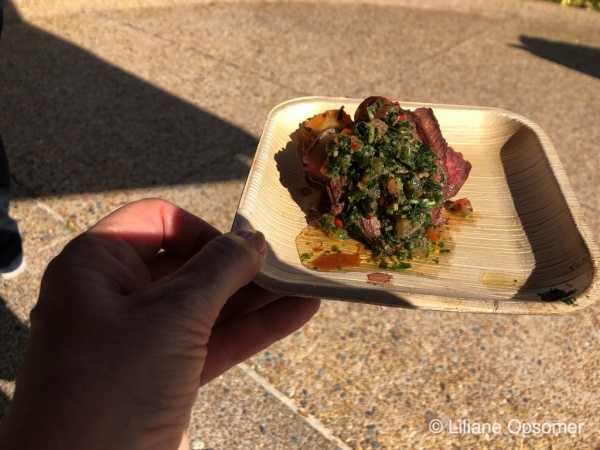 It is worthwhile to note that all dishes are served on biodegradable bamboo plates and that all straws at SeaWorld Orlando are paper straws.
For the best value, purchase one of the sampling lanyards: $50 lets you try up to 10 food or drink samples at any of the Seven Seas Food Festival locations. A $65 lanyard allows for 15 food and drink samplings. On Friday nights, there is a happy hour 4-6 p.m. and you can enjoy two drinks for one paid sampling. A complete list of the 2019 food and drink menus is available here.
SeaWorld Orlando offers a Seven Seas Food Festival Package that includes unlimited visits to SeaWorld Orlando for the entire length of your stay, a choice of hotel accommodations including one free night, a five-item sampling lanyard for everyone in your party, and more. For details and booking, visit the website. Tickets to SeaWorld Orlando start at $79.99.
For all there is to see and do at SeaWorld Orlando, check out The Unofficial Guide to Walt Disney World with Kids.