This post may contains affiliate links for your convenience. If you make a purchase after clicking a link we may earn a small commission but it won't cost you a penny more! Read our full disclosure policy here.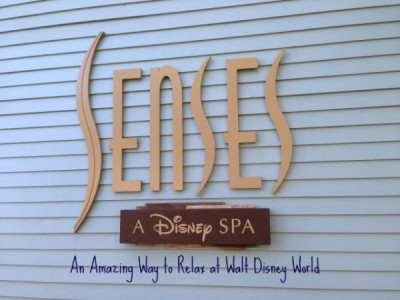 Usually, people think of a trip to Walt Disney World as an active and high energy vacation, but there are actually many ways on Disney property for you to slow down and relax. On our last trip, I was able to experience the luxurious Senses Spa at Saratoga Springs Resort, which was the epitome of experiencing relaxation.
Senses Spa has two locations on Disney World's property, one at Saratoga Springs Resort and one near the Grand Floridian Resort. I booked my pedicure approximately ten days prior to our trip and the Grand Floridian did not have any openings, but I was able to schedule services for my mom and I at Saratoga Springs. We each booked a pedicure, but mine was labeled "relaxation pedicure" and mom's was labeled "renew pedicure." The only difference between these experiences seemed to be the fragrance used for our leg massages.
The spa in Saratoga Springs is easy to find, and just a short walk from the lobby area. From the moment we walked into the spa reception, we felt relaxed- with soft lighting and music in the background. We paid for our services up front and even got a DVC member discount. It always pays to ask if discounts are taken when you are paying.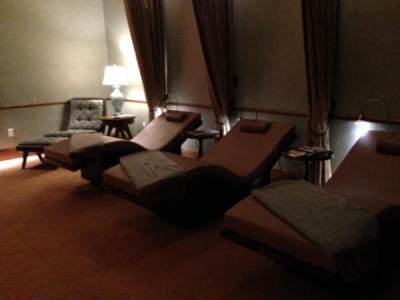 waiting lounge
Once we were checked in, we were given robes and escorted to the waiting lounge area, which was filled with comfortable chairs and zero gravity loungers. This room is dimly lit, and seemed like an easy place to have a nap. There was also a table filled with drinks like tea and cucumber water and light snacks. I loved their selection of pistachios, almonds and dried cranberries.
I was a little surprised that this room was actually co-ed, as a slew of men and women came in to relax before getting massages and other treatments. After a short while, our technicians came and led us back to the manicure/pedicure room.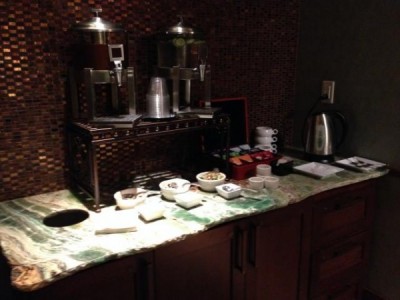 refreshments table
The spa had a separate room set up just for manicures and pedicures, which was more brightly lit. There was a whole wall full of nail polish with an assortment of colors, and we were instructed to pick which color we'd like on our toes as well as a bottle to take home with us. I decided upon a bright pink color, and my mom went for a pale purple.
Next, we were seated in these amazing leather massage chairs. While I have had pedicures before, I had never seen a setup like they have at Senses Spa, which beautiful metal foot spas and these amazing massage chairs, which worked on my back throughout the treatment.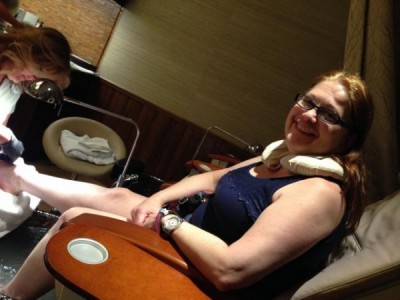 wonderful massage chairs
The technician was wonderful, buffing and scouring the dead skin from my feet, cleaning my cuticles, and massaging my feet and legs during the treatment. The foot spa was deliciously hot and bubbling, and the fragrant sugar scrub applied to my legs and feet seemed to last for days after the treatment, keeping my skin soft and glowing. The experience was so relaxing and comfortable that I didn't want it to end!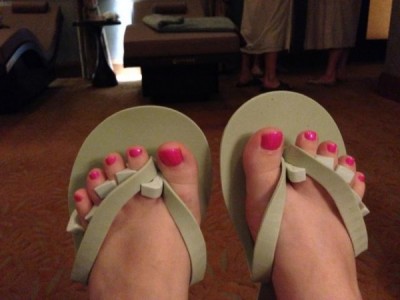 Once our toes were properly painted, we were led back into the waiting area and told that the polish would need a good 45-60 minutes to dry properly, so we sunk into the comfortable chairs and relaxed some more. We were both happy with the look and feel of the pedicures.
Once we felt that the polish had sufficiently dried, we left, but the staff welcomed us to stay and enjoy the spa's baths and steam room downstairs. I'll have to try that out next time, as we've already booked manicures and pedicures for our next vacation!  I highly recommend Senses Spa as a great opportunity to relax with your significant other, family members, friends, or on your own.
Have you ever gotten a manicure or pedicure at one of Disney's spas? Let us know about your experience in the comments.
Incoming search terms:
https://www themouseforless com/blog_world/senses-spa-amazing-way-relax-walt-disney-world/