This post may contains affiliate links for your convenience. If you make a purchase after clicking a link we may earn a small commission but it won't cost you a penny more! Read our full disclosure policy here.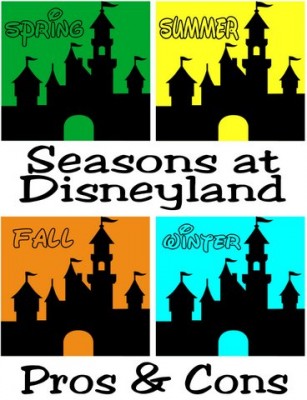 When considering a trip to Disneyland, you'll have some big questions before you even start planning. What time of year should I visit? What will the crowds and the weather be like? Are there any special events? Closures?  While you may not have the freedom (or a magic wand) to have everything as you wish on your trip, you'll be one jump ahead by knowing the differences between the seasons at Disneyland.
Spring — mid-March through end of May
Spring is beautiful at Disneyland. The already lush landscaping is in full bloom with a rainbow of flowers. The tabebuia trees in the Hub (seen above) are an amazing shade of pink that makes all of your castle pictures look fabulous. Springtime in Southern California is general mild and doesn't see much rain. Spring break vacations will spike crowds through March and part of April, depending on when Easter falls. There will still be some attractions down for renovation, but not as many as in winter. May sees shorter hours, and the temperatures start increasing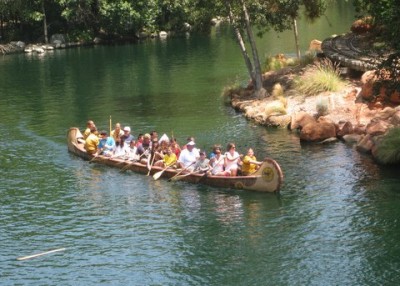 The canoes aren't open this year because of Star Wars construction, but they represent the best of a Disneyland summer
Summer (June through August)
Summer is what many of us think of as "classic Disneyland" — warm weather and racing around the park from dawn until late at night. After the grad-night anomalies the end of May and first part of June, summer visitors arrive in force. Almost all attractions should be open, and fireworks and parades run every evening, sometimes twice a night. Water rides like Splash Mountain and Grizzly River Run see long wait times. Families and tourists dominate the park as they use their vacation time.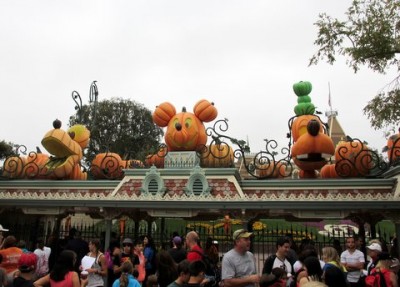 Fall (September and October)
Fall is Disneyland's hidden gem. The weather can still be plenty warm, and the crowds have subsided considerably. Some rides will go down for extended times, but others will close just long enough to put on a fun seasonal overlay, like Haunted Mansion Holiday and Space Mountain Ghost Galaxy. Fall features special treats in flavors of pumpkin, apple, and cinnamon. Disneyland hosts Mickey's Halloween Party on many nights this season, which can be fun for families but play havoc with operating hours.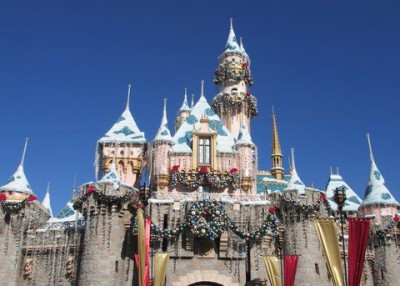 "Holiday" (November and December)
I'm aware "holiday" is a made up season, but it is so dominant and different from the rest of winter at Disneyland that it deserves special mention. Disneyland goes all-out for the holidays. Per square foot, there have to be many more decorations at Disneyland than at Walt Disney World. Even more rides get special treatment — tiny wreaths added to Storybook Land Canal Boats, the Jingle Cruise, and the spectacular "it's a small word holiday." This season is chilly, but nothing like the cold you probably left to come to California. The crowds can get heavy with both tourists and locals who want to soak up the holiday spirit. The goodies alone would be worth a visit at this time of year.
Winter (January through mid-March)
After the exuberance of the holidays, Disneyland turns back into a locals' park. Water rides usually shut down for maintenance this time of year, along with rides that need their holiday finery removed and others. The hours will be shorter and fireworks won't happen every night, but the crowds are much reduced and more casual. Winter can be a great time to experience the best of Southern California without the hordes of people who descend during vacation seasons.
Obviously you can't have everything — long hours, perfect weather, all rides operating, low crowds, special events — on the same visit. Disney makes it worth your while even when everything isn't open, with extras like the Food & Wine Festival and marathon weekends, as well as lower hotel pricing. If you are concerned about crowds, be sure to check the Disneyland calendar. If Southern California annual passes are blocked out and the one-day ticket price is at "peak," the parks are expecting high crowds, so plan accordingly. Make the most magic out of whatever season you get to travel!
Which seasons at Disneyland are your favorite? What are you willing to give up?
Incoming search terms:
https://www themouseforless com/blog_world/seasons-at-disneyland/
disneyland seasonal event schedule