This post may contains affiliate links for your convenience. If you make a purchase after clicking a link we may earn a small commission but it won't cost you a penny more! Read our full disclosure policy here.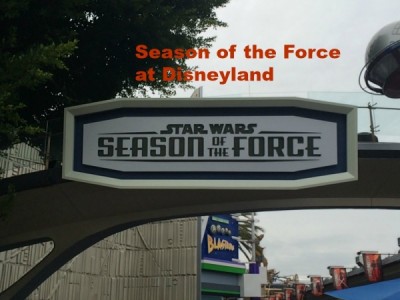 A long time ago, in a galaxy far, far away…
When I was a kid, I was basically raised on Disney movies. Our local theater showed a different Disney animated classic a week for an entire summer, and my Mom took my sister and me to every one.
In 1976, we took our first family vacation to Walt Disney World, and I was once again ingrained with the idea that Disney = awesome entertainment. Then I turned 7, and this new movie came out.
It was called Star Wars, and it changed my life.
I remember being shocked that Star Wars was NOT a Disney movie. I mean, weren't all great movies made by Disney? No, not this one.
Except, now, well, it is.
Needless to say, I was very excited to visit Disneyland Park during Seasons of the Force to celebrate the marriage of my two childhood obsessions. It's hard to forget that this event is going on. All the park maps have Chewbacca on the cover.
As soon as you enter Tomorrowland, you are reminded right away that there is some serious Star Wars going on. The familiar strains of John Williams's stirring soundtrack fill the air. Everywhere you turn, tiny little Reys and Princess Leias and Kylo Rens and Jedi stroll by. And then there are THESE guys, pushing their way past guests and demanding to see your identification: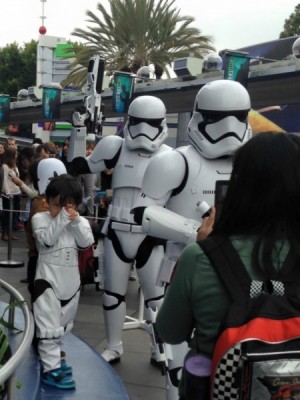 He can go about his business.  Move along!
The centerpiece of the hoopla is the Star Wars Launch Bay, which is being held in the Innoventions building. Here you will find props and costumes from many of the series' films, including Rey's costume and speeder.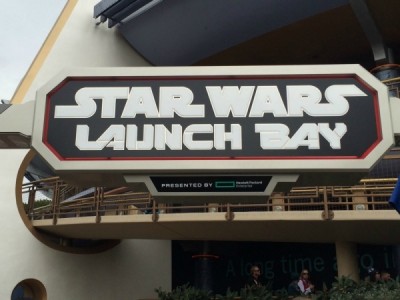 The entrance to the Star Wars Launch Bay
Nearby you can queue up to meet characters. Today, the characters greeting guests were Chewbacca, Boba Fett, and Kylo Ren.
Upstairs you will still find all things Marvel, including Tony Stark's Lab and meet and greets. But that's another obsession of mine and doesn't belong in this post…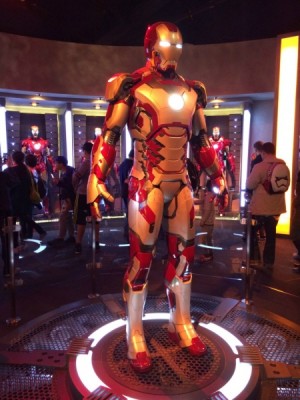 Iron Man!  How'd you get in here?
In the old Captain EO theater, you'll now find The Path of the Jedi, a short ten minute film that edits together scenes from all seven Star Wars films to give an overview of what it means to be a Jedi. This is a fun diversion for Star Wars fans. If, however, you're thinking of bringing your child who has never seen Star Wars, keep in mind that the major spoilers from the first 6 films are revealed here. Plus, all The Force Awakens material appears at the end, in the form of the theatrical trailer.
We can't talk about this area without mentioning the still popular Star Tours. This was the first time I've ridden it with the new Force Awakens sequence. It was so much fun to see BB8 and Finn as we skimmed the surface of Jakku.
The Star Trader, the shop at the end of Star Tours, has always had a strong Star Wars presence. But they have really pulled out the stops. You will find all manner of Star Wars themed clothing, memorabilia, toys, you name it.  Whether it's matching T-shirts that proclaim "I love you" and "I know" or a model X-Wing, they've got it.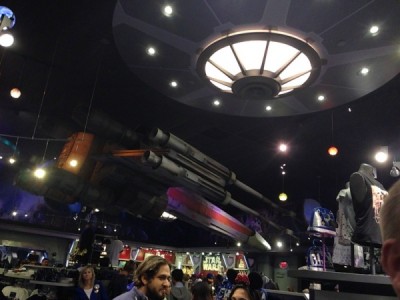 How much for that starship on the ceiling?
Now to my favorite attractions in the area – Hyperspace Mountain! This ride has long lines and FastPasses go fast, so plan accordingly. It seems that we are part of the Rebel Force that is amassing above Jakku to take down an Imperial Star Destroyer. Buckle into your ship, and hear the swell of Star Wars music as you make the jump to lightspeed! The speakers in your ship play the chatter amongst the other pilots as the attack commences. You see the Star Destroyer looming before you! But wait – you're being fired upon! By T.I.E. fighters! And before Admiral Ackbar can proclaim "It's a trap!" you are speeding through the battle, outrunning T.I.E. fighters!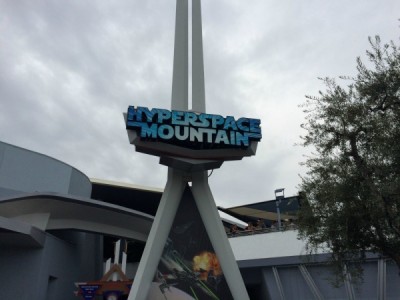 Hyperspace Mountain!
When it comes to temporary overlays of rides, I'm usually a fan of the word "temporary." Sure, change the ride – but put it back when you're done. This is a big exception. I would be perfectly happy if this remained Hyperspace Mountain forever!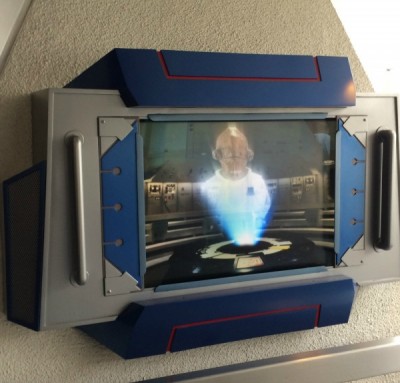 Admiral Ackbar explains your mission.
Of course, if you're hungry, you can still get your Star Wars on. The huge Galactic Grill is sure to soothe appetites with entrees such as Darth Tamale (a breakfast tamale), First Order Specialty Burger (the bun is black!) or Jedi Order Chicken Sandwich. And you can enjoy your meal while watching the Younglings fight the Dark Side at the Jedi Training Academy! Just be sure to get a Times Guide to catch a show. (If your kids want to be in the show, Younglings should register at the kiosk right at the exit to the Star Wars Launch Bay.)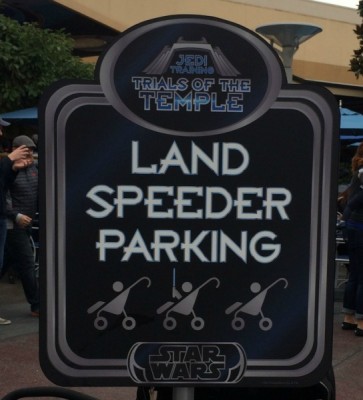 I like that kid in the middle
One note: although I did not eat at Galactic Grill, my parents did. My mother reports that during breakfast service, there seemed to be some hiccups. More than one person who ordered wound up with something missing from their tray when they were handed their order. Check your tray carefully before finding your seat.
Redd Rockett's Pizza Port also serves some Star Wars themed food. I enjoyed the Forest of Endor Pasta and a BB8 Crispy Rice Treat, and you can also order the Fields of Naboo Salad, Chewbacca Cheesecake, or Darth by Chocolate.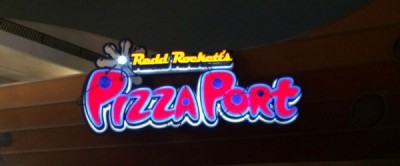 Redd Rockett's Pizza Port, home to Star Wars themed food
When we're at a Disney park, I love to check the Cast Member's nametags to see where they're from. (On a Walt Disney World trip two years ago, our ferry captain was from the same town my husband grew up in!) At Seasons of the Force, you'll find that most of the Cast Members are somewhere from far, far away. Our Star Tours attendant was from Coruscant. The Cast Member collecting FastPasses at Hyperspace Mountain is from Bespin. And the poor cashier at Redd Rockett's Pizza Port is from Alderaan. When I told her, "I'm so sorry for your loss," she sighed dramatically and answered, "I don't want to talk about it."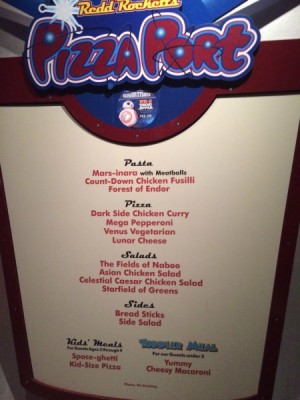 The Forest of Endor Pasta was delicious!
Please note: Tomorrowland drew big crowds on this day, and the popularity of Seasons of the Force is bound to continue. Tomorrowland is open during Early Entry, so if you're eligible for it, by all means, hit the Star Wars attractions first. Otherwise, get there as early as possible and grab FastPasses before they run out. And may the Force be with you!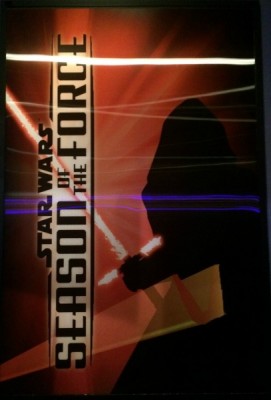 The Force will be with you…always.
Have you experienced Season of the Force at Disneyland? What's your favorite part of the event? Share in the comments!