This post may contains affiliate links for your convenience. If you make a purchase after clicking a link we may earn a small commission but it won't cost you a penny more! Read our full disclosure policy here.
Every week we will take a look at some fun, interesting, or new aspect of cruising the high seas!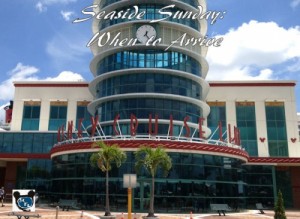 Today, let's talk a little about when to arrive at the cruise port. Not just the ship, but arriving in town.
As you are planning your trip, it's tempting to just plan to arrive in town on the day the ship leaves. After all, you have a big trip planned, and lots of adventure (and money!) already put into the trip. So why try to add time on to the beginning or end of your trip?
The answer is simply that too much can go wrong to not arrive early. Arriving a day in advance of your cruise allows time for many things to go wrong. And when traveling, planning for the unexpected is usually a good idea. Flights are delayed. Sometimes it's because of weather, either at the departure airport or somewhere else in the system. Blue skies at home do not guarantee a plane isn't delayed somewhere else in the country. Plus there is always the possibility of mechanical issues with planes. Even if you are driving in, there are potential issues that can arise with traffic, weather, mechanical issues, etc.
The peace of mind from arriving early, getting a good night's sleep in a hotel room, and arriving at the cruise port refreshed and ready for your voyage is a great benefit. There are usually many hotels close to the cruise terminals. Some of them may offer a shuttle service to the cruise port for a nominal fee. Spending some time researching a hotel (or asking your travel agent for a recommendation) will result in a location which suits your needs.
So after you've planned to arrive a day early, when should you arrive at the cruise port? The best answer for this is to check with the cruise line. Disney Cruise Line has guests select an arrival time when checking-in only from home. Other lines will offer suggestions as to when it's best to arrive. As a very general rule, it will be late morning when guests may begin embarking.
If a ship is leaving at 5:00 p.m., please know that means guests need to be onboard well before this time. Ships are not like airplanes. Cruisers do not board a ship right before it sails. There is a lot of housekeeping that needs to be done to get everyone onboard and safety drills completed. Guests need to be onboard well before the ship is scheduled to leave. So even if you do plan on arriving the same day, you will need to leave ample time to get from the airport to the cruise port, checked in, boarded, etc. It's a bit of a process.
Plan to arrive a day early, make sure that you check with the cruise line to see when arrival begins, and build in time for the unexpected.
Bon Voyage!