This post may contains affiliate links for your convenience. If you make a purchase after clicking a link we may earn a small commission but it won't cost you a penny more! Read our full disclosure policy here.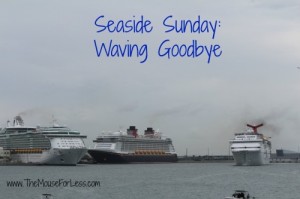 Every week we will take a look at some fun, interesting, or new aspect of cruising the high seas!
If you've ever cruised, you know that exciting feeling as you ride up to the cruise port. You see the ship, and all of the possibilities run through your mind. You think of the ports, the shows, the food, and the adventure.
On a recent trip to central Florida, my family and I decided to take a day trip over to Port Canaveral. Driving up, we saw the ships and felt the excitement of a cruise — except this time we weren't the ones sailing. We had several friends sailing away on the Disney Dream on the Be Our Guest Podcast Cruise, so we decided to wish them a bon voyage from land this time.
First up, we decided to visit Jetty Park. This area has a beach, fishing from the pier, lots of places to have fun, and even a campground. It also offers a nice view of the ships docked at the Port. The ships sail right past the park, so it offers a great place to stay and relax. Although we could have just stayed here, the weather wasn't cooperating with us, so we chose to move on after our visit to the ocean.
The truth is, the rain wasn't the only reason that we decided to move on. We were ready for dinner (and with two teenagers, someone is always ready to eat). Fromhome, we often watch the Port Canaveral Webcam. One of our favorite webcams is located on a restaurant right by the Port — Fishlips Waterfront Bar and Grill. So we headed over to Fishlips for an early dinner and to watch the ships sail past on their way out to sea.
On this day, there were three ships leaving port — Disney Dream, Royal Caribbean Freedom of the Seas, and Carnival  Sensation. We had looked at the sail times and tried to time our meal to end as the ships were getting ready to leave Port. The meal was quite good, but the atmosphere is what we came to see. During our meal, we saw dolphins and turtles swimming by the restaurant, we watched boat traffic go back and forth, and we could see the lines drop as the ships prepared to leave.
Fishlips offered a great viewing location from the upstairs dining room. There is an outdoor patio where we were able to stand and wave as the ships went by. Of course, as I mentioned, the weather wasn't the greatest. That meant that the restaurant and bar (and even Jetty Park) weren't extremely crowded. Although I wouldn't wish rain at sail away on anyone, it probably helped us get great views of everything.
If you decide to go check out the ships:
Check for sail dates for the ships ahead of time. Ships don't sail every day, and if you want to see a particular ship or line, it pays to plan ahead.
Most of the time, the ships sail between 4:00-5:00 p.m. Make sure you give yourself plenty of time to find a location to watch the ships.
Plan for traffic. If you go earlier, there will be many cruisers in the area. It's also a popular tourist area, so give yourself time.
Plan for the weather. There are changing areas if you choose to swim at the beach and watch the ships from there.
So although we weren't able to actually sail this time, it was great to wish all of the cruisers a great trip. It was even better knowing that some of those cruisers were friends.
Bon voyage!