This post may contains affiliate links for your convenience. If you make a purchase after clicking a link we may earn a small commission but it won't cost you a penny more! Read our full disclosure policy here.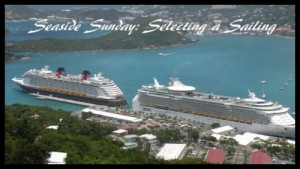 Selecting a cruise is no easy task. There are cruises to destinations virtually all over the world. So how do you go about narrowing down the seemingly infinite number of choices?
Let's assume for argument's sake that you've narrowed down the choices to a general destination. Cruising to the Caribbean and cruising in Australia, while both wonderful trips, are two very different vacations at two very different price points. So let's just stick to narrowing down our choices to one general destination.
There are two main factors to consider: itinerary and ship. Some guests pick a sailing solely based on the cruise line or cruise ship. Some choose to pick an itinerary that they enjoy and select the ship that visits those ports. For the rest of us, it's more likely a balancing act between those two factors.
Cruise line and ship are a bit easier to narrow down. If you have your heart set on a Disney Cruise Line sailing, you will have four ships from which to choose. Pick the size of the ship you want and the general time frame of your trip, and your choice becomes pretty easy. If you are looking at other lines, the decision making process often starts with the size of the ship. Pick a size (or class) or ship that is sailing to the area of the world you wish to visit within the selected time frame and your choices become pretty clear.
If you are going to instead opt for itinerary, it might take a little more work, but you will find your choices narrowing. If you want to visit the U.S. Virgin Islands, for example, you will look for ships sailing on an Eastern Caribbean itinerary during the time frame you have for your trip. Take a look at all of the other destinations, and you will probably have your choice of a few ships. If several ships have similarly appealing itineraries, then go back to the line and size ship that appeals to you, and there you go.
Both of those decisions are a bit simplistic. Often, my family goes back and forth on what is most important. We want to sail on a certain ship, but don't like the itinerary. We look for a ship that is similar in size or amenities, but the itinerary is something we've done before. This back and forth process through the list of options continues until our choice is made.
Deciding on which ship to try, or which ports to visit takes time, and is part of the reason that so many first time cruisers become repeat cruisers. Perhaps next time you would like to try a bigger ship. Perhaps in port you notices an amazing slide on a ship docked near you. Perhaps a fellow cruiser tells the tale of their amazing port-of-call on a previous cruise. Soon you will find yourself with a wish list of future cruise ships and destinations to try.
So take some time and do your research. Read and research your options. Often a travel agent is useful in trip planning. Talk to an expert and weigh your options. Select something with a ship that fits the bill and an itinerary that meets your needs. And have a wonderful trip.
Bon Voyage!