This post may contains affiliate links for your convenience. If you make a purchase after clicking a link we may earn a small commission but it won't cost you a penny more! Read our full disclosure policy here.
Every week we will take a look at some fun, interesting, or new aspect of cruising the high seas!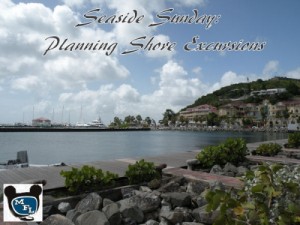 My next cruise is about five weeks away. All of those far off plans we made over a year ago are really starting to seem real. The one thing that we really need to start thinking about is shore excursions. We've talked about the various locations we are going to visit, but now that our cruise is fast becoming a reality, we need to think of all of the details.
When planning port days, there are two options: book an excursion through the cruise line or do something on our own. Neither option is perfect.
Choosing an excursion through the cruise line is very convenient. You select an adventure and pay the cruise line. When you board the ship (or at some point before the port day), the tickets will be in your stateroom. The cruise line will set everything else up. If there is an excursion booked through the ship that is late getting back to port, the ship will know and wait for the passengers. The cruise line sorts out the details of which excursions are best and puts out those offering to its passengers. All of the leg work is done for you. The disadvantage is that you will pay for this convenience. The excursions through the ship can be a little pricey.
If you choose to go on your own, you can either explore the port and just see what comes, or book directly with someone in port. There are plenty of companies that will advertise online for their port adventures. Although you are taking a leap of faith, you will be saving some cash. Most ports will have taxis waiting at the port. They will take you directly to any location you want to go to. So if you are stopping at an island in the Caribbean and want to spend the day at the beach, research which beach you want to go to, and when you arrive, hop in a cab. This option gives travelers the most freedom. It also can require a considerable amount of homework to ensure that you are using a reputable company and going on an appropriate adventure. This is especially true if you have never been to the location before hand.
In reality, what my family will end up choosing will be a combination of the two. We are traveling with two novice cruisers who will have some mobility issues. So we will book a few simple sightseeing excursions through the cruise line. Since all but one of the ports is new to all of us, and we are traveling in a group of seven, this will take away some of the anxiety knowing what to expect ahead of time. A few of the excursions we are planning are short compared to the time the ship is there. So we may be times when we sight see in a planned excursion, and then some of us might carry on with plans on our own.
So while our impending cruise plans are still a little open, we know what our options are and will keep looking. A combination of our own plans and those from the cruise line are looking to be the best choice for us. But do your homework and look at your options. Then make a choice that works best for your family.
Bon Voyage!