This post may contains affiliate links for your convenience. If you make a purchase after clicking a link we may earn a small commission but it won't cost you a penny more! Read our full disclosure policy here.
Each week we will take a look at some fun, interesting, or new aspect of cruising the high seas!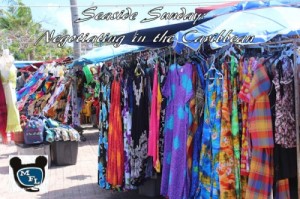 When we get ready for our trips, making purchases is rather straightforward. I need flip-flops, I go to the store, find what I want, and (as long as it's acceptable) I pay the price marked on the tag. There is not any discussion about what price I am willing to pay. The person checking out the purchase has no influence on the price that I am charged. And if I ask about the price, I'm more likely to be shown another option rather than be offered a better deal.
Making a purchase in the Caribbean isn't quite as straightforward. When you get off the ship, there are lots of shopping opportunities throughout the ports. A great deal of these are with local vendors who have their wares out. And many times the prices aren't so obvious.
Just like towns and states in the US, each island has its own feel. When it comes to local vendors, some are more aggressive than others. I've traveled to many different islands, but of course there are still Caribbean ports still on our bucket list. I feel that we have experienced a variety of different islands. Since my family and I tend to stick to well-traveled areas (a.k.a. tourist locales), I have never felt uncomfortable. But the asking for a better price and negotiating might come as a bit of a surprise for some people.
We have come to expect in many ports that we will be approached (repeatedly) to have our girls' hair braided. While I haven't ever had a daughter who wanted her hair braided by a random person with a comb on the beach, this really doesn't bother us. Every woman who has asked has been very respectful with our negative reply. We all continue on with our day very happy. In fact our youngest will arrive in St. Martin wondering how many people will ask me to braid her hair. (For the record, she won't even let me do it, but her hair must look like it could use some braids!)
Ports will have vendors selling dresses, bags, and a huge variety of small souvenir items. The price on these is often negotiable. I really don't find the thrill in negotiating that some do. But I know what to expect and have never felt uncomfortably pressured to purchase. It's good to know ahead of time that this is part of the local culture. If you look at an item and put it back, the vendor might just ask you what you are willing to pay. Again, even though this is not my favorite activity, we have gotten some good deals and met some interesting locals along the way.
On our most recent cruise though, we did experience a more aggressive side of the island. While we were taking pictures, a young man approached my son with a monkey and offered him the opportunity to hold it. Before my son could react, the young man plopped the monkey on my son's head. One of us snapped a picture before the monkey was removed. Of course the young man requested money from us for the pleasure of photographing his pet. It was an uncomfortable situation for a minute, as we really were not interested in paying for something we didn't want in the first place.
In other locations we've seen signs asking for money to take a photo with a monkey, a parrot, or another exotic animal. I would prefer to know ahead of time that there is a charge rather than find out after the fact. Just be aware of the possibility. It's much more likely that your child will be approached. Although we were still able to carry on with our day, the experience bothered us. It also made us keenly aware that this was actually a common occurrence. We just weren't noticing it at first.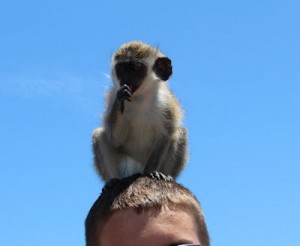 The infamous monkey.
Overall, I really enjoy taking time to explore the different ports of call. We have met some wonderful people and seen some breathtaking sites. But be aware that this may not be like home. Customs are different and what is acceptable may also be different. While some ports may have chain stores and more familiar surroundings, part of the fun is exploring the smaller shops. Be prepared to negotiate sometimes. And be prepared with a "no, thanks" if a situation isn't meeting your expectations.
Finally, as you explore, make sure that the locations are relatively safe. While we all know that problems can arise anywhere (even at home), doing a little homework and asking some questions will help make sure your experience in each port is a positive one.
Bon voyage!