This post may contains affiliate links for your convenience. If you make a purchase after clicking a link we may earn a small commission but it won't cost you a penny more! Read our full disclosure policy here.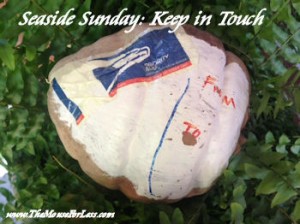 Every week we will take a look at some fun, interesting, or new aspect of cruising the high seas!
We live in a world where almost constant contact is the norm. We have home phones, cell phones, e-mail, texts, Facebook, Twitter, Skype and more. There are so many ways to always be talking to friends, family and even business contacts. How do guests manage all of these contacts when on a cruise?
My favorite answer to this question is you don't. There really aren't cell towers in the middle of the ocean, which can make unplugging quite easy. I find it's best to just shut my phone (and various other devices) off and sail away. Yes, not checking my messages constantly takes some getting used to, but it's a great feeling, even if it is just for a few days.
Of course, the thought of just unplugging can be a little unnerving to some of us (me included!) when planning a cruise. If you need to be in contact, there are some options. Not great ones, but options.
First, and most expensive, there will be a phone in your room. There is a phone number to contact ship passengers as well. When we travel, I will give the number to a family member to use, but it's only for extreme emergencies. I haven't yet used it. The cost is prohibitive. The rates will be posted in  your stateroom, but if I recall, it's upwards of $7 per minute. There have been very few moments in my life when I actually needed to speak with anyone that badly. The only time I've picked up a phone in my stateroom was to contact someone on the ship. Make sure you are aware of the charges before using this option.
What about cell phones? As I said, there aren't any cell towers at sea. Some cruise lines are creating an option for cell phones to be used at sea. Disney Cruise Line now offers Cellular at Sea available through most major cellular phone companies. Understand that even if you get a signal, you may not only be subject to roaming charges, but international roaming charges. Discuss this with your cell phone provider in advance of your cruise. You don't want to be presented with a cell phone bill of hundreds of dollars when you get home. Be mindful of data charges, too. All of those push notifications that your cell may receive might add up to charges even if you haven't touched your phone. If you use your phone for other things, like music, games or as an e-reader, and you plan on using these while aboard, switch the phone to airplane mode to shut off the cellular connection. You may want to turn off WiFi options as well for the same reason.
Speaking of WiFi, many ships, especially the newer ships will have WiFi. Even in your stateroom. I have a wireless network in my home and all of our devices connect to it. Our connections are comfortably fast, even with many of us using the network at once. A ship is not like this. The WiFi connection will not be very fast, and sometimes it won't be available at all. But it will be an option. Know that you will be charged by the minute for connectivity. Think of how fast that can add up, even to just check a few e-mails. Packages are available, and often a better deal than paying by the minute. Currently on Disney Cruise Line, internet connection is $.75 per minute. A large package of minutes (250 or 500 depending on the length of sailing) can be as low as $.30 per minute. Still, it's a significant charge.
If you want to be online, but choose to not bring your own device, ships ofetn have Internet Cafes. This is typically where you must go to create your account in order to access the wireless network in your stateroom as well. Remember that there are a finite number of computers available for use for all passengers on board. The same charges will apply as with WiFi. Still it's nice to not have to deal with laptops and charges if you are comfortable using a shared computer.
So what to do? Personally, I purchase a package of minutes and use that while we are cruising. I put away the cell phone and don't carry it with me while onboard the ship. Occasionally, I will go online and skim for messages that need my urgent attention. I also tell family members that if they need to communicate while we are on a ship, send an e-mail. I'll get to it and respond when I can. Unless it's an extreme emergency, that's fine. And really, in most cases there is little I can do to help should a problem come up while we are at sea. Also, my experience has been that we are able to use our phones in U.S. territories (i.e. Puerto Rico and St. Thomas) as necessary. I'll say it again, though, please contact your cell phone carrier before you do this. Every country and every port is different. Find out what charges will apply to you.
So while the actually shutting off of the phone (and other devices) is difficult, unplugging is a great benefit of cruising. That feeling that I'm only available in a very limited way really helps me focus on what I'm there for — a relaxing vacation.
Bon voyage!