This post may contains affiliate links for your convenience. If you make a purchase after clicking a link we may earn a small commission but it won't cost you a penny more! Read our full disclosure policy here.
Every week we will take a look at some fun, interesting, or new aspect of cruising the high seas!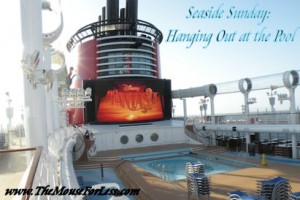 I could just picture it: a day at sea with the sun, the ocean, and a beautiful pool. Before my first cruise, I had an image of the amazing pools on the ship. Unfortunately for me, my image was tainted by the huge pools at resorts. This is a ship after all.  Everything, even the pools, has to be built to fit in a specific space and be mobile. Where is the giant pool on the top deck? My luxury pool idea had to be tempered a bit with the reality of traveling on a ship.
Considering that they are floating around with me and there for me when I want/need them they are still pretty amazing, just a bit more compact that I might have first expected.  The pools on ships are certainly not huge.  Really they are designed more for what my mom might call a "bird-bath"; cooling off, splish-splash and away we go. Kids can paddle around and splash. Grown-ups can lounge pool side, soak up some sun or get in and play with their kids. Ultimately however, there isn't going to be any swimming of laps going on here. What I've found is that this is OK. There are plenty of activities in and around the pool to keep cruisers busy.
To compensate for the pool size there is something fun and innovative going on aboard many ships.  On the Disney Fantasy and Disney Dream, for example, there is the AquaDuck.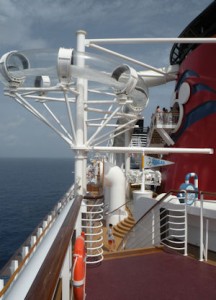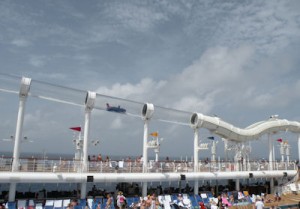 Coming later this year on the Disney Magic with be the AquaDunk. This time, the slide will begin with a plunge down a tube before riding around the top deck.
One of the fun things about pools on ships is that they are often used for more than just swimming. During the mid-afternoon, especially on sea days, there will be music and games on the pool deck. Sometimes there is dancing, sometimes there are contests, but always it's good fun. Jump in and get involved.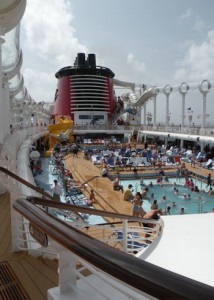 Just because the sun goes down and the pool closes for the evening does not mean the opportunity for fun on-deck goes away.  On some nights the Aqua Duck will run until 11:00 pm ship time.  Often there will be one of your favorite Disney Movies playing on the jumbo-tron.  Many of the longer Disney itineraries include a pirate night on deck complete with fireworks at sea – a Disney exclusive.
Not ready to swim with many of your new closest friends? Consider going to the pool early in the morning, especially on port days. Passengers will be getting ready for their day on land. This just might be the best time to go have some water fun. Of course this will cut down on or eliminate your port time, but to some cruisers the ship is the destination.
If you are interested, there are adult-only areas of the ship with pools as well. Again, these aren't going to be massive, but these are great places to cool off without quite as much noise. It's a great place to read a book and relax. The kids can go enjoy the Children's Activities or be supervised by another family member while you soak up the relaxing atmosphere.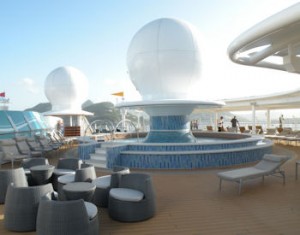 So although the massive resort pools are best left on the land, there is still plenty of fun to be had while spending some time at the ship's pools.
Bon voyage!