This post may contains affiliate links for your convenience. If you make a purchase after clicking a link we may earn a small commission but it won't cost you a penny more! Read our full disclosure policy here.
Every week we will take a look at some fun, interesting, or new aspect of cruising the high seas!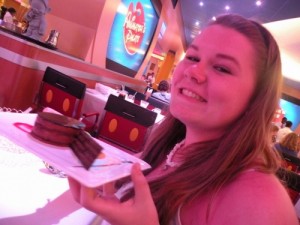 Dining onboard a cruise ship is always an important consideration when planning a cruise. After all, cruisers can't just go down the street next time if they don't like the restaurant; this is the same place you will be visiting for the duration of the cruise. But on Disney Cruise Line, that isn't the way it works. The "Disney difference" that makes Disney parks so appealing is evident in cruise dining, too.  On all four of the Disney Cruise Line ships, Disney uses rotational dining, which keeps the dining experience new and fun every night.
What is rotational dining? Simply put, you rotate between three restaurants each night of the cruise.  If you are on a longer cruise, you will repeat the dining locations. On a shorter cruise, you will visit each location once. Guests experience three unique dining locations on the same cruise. Plus, the wait staff rotates to the different locations with you. So guests receive the same attentive service from the wait staff, and the wait staff still gets to know the guests throughout the cruise.
The locations participating in rotational dining have different names by ship, but all offer excellent food and unique experiences. Onboard the Disney Magic there is Animator's Palate, Lumiere's, and Parrot Cay. Onboard the Disney Wonder, there is Animator's Palate, Triton's, and Parrot Cay. Then on the newer ships, the Disney Dream offers Animator's Palate, Enchanted Garden, and Royal Palace; while the Disney Fantasy replaces Royal Palace with Royal Court.
While each restaurant offers exclusive décor, food, and atmosphere, all are still child-friendly and fun. Each offers a new menu each night full of wonderful options sure to please the whole family. Plus there is also a children's menu in each location with traditional selections that the younger ones may enjoy.  For families who have the second seating for dinner, the Dine and Play option allows for children 3-12 to get their meals faster, and then be checked in to the Youth Activities area without leaving the dining room. Adults are then able to enjoy the remainder of their meal at a leisurely pace.
As an aside, there are also other dining options onboard the Disney Cruise Line ships: quick service dining, casual dining, and adults-only dining. Just check your Personal Navigator while onboard to find out exact times each location is open. Palo (onboard all four Disney Cruise Line ships) and Remy (available on the Disney Dream and Disney Fantasy) offer exquisite adults-only options that are sure to be memorable.  If you are planning to take advantage of Palo or Remy (if applicable), guests can make reservations before getting on the ship, or guests can check availability once they embark.
The exact order of the Rotational Dining restaurants will be available on the dining ticket once guests embark on the ship. It is also printed on your room key in a series of letters indicating the first letter of each venue's name. For example, onboard the Disney Fantasy, a series of letters AERAERA would indicate a dining rotation beginning with Animator's Palate; A=Animator's Palate, E=Enchanted Garden, and R=Royal Court. The time of diner and table number are also on the room key.
Are you curious about the food? Each restaurant has it's own "vibe" but as you might expect, it's all quite good. And although there is overlap, every cruise is different. To satisfy your curiousity, though, here is a sample of some menus from a recent cruise.
Rotational Dining truly is a wonderful and unique way of experiencing all that the three restaurants on each ship have to offer. The fact that the servers rotate with the guests allows for a personal experience. Each venue is worth trying for not only its food but atmosphere as well. And the knowledge of the servers' tips and suggestions will help you take advantage of the best the Disney Cruise Line has to offer. Bon Voyage!