This post may contains affiliate links for your convenience. If you make a purchase after clicking a link we may earn a small commission but it won't cost you a penny more! Read our full disclosure policy here.
Each week we will take a look at some fun, interesting, or new aspect of cruising the high seas!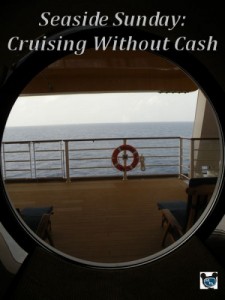 I'm not a person who carries a lot of cash. I know I'm not alone in this statement. There are plenty of us who prefer other forms of payment; checks, debit, credit, Paypal, etc. have all become common. So when my family and I travel, "How much cash should we bring" becomes a big question. Will there be ATMs readily available?  Will any of them be from my bank or will I end up with dreaded AMT fees?  Do we want to be using our credit/debit cards in foreign locations?
Here's a list of expenses you need to pay in cash while on a cruise ship:
….
Yes, that's it. Nothing. While onboard a ship, cash isn't an option. Really. Not at all. Everything onboard is charged to your room account once you set foot on the ship. Want a drink from the bar? Use your room charge. Want to buy a necklace from an onboard store? Use your room charge. Even if you want to book an excursion, it will be charged directly to your room folio.
And now most cruise lines either promote pre-paid tips for those positions that are typically tipped (stateroom attendant, head waiter, server, and assistant server). Other times, tips are added directly to an expense – when ordering a bar drink, for example. And the receipt will offer a place to add more tip if you so choose, much like when paying for a meal with a credit card at a restaurant.
It's difficult for some to imagine going without cash. It's also easy to lose track of spending since you are simply charging things back. And for those of us with traveling with a family, there might be multiple people charging things to the room. Make sure you keep track of these charges. It's easy to look up your folio balance on your stateroom TV, making it more convenient to check-in and keep track.
Don't get me wrong, though. Depending on the cruise line and your habits, it's quite easy to not spend a whole lot while onboard. But the little things can add up.
When cruising, we tend to bring a little cash. Be sure to do some research on your ports of call to find out if your home currency will typically be accepted or if you will need to convert some currency to bring along on your trip.  We prefer to pay for purchases in port (especially the smaller purchases) with cash. The fewer people who have our credit card information, the better. And depending on the port, exchange rates may come into play when using plastic. Just be sure as to currency before handing over your card. I don't generally make many large purchases, just a few smaller souvenirs that strike my interest, so having sufficient cash works.
Also, if you are like us and find it appropriate to reward exceptional service, is possible to add some cash to an envelope for additional tip if you desire. We have occasionally put some extra aside for a crew member who truly made our voyage magical.
Budgeting our cash for a trip is quite simple. The ease of using a room charge makes the need for a large amount of cash while cruising unnecessary. But it also makes overspending easier. So just keep track of your expenses. Once you get home, you'll miss that ease of using one card for everything.
Bon Voyage!