This post may contains affiliate links for your convenience. If you make a purchase after clicking a link we may earn a small commission but it won't cost you a penny more! Read our full disclosure policy here.
Every week we will take a look at some fun, interesting, or new aspect of cruising the high seas!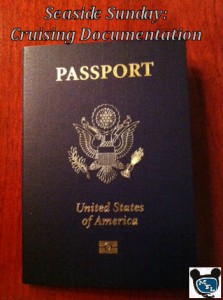 While there are lots of fun aspects of cruising (picking an itinerary, choosing excursions, planning clothes), there are many less fun, but necessary tasks as well. One of these less fun aspects is cruising documentation.
For the purposes of this blog, we're going to be looking at travel by United States citizens. The rules can vary for other countries, so if you are not a citizen, please make sure you check carefully with the authorities in your country.
To begin, there are two kinds of cruises: open loop and closed loop. Open loop cruises start in one port and end in another. Closed loop start and end at the same port. This matters because the rules change with the different cruise types.
Second, there are now two passport document types: a passport book and a passport card. A passport book is the traditional book that most of us think of when we hear the word passport. It has pages that can be stamped upon border crossings, or that may be used to display travel visas. The passport card is used for land or sea travel entering the United States from Canada, Mexico, the Caribbean and Bermuda at land border crossings or sea ports-of-entry. A passport card is not valid for international travel. For an official comparison of the two, visit http://travel.state.gov/pdf/ppt_pptCard.pdf.
Many times, cruisers are required to have a passport book. If you are flying or driving across a U.S. boarder to get to your port of embarkation, you will need a passport. International air travel requires a passport book, even if you are only flying internationally to sail. Open loop sailings require a passport. So if you will be leaving one port and arriving at another, a passport book is for you.
But in the case of a closed loop cruise (usually those sailing to the Caribbean or Mexico), the only official requirement is a government issued ID (for cruisers 18 or older) and an original birth certificate. Please note, that this birth certificate must be an original, and is required for all cruisers, regardless of age, if the cruiser doesn't have a passport. That means it should have an official raised seal. I have an old copy of my birth certificate my mother gave me from many years ago. That's not what I would need to cruise. If you are unsure, check with the county in which you were born. With both of those pieces of identification in hand, you can cruise.
All of that being said, I prefer to cruise with a passport book. For me, it covers all of the bases. There could be an unexpected reasons a cruiser would need to fly internationally. Sometimes cruisers miss the ship. Sometimes, emergencies arise, and cruisers need to leave at a port and fly back home. If either of those stressful situations came about, I prefer to not add the stress of not having a valid passport. Occasionally, travel opportunities arise that don't involve cruising. I have a passport.
While these are the rules now, they can change. Your cruise line will let you know what documentation is required for your particular voyage. And if there is any question at all, ask for clarification. But ultimately, you can check the official government website at http://travel.state.gov/. If you search by destination, you will find the specific requirements for each destination. There are some destinations, including some in the Caribbean, that require a passport. Another website for more information can be found here: https://help.cbp.gov/app/answers/detail/a_id/1139/~/documents-needed-to-take-a-cruise.
Although we may know people who have traveled without a passport successfully, even the official website recommends that it is prudent to obtain an official passport book for travel to cover any unforeseen air travel.  Make sure to check all of the information for your specific voyage and destinations. When in doubt, a passport will be the most versatile solution.
Be prepared and bon voyage!