This post may contains affiliate links for your convenience. If you make a purchase after clicking a link we may earn a small commission but it won't cost you a penny more! Read our full disclosure policy here.
Each week we will take a look at some fun, interesting, or new aspect of cruising the high seas!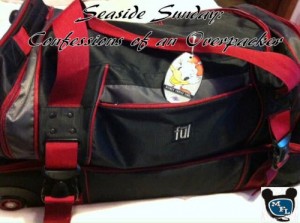 Let's start off with a confession this week: I'm an over packer. I really am not so bad when I know there will be laundry facilities available. But if I'm unsure, my over planning will come out. And that leads to suitcases. Lots and lots of suitcases.
Although I am not going to focus on laundry facilities on ships, it's worth noting because this is directly related to over packing. At least it is in my case. Before you start filling suitcases, check on the laundry situation on the ship.  Most ships will give guest the ability to send laundry out to be cleaned. Some ships (like those on Disney Cruise Line) will also have some coin-operated facilities available to guests. It's best to know in advance what your options will be on the trip. The cruise line will have this information available to you.
My last cruise was on Royal Caribbean's Independence of the Seas (this is a Freedom class ship, for you ship enthusiasts). On this particular ship, the only option available to us was to send our clothes out to be laundered, if needed. Although I will happily send items with our room steward to be ironed (remember, irons are not available nor allowed in any cruise ship staterooms), I'm not as willing to send my clothes out for cleaning. There's nothing wrong with it. It's just my issue with other people doing my laundry.
So with this situation in mind, striving to not over pack was my goal. Now, to be clear, I don't pack dozens of suitcases. I generally have one (giant) suitcase. But I'm in no way one of those people who can pack a carryon bag for an eight-night cruise.  I'd love to be, but I'm not. Plus, who knows what I will want to wear. What if it's cold in the dining room? What if I need to change clothes after a day in port? What about spills?
In order to attempt to make the luggage pile manageable, I've compiled some rules that I try to abide by.
Minimize ironing. I try to purchase items that are packable. I'd rather roll up my dress in the suitcase than worry about how I'm going to fix a wrinkly outfit. I find that this is actually a little more difficult for the men, who might be wearing dress shirts, suits, and ties to dinner (at least some of the time). But I try to purchase and pack items that I can roll up without having to pay to have them pressed.
Mix and match. Seriously, this can be difficult, but it can be done. Stick with neutral colors. One pair of dress slacks can go with multiple shirts. Bring sandals that can dress up or dress down an outfit.
Accessorize. I'm not a big accessory fan at home. But on a cruise, I have lots of choices. My plain black dress gets lots of use with different necklaces, scarves, etc. These things are far smaller and lighter to pack rather than multiple complete outfits.
Easy to clean. I'm going to spill. My kids' food will somehow magically get on my clothes. It happens. Something that I can wash out in the sink of the ship, use spot remover is a goal.
Go easy on the shoes. I try to wear my bulkiest shoes on the trip. That's usually gym shoes. Then pack the smaller sandals, dress shoes, etc. in the bag. Oh, and the inside of those packed shoes is prime real estate in your suitcase. Fill them up with socks, belts, and other small items.
Pack what you need. Yes, this one is easier said than done. But you know how long you will be gone. You likely don't need seven pairs of shorts for a five night trip. Or maybe you do. But see rule number 2 and make sure that you are only packing for the number of days you are gone. Try not to pack too many "just in case" items. Make your wardrobe choices at home. I am guilty of breaking this rule all the time.
So, by following these six rules, you can hopefully eliminate some of the over packing. I struggle with rule six. I might want to wear a tank top instead of a shirt. I might prefer my pink sandals when I get ready for dinner. You over-packers understand, right? But if I keep running the rules through my head, I just might have a little room left for souvenirs.