This post may contains affiliate links for your convenience. If you make a purchase after clicking a link we may earn a small commission but it won't cost you a penny more! Read our full disclosure policy here.
Of all the nice restaurants in Hollywood Studios, my favorites are Sci-Fi Dine-In Theater and 50's Prime Time Café. It is tough deciding where to eat between these two. Though they both are fun and have delicious foods, they each have pros and cons.
Sci-Fi Dine-In Theater, which looks like a drive-in, is a fun place to eat because you sit in cars. The lights in the restaurant are very dim, making it appear to be night, and on the walls are images of stars, the moon, and a park. All around, you see other people sitting in cars of different types and sizes.
What makes it most appear as a drive-in, however, is the large screen at the front of the room playing clips. The shorts are fun to watch, but sometimes a bit weird. They include Tom and Jerry: Fly Me to the Moon, The Cat who Hated People, movies of giant men, women and spiders attacking cities, and a clip of a Martian robot attack. Though some are funny or interesting, the movies of giant people and creatures attacking citizens can be dull or even scary for small kids, although I personally like them all. Also, the same clips are played over every hour. I wish it played a wider variety and was random so you did not see the same series of clips at the same meal, and there would be a few you did not see saved for next time.
The food at Sci-Fi tastes delicious. I order the steak, which is the best I have ever tasted anywhere. If your family has the Dining Plan, the Disney adults (ages ten and up) have the option to order a milkshake for their drink that does not count as a dessert. I accept this offer each time I visit this restaurant and still devour a sundae for dessert.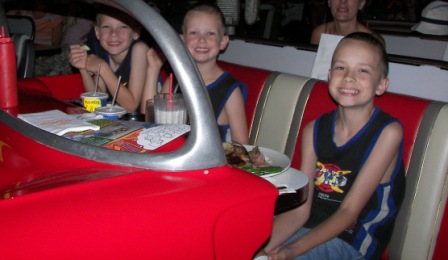 Though Sci-Fi Dine-In Theater is excellent, 50's Prime Time Café is entertaining and tasty too. When you walk in, the atmosphere feels like a huge home of the 1950's with a whole lot of guests. The walls are decorated with the styles from that decade. TV's are playing black-and-white shows from that time period, as well.
When you walk in, your "dad" or "mom" (a.k.a. the waiter or waitress) seats you and gives you rules including no elbows on the table, no tattle-telling, take your hat off at the table, and eat all your food. Sometimes, if you disobey a rule, you will be openly "punished". If you eat all your food, you will be given a clean plate sticker.
When my brother Nicholas told the waitress that my youngest brother Zachary put his elbows on the table, the waitress got everyone in the room's attention and said, "Tattle-tale, tattle-tale, shame on you." Though this may be funny for everyone else, Nicholas said he never wanted to eat at the restaurant again, though he willingly did the next year.
Another time an older man at another table would not take his hat off. As a result, the waitress made him touch his nose to the wall, which knocked his hat off. Once, my dad hid vegetables he did not like under chicken bones on his plate. When the waitress found them, she told everyone in the room and gave Dad an upside-down, clean plate sticker. Also a man once was pulled in his chair from one room into the corner of another for time-out, although we could not tell why he was being punished.
Though the punishments can be funny, embarrassing, or both, the food tastes delicious. I wish they had steak on the menu, but the roast beef I ate was great. At 50's Prime Time, you also have the option to receive a milkshake for you drink if you are on the Dining Plan. When you finish your meal, the waiter or waitress will hand you a viewfinder with your choice of desserts. One of the choices is s'mores. It consists of a huge graham cracker with a large chocolate bar on it, eight marshmallows over that, and chocolate icing drizzled over the top. Of all the desserts in Disney World, that is my favorite!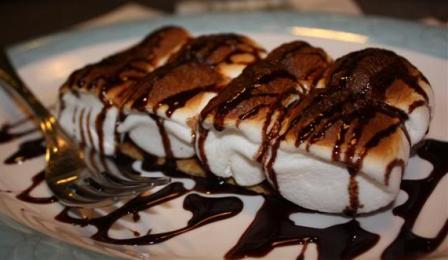 Sci-Fi Dine-In Theater and 50's Prime Time Café are both fun restaurants with delicious food, and I love to visit them both when I can. Deciding between the two of them would be difficult, but I would choose Sci-Fi Dine-In Theater because of the drive-in aspect and the tasty steaks.
Incoming search terms:
https://www themouseforless com/blog_world/sci-fi-dine-in-theater-vs-50s-prime-time-cafe-by-brandon-age-12/
which is better 59s prime time cafe or sci fi dine in theatre