This post may contains affiliate links for your convenience. If you make a purchase after clicking a link we may earn a small commission but it won't cost you a penny more! Read our full disclosure policy here.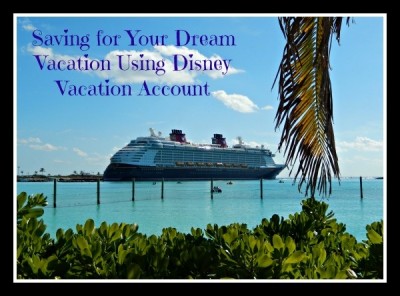 One of the toughest parts of planning a Disney vacation for many Disney-lovers is saving up for the trip. Even with the various discounts offered throughout the year, it's no secret that Disney vacations can be pricey! Since our family takes frequent Disney vacations, it seems like we're always saving up for a trip, so when we recently stumbled upon the Disney Vacation Account (DVA) we had to check it out – read on to learn more!
What is the Disney Vacation Account?
The DVA is a Disney-specific vacation savings program. You can sign up online at www.disneyvacationaccount.com and begin saving money towards your dream vacation. The money you save in your DVA can be used to purchase a Disney vacation online or over the phone.
How does the Disney Vacation Account work?
As part of the online registration process, you'll be asked some questions about the vacation you're planning to help determine how much you'll need to save and how much time you'll have to do it. You can also select how often you'd like to contribute to your account. The site will then help you to create a savings plan (for instance – if we were planning to take a $2,000 Disneyland vacation 5 months from now, and wanted to make monthly contributions, we'd need to contribute $400/month).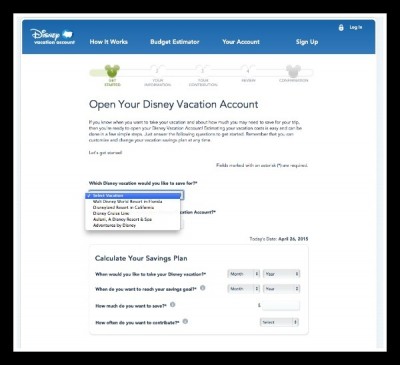 To ensure that you stay on-track to achieve your savings goal, you can elect to set-up automatic recurring payments using your credit or debit card at a weekly, bi-weekly, or monthly frequency. Breaking your goal down into smaller chunks can definitely make saving for your dream vacation more manageable!
If you'd prefer to make contributions at your own discretion, one-time payments are also an option. You can also add Disney gift cards to your DVA, which is especially useful when you've received numerous Disney gift cards for the holidays! This is the route we've taken – we used our Disney Visa to make an initial one-time contribution to open our account (that way we also earned 1% back in Disney Reward dollars!) and have continued to make additional one-time payments using Disney gift cards. We've found that it's much more efficient to combine gift cards using the DVA than attempting to pay off a vacation with 50+ cards!
What can I purchase with my Disney Vacation Account?
You can use your DVA to purchase the following types of Disney vacations:
Walt Disney World Resort (Florida)
Disneyland Resort (California)
Disney Cruise Line
Aulani Resort (Hawaii)
Adventures by Disney
Make sure to note that the DVA can only be used to purchase these Disney vacations online or over the phone – it cannot be used for purchases on site (including incidentals charged to your room). When purchased as part of a vacation package, you can use your DVA for purchases including lodging, dining, park tickets, transportation, entertainment, and more. Although purchasing a Disney vacation using the DVA works essentially like using a Disney gift card, the DVA cannot be used for purchases at the Disney Store (in-store or online), as it is a vacation savings program. As with any financial decision, make sure to read the fine print on the DVA site before enrolling for an account.
When we called Walt Disney World recently to pay-off our upcoming stay at Old Key West, the Cast Member we spoke with was unfamiliar with the DVA and had to put us on hold to ask a supervisor about it. Once she returned to the call, she had no trouble taking our DVA number and processing the payment. If you encounter a similar situation with a Cast Member unaware of DVA, we'd suggest just saying that you'd like to use a gift card for your payment – this seems to prevent potential confusion.
Is there anything else I should know about the Disney Vacation Account?
One major selling point of the DVA is that there are no fees associated with the account. You definitely wouldn't want to sign-up for a savings program only to find out that there are hidden fees – that would be counterproductive! If you're concerned that you might "over-contribute" to your account, don't fret – you can request that funds be applied to a Disney gift card (per the site, there is a maximum of $1,000 every 90 days), which you can use to make purchases anywhere Disney gift cards are accepted.
If you're looking to save money (and really, who isn't?!) another great way to save on a Disney vacation and optimize use of the DVA is to purchase Disney gift cards at Target using your "Red Card," which will save you 5% on your purchase. While 5% might not seem like a huge deal, when you're spending thousands on a Disney vacation, it can definitely add up! You can then add the gift cards you've purchased at Target to your DVA and you'll reach that savings goal in no time!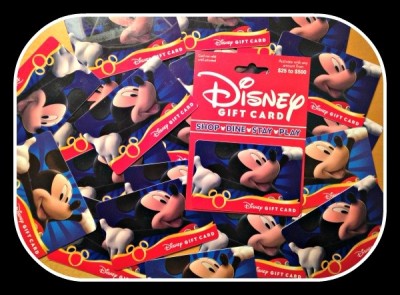 Another perk of the DVA is that for every $1,000 vacation purchase you make with your account, you'll earn a $20 gift card (up to a total of $500). You could then add that "bonus" gift card to your account to get started on saving for your next dream vacation… because if you're anything like us, there's always a next trip on the horizon!
Have you considered using the Disney Vacation Account for your future Disney vacations? What are your thoughts?