This post may contains affiliate links for your convenience. If you make a purchase after clicking a link we may earn a small commission but it won't cost you a penny more! Read our full disclosure policy here.
From Our Magically Speaking Newsletter Archive – subscribe today!
By Ann Dunnington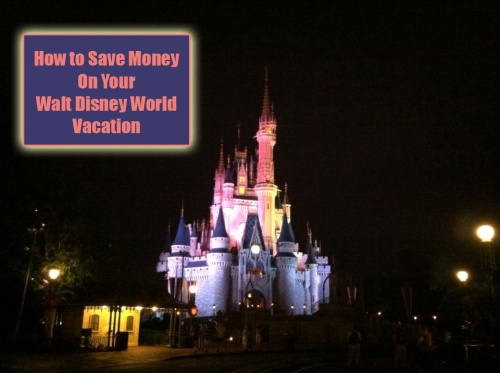 The holidays are quickly approaching, and with that comes the perfect time of year to surprise the family with a vacation to the Walt Disney World resort! If you're over the age of 18, a question that probably runs through your mind as you're planning your trip is "How can I save some money?" Well, frugal shopper, you have come to the right place. I am going to share with you my top 10 tips on how to save money at Walt Disney World.
1- Scour sites like eBay for Pins and Vinylmations to trade. These are fun activities for kids (and adults) to participate in, and it will save you time and money before your trip to stock up before you travel.   These also make great souvenirs, and buying them online really can save you a ton of money. Be sure to check the seller ratings, and read the item descriptions carefully before purchasing! Not everything you see is always legit.
2- Buy Disney gift cards from your local grocery store. I like to estimate how much I will be spending on food, lodging, activities, etc., and purchase Disney gift cards to cover those costs ahead of time for a number of reasons. First, it can help you "spread out the cost" of the trip by purchasing a gift card or two a week. Second, by purchasing gift cards during this time of year from the grocery store, generally you can save money on gasoline or future grocery trips by accumulating points on your grocery rewards card. It's money you will be spending anyway, why not get rewarded for it?
3- Consider booking your vacation with an Authorized Disney Vacation Planner, like the nice folks over at The Magic For Less Travel. They are always on the hunt for the best deals for your vacation, and better still, Disney pays them for their booking service, not you! You have no choice but to save (time and) money.
4- Make a list, and stock up on vacation essentials before you travel. Let's face it- buying sunscreen, batteries, and ponchos at Walt Disney World can be expensive. Very expensive. Be sure to bring anything and everything you think you will need in your suitcase to save you money and frustration at the parks. I never leave for my vacation without ponchos from the dollar store, a plethora of sunscreen, and enough bandages to make a mummy blush.
5- Shop early and often for airfare, and don't forget about the discount sites! Airfare can be very expensive, but utilizing sites like Hipmunk, Orbiz, Kayak, Travelocity, and Priceline can be helpful in finding the best deals. If you rent a car, check out Car Rental Savers, Costco, and your credit card company's travel section. My best car rental deals have come from Capital One and Chase credit cards.
6- At the park, split meals, or order off the children's menu. Disney is notorious for large food portion sizes. At the counter service restaurants, there is no shame in ordering off of the children's menu for an adult. Another tip is when ordering at a counter service restaurant, you don't have to get everything in the combo meal. If you only want a sandwich, just order the sandwich alone. It'll save you a few bucks. Oh, and don't forget to get your free ice water! At table service restaurants, portion sizes are huge, so feel free to split your meal with another family member. You'll have plenty of food, I promise, and use those pre-purchased Disney gift cards to pay!
7- Stop for groceries! I don't know about you, but eating "out" for 3 meals every day can wear on me after a while. We now rent a car, so we stop by Publix on the way to the hotel to pick up some food for the hotel rom. Prior to our car rental days, we packed jars of peanut butter, packs of apple sauce, granola bars, bagels, cereal, even a cooler full of cooked and frozen meat and vegetables, in our suitcase, and it made the trip just fine. Or, another option is ordering from one of the local grocery delivery services to have groceries delivered right to your room. By at least having breakfast in the room and bringing your own park snacks, you can save yourself a tone of time and money.
8- Check websites that offer discount codes for things like tickets and rental car codes. Did you know that The Mouse For Less is dedicated to saving you money on your Disney vacation via discount codes and promotions? Also, be sure to check out the various crowd calendars available to help plan your travel dates. The longer you stand in ride lines, the less value for your dollar you are receiving.
9- Rent a car? Fill up at the Hess! There are a few Hess gas stations on Disney property, and if you rented a car (or if you drove), fill up with gas while on property to save some money. The gas prices at the Disney Hess stations are very reasonable, and so much less expensive than gas stations near the Orlando International Airport. Plus, they have great prices and specials on snacks, water, and personal care products. If you didn't rent a car, the easiest, walkable Hess Station is near the Boardwalk Inn by EPCOT, and you can stop in over there to pick up sundries to save a few dollars over buying on Disney property.
10- And for my final tip, keep a change jar! My husband and I have a change jar that we throw our loose change into, and after doing that for a year, we had nearly $500 saved up! Not to mention a ton of quarters and pennies for the pressed penny machines (which are my all-time favorite souvenirs).
So there we have it, folks, my top 10 tips for saving money on your next Walt Disney World vacation. If you have any other tips, please share with your fellow readers! Leave a comment or let us know on Facebook!
Magically Speaking Featured Article
Library of Congress ISSN:1556-3863