This post may contains affiliate links for your convenience. If you make a purchase after clicking a link we may earn a small commission but it won't cost you a penny more! Read our full disclosure policy here.
Satu'li Canteen is Pandora – The World of Avatar's fast-casual restaurant seating 330 guests inside and an additional 190 diners outside. The international-inspired menu is served in what used to be the mess hall of the Resources Development Administration (RDA), now re-purposed to be the dining facility of the Alpha Centauri Expeditions on Pandora. Na'vi art is found throughout the restaurant.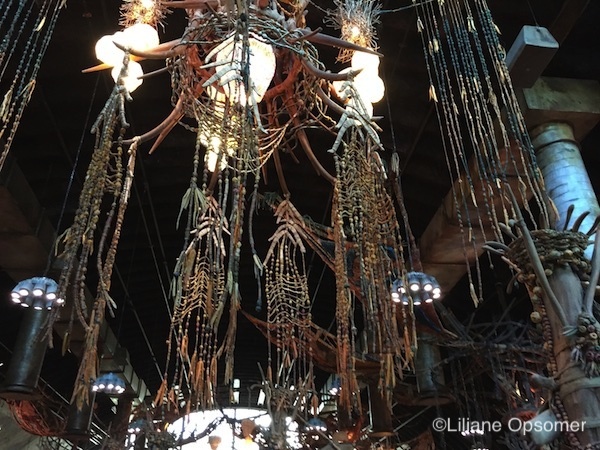 Satu'li Canteen is Pandora's answer to Chipotle's rice bowls. You pick a base of starch, grain, or lettuce; a protein (chicken, beef, fish, tofu); and garnishes. I loved the Beef Bowl served on rice, dressed with charred onion chimichurri sauce and topped with sweet-sour popping boba balls.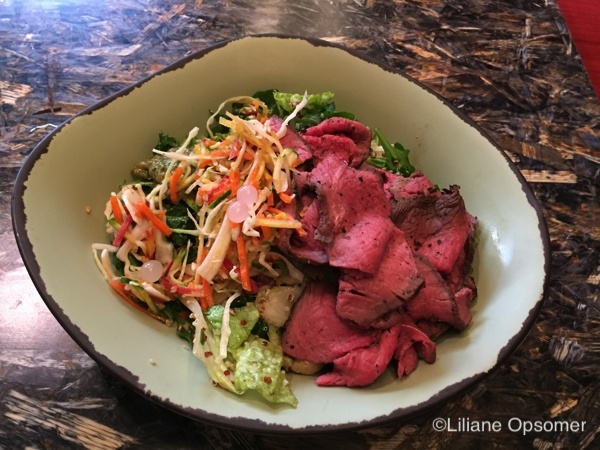 Bao Buns Anyone?
Another favorite of mine is the steamed vegetable curry pods—bao buns. The Cheeseburger bao buns are an interesting take on the traditional cheeseburger. The filling of the pods is a mixture of ground beef, ketchup, mustard, Cheddar cheese, and pickles. Both versions are served with a side of root vegetable chips and vegetable slaw.
The restaurant is open for breakfast, lunch, and dinner with most meals available as kid's meals. Non-Pandora-inspired children's meals for lunch and dinner are an all-beef hot dog wrapped in dough and a cheese quesadilla.
Dessert a Must on Pandora
For dessert, try the blueberry cheesecake served with a sweet-and-sour passion fruit curd. It is beautiful but too rich for my taste.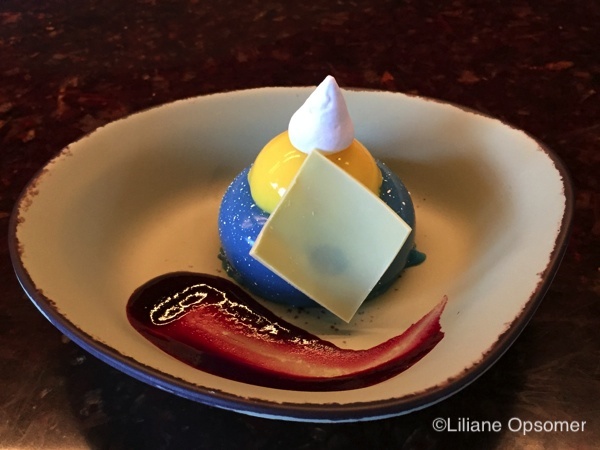 Luckily there is also a chocolate cake served on a cookie layer and topped with banana cream. While not as aesthetically pleasing as the cheesecake, the chocolate cake is definitively a winner.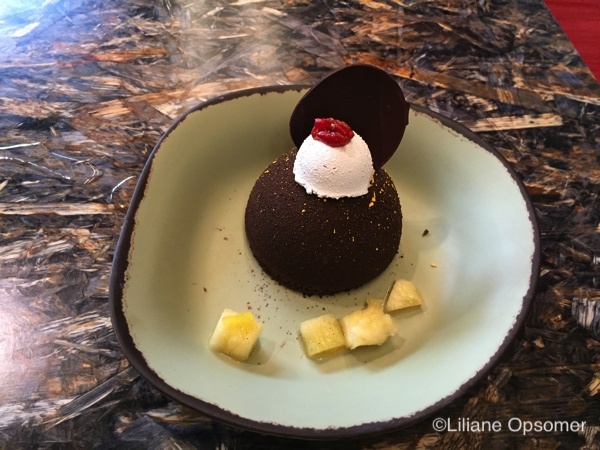 What to Drink on Pandora
Satu'li Canteenserves two beers specially brewed for Pandora, Mo'ara High Country Ale and Hawkes' Grog Ale. Stella Artois and Bud Light are also available. The Banshee Pinoit Noir and the Banshee Chardonnay are nothing to write home about, but the Dreamwalker Sangría, a white Sangría with a hint of Blue Curaçao, is refreshing.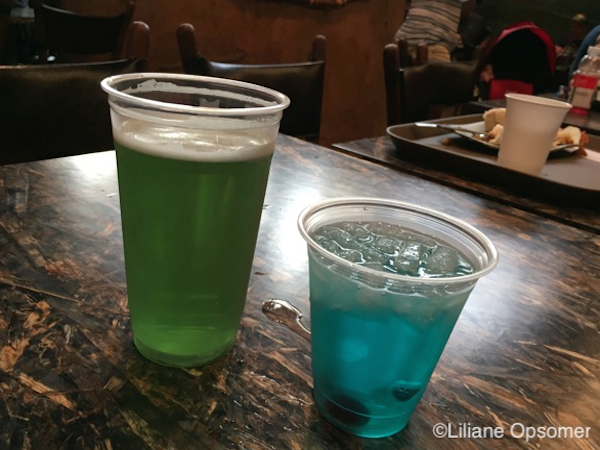 Breakfast at Satu'li Canteen
For breakfast, the restaurant has steamed pods filled with scrambled eggs, bacon, spinach, and Cheddar cheese on the menu. Another option is oatmeal with caramelized brown sugar, bourbon-soaked raisins, Marcona almonds, and goji berries. (Editor's Note: You do have to be 21 to order the oatmeal.) A vegetable-goat cheese frittata with grilled beef and chimichurri sauce is also available. If you are really hungry, go for the slow-roasted pork and potato hash topped with grilled chorizo sausage. For the sweet tooth, there is French toast served with a blueberry cheesecake dollop, passion fruit sauce, and pork sausage. Healthy options include a fruit plate with fresh yogurt and muesli. For kids that are not interested in a Na'vi-inspired breakfast, two different cereals are offered.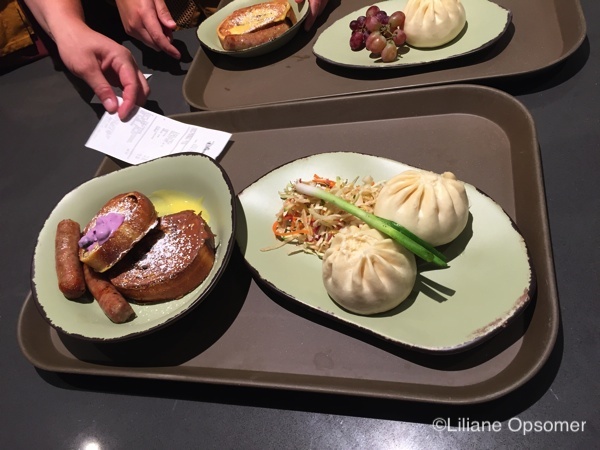 Mobile Ordering
Satu'li Canteen is the first quick-service restaurant to offer Mobile Order. Using the My Disney Experience app, guests can preor­der and prepay for their meals. Once they are at the restaurant, they tap the "I'm here" button in the app, and the kitchen will begin pre­paring the meal. Once ready, the app alerts guests to pick up their meals at a designated window. I love Mobile Order—it even worked for just ordering a beer!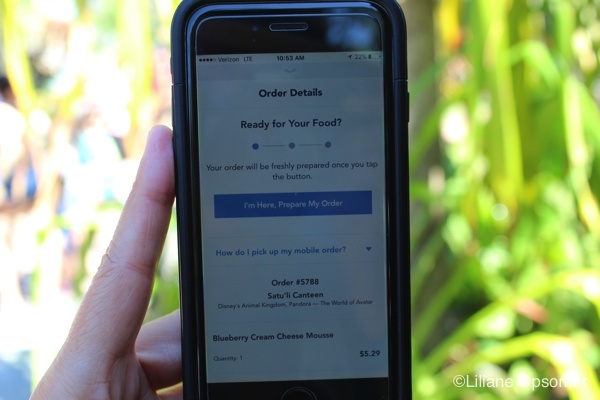 There is really much to like about Pandora's main eatery. The meat is grilled on a show grill, and one gets to eat from real plates and with real cutlery!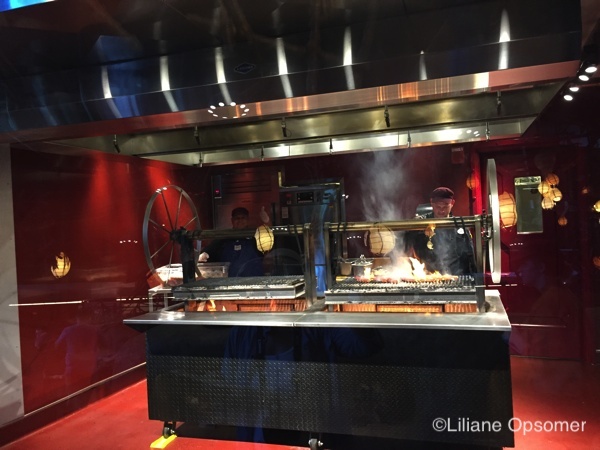 Satu'li Canteen is probably not a winner with non-adventurous or picky eaters, but it is a most welcome departure from the regular park fare.
For all there is to see and do on Pandora check out Liliane's article here.
Have you tried Satu'li Canteen yet? Which meal was your favorite and what did you like best? Share in the comments.
Did you like this article? Make sure to share it with your friends! Check below for easy ways to share!