This post may contains affiliate links for your convenience. If you make a purchase after clicking a link we may earn a small commission but it won't cost you a penny more! Read our full disclosure policy here.
Every year, ahead of Christmas Eve, Santa and Mrs. Claus, along with their elf Candy Kane, take a relaxing vacation at the Walt Disney World Swan and Dolphin. Even though this is their annual vacation, they make time to meet with guests. Liliane Opsomer, coauthor of The Unofficial Guide to Walt Disney World with Kids, caught up with the merry couple and their helper to find out what there is to do at the resort.
On select nights, starting at 5 p.m., kids can join Cast Members in the lobby of the Swan to decorate holiday cookies. Everybody is welcome, even non resort guests.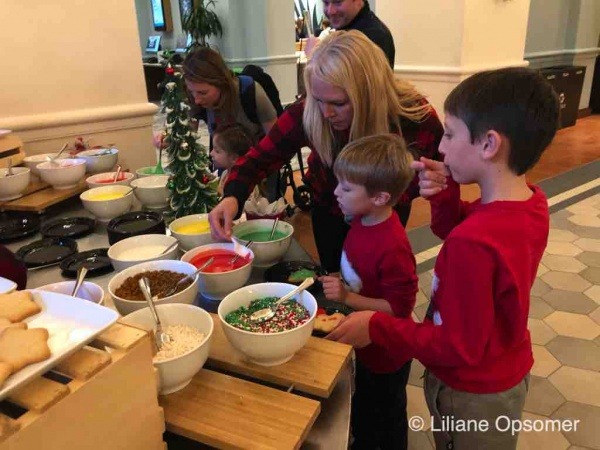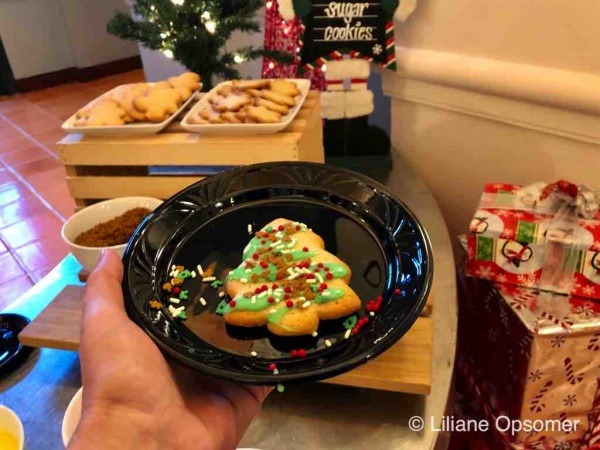 Over at the Dolphin, make sure to see the Mrs. Claus Holiday Show. At 6 p.m. Mrs. Claus and elf Kandy Cane, with the help of the children present, will make it snow in the lobby. And snow it does!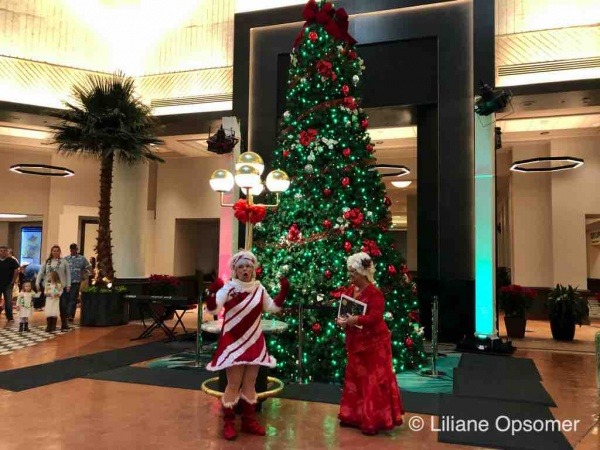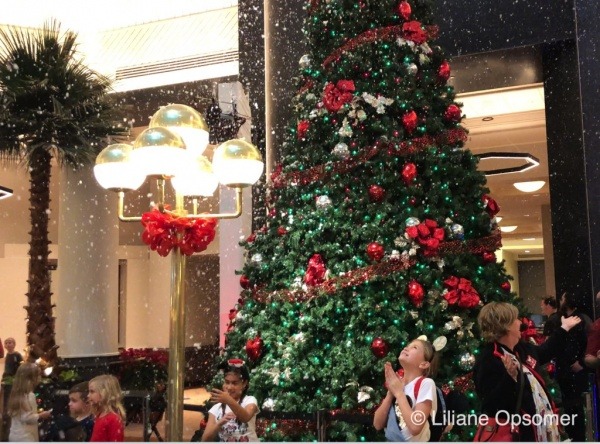 After the show Mrs. Claus and elf Kandy Cane walk over to the causeway linking the Dolphin and Swan resorts. Follow them as they will lead you to a meet-and-greet with Santa Claus. Santa Claus arrives in his golf cart, which is decorated for the holiday season. He greets little tykes and their families in his Tiki hut.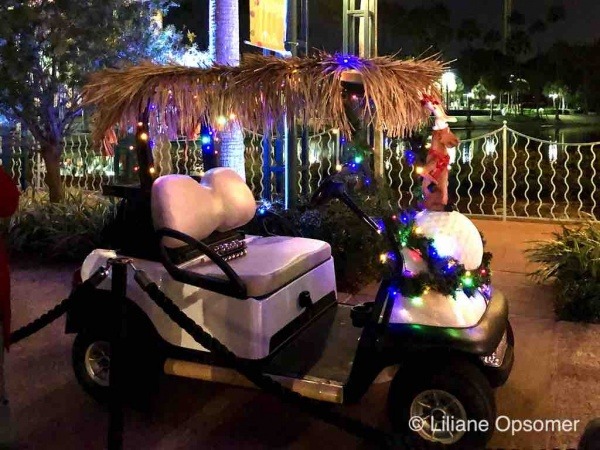 The hut is decorated Florida style, complete with flamingos and palm trees. It is a great way to get an unusual Christmas picture. Santa Claus takes time with each child and family, and kids leave with a candy cane treat.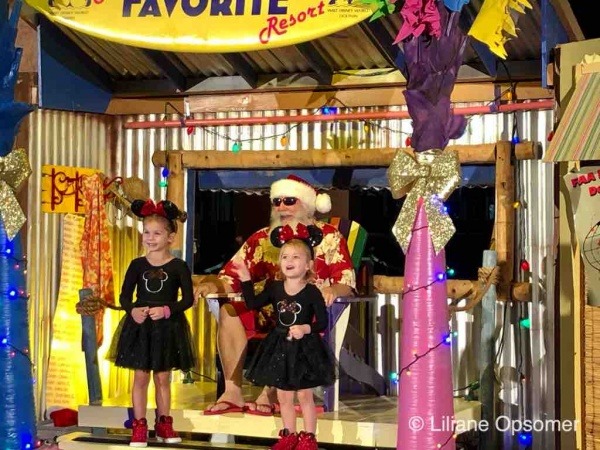 Wait, There is more to Christmas at Walt Disney World Swan and Dolphin
The causeway is also home to Santa's Dancing Lights Spectacular. The dancing illuminated palm trees come alive nightly to tunes of the season. The show repeats every 10 minutes, from sunset until 10 p.m.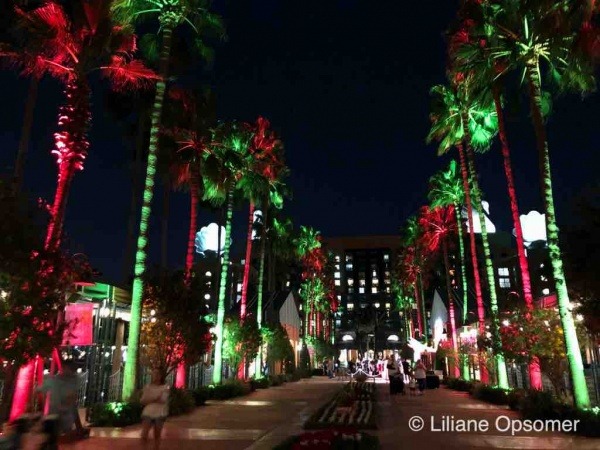 In the lobby of the Swan, Chef Laurent Branlard has created a stunning holiday display made entirely out of chocolate—lots of chocolate! Feast your eyes on Santa sitting in his chair at the fireplace, surrounded by a 7-foot-tall, 400-pound nutcracker and a Christmas tree. Chef Branlard is a two-time world pastry champion and the resort's executive pastry chef.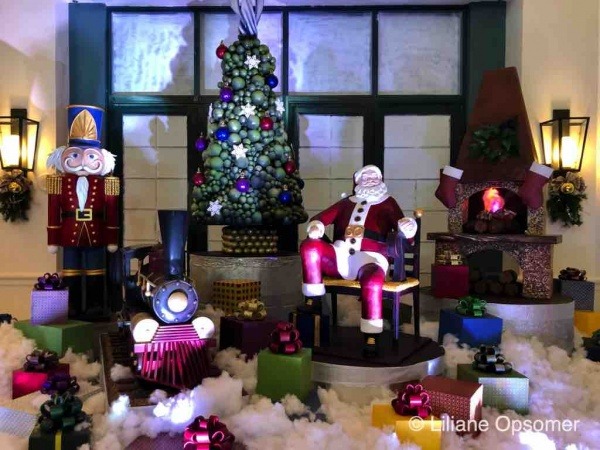 The Walt Disney World Swan and Dolphin resorts offer lots of activities; a complete list is available here. On select nights you can even arrange for an Elf Tuck-in. One of Santa's elves will visit your room and read The Night Before Christmas to your child. It is quite a magical experience. Best of all, the elf brings cookies and milk in a keepsake mug, and you get to keep a copy of the classical Christmas tale. Price varies by date and reservations are required. To book, call 407-934-4206.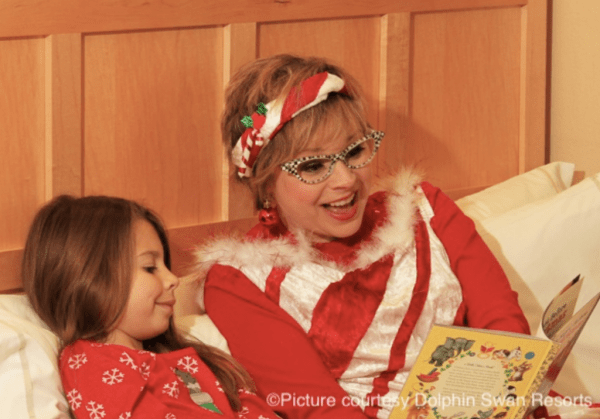 On Christmas Eve stop at the concierge desk and make sure to request Santa's magic key. The key works for Santa only, but your little tyke will rest assured that Santa will be able to enter and leave gifts.
Dining at Walt Disney World Swan and Dolphin during the Holidays
All restaurants at the Walt Disney World Swan and Dolphin resorts offer special menus for the holidays.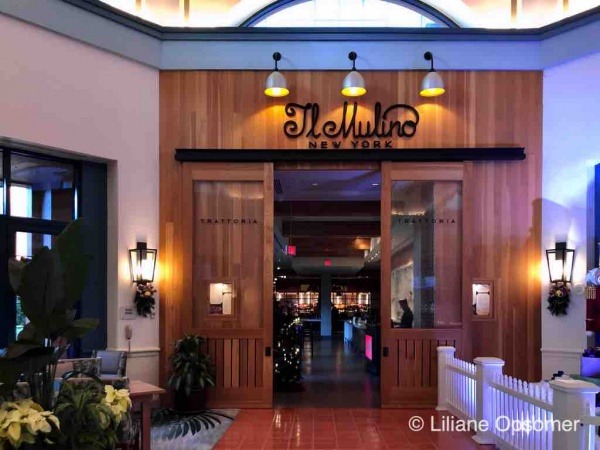 I recently dined at Shula's Steak House. While Shula's Steak House pays tribute to their founder, Miami Dolphins coaching legend Don Shula, don't expect a football atmosphere and nothing but burgers. The brand-new look of the restyled interior is matched by a new and sophisticated menu. The new layout of the restaurant is aesthetically pleasing, but the open design contributes to increased noise levels as large and open rooms welcome more sounds.
For starters I enjoyed a delicious Tuna Tartare, followed by Herb-crusted Prime Rib. A friend joining me went for the Shellfish Trio (Shrimp Cocktail, Jumbo Lump Crab Meat, and Half of a Maine Lobster Tail served with Cocktail Sauce, Rémoulade, and Mustard Sauce), and the 22-oz Cowboy Ribeye. As a side we ordered creamed spinach. The meal was accompanied by wonderful warm bread, but beware, if you eat all of the bread, you will not be able to finish your main course. And while we did not eat all of the bread, we still did not manage to finish our main course, nor the one side dish we ordered. Portions at Shula's are huge!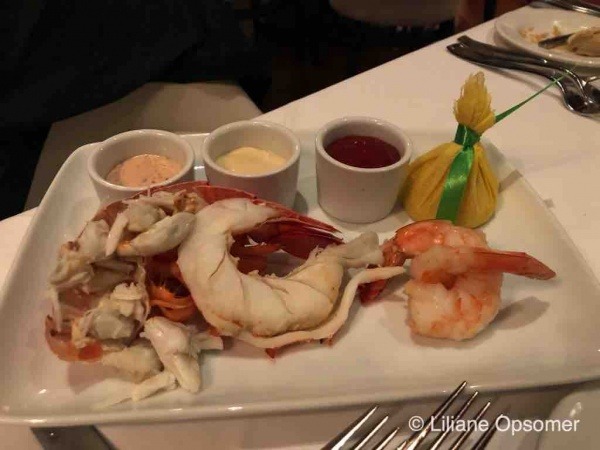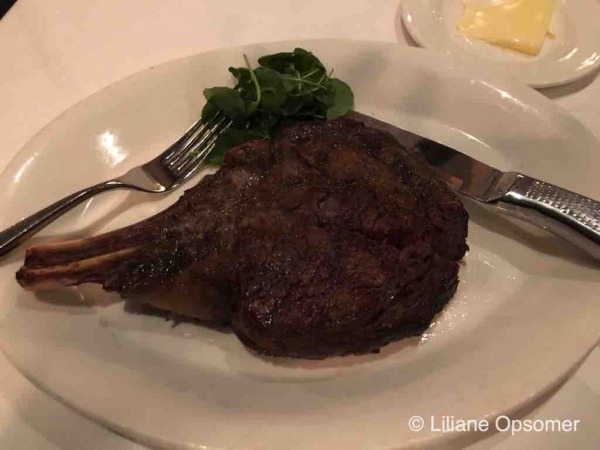 But what would a meal be without desert, right? We ended ours sharing a Chocolate Soufflé. And yes, we did finish it!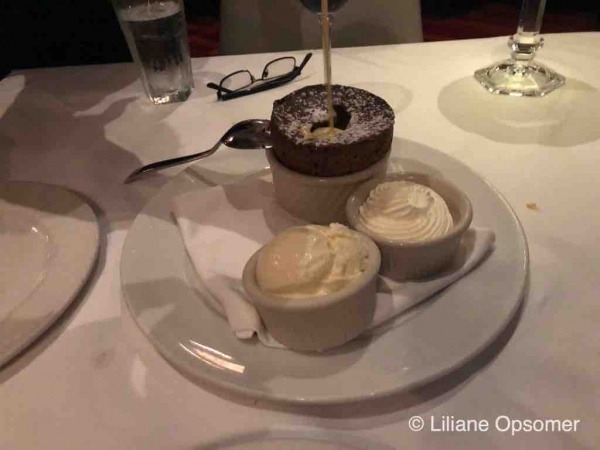 A Holiday Recipe from Pastry Chef Laurent Branlard and his team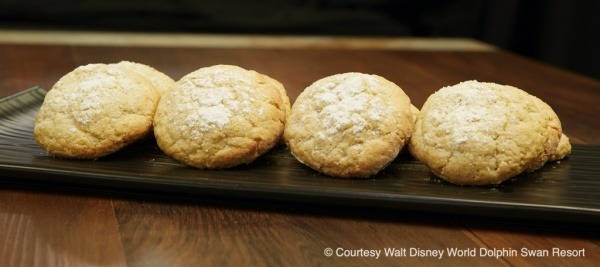 Walt Disney World Swan and Dolphin Executive Pastry Chef Laurent Branlard and his team shared with me an Egg Nog Gooey Butter Cookies recipe. These cookies will be served at Garden Grove at the Christmas Eve and Christmas Day buffets. I gave them a try and so should you!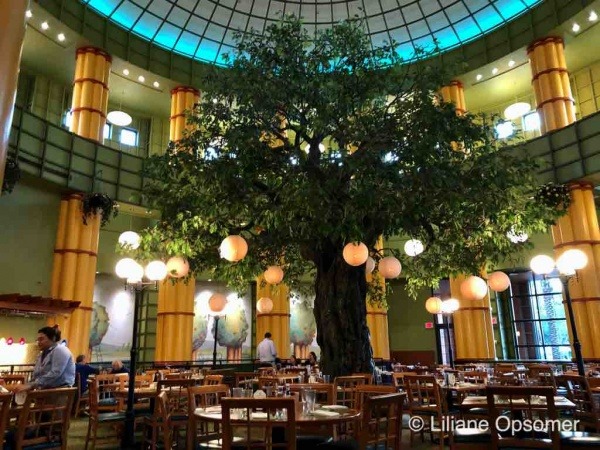 Garden Grove is home to a daily character breakfast and sports a beautiful gingerbread house display.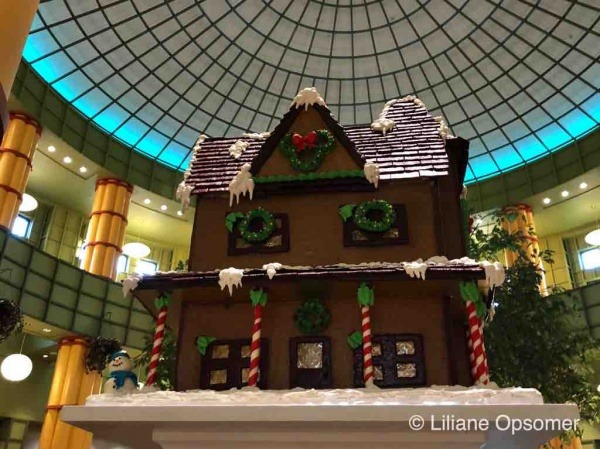 Ingredients:
2 ½ cups all-purpose flour
2 tsp. of baking powder
2 tsp. of vanilla extract
3/4 tsp. of ground nutmeg
1/4 tsp. of almond extract
1/2 tsp. of ground cinnamon
1/2 tsp. of salt
1 8 oz. package of cream cheese
1 large egg
1/2 cup of softened butter
1 ½ cups of sugar
2 tbsp. of spiced rum
1 ½ cups of confectioners sugar (for rolling and dusting cookies)
Preparation:
Mix flour, baking powder, spices and salt together and set aside. In an electric mixer with paddle attachment, cream butter and cream cheese together until light and fluffy. Scrape you bowl a few times to help it get smooth and creamy. Add in the 1 whole and egg yolk. Mix until combined. Add the spiced rum, the cinnamon, as well as the vanilla and almond extract. Mix until combined. Scrape down your bowl. Add in dry ingredients. Mix until combined. Do not over mix. Let mix refrigerate overnight.
Pre-heat oven to 325°F. Pull out cold dough. Using a small scoop, start scooping the dough into a bowl of confectioners' sugar. Roll balls individually by hand in the sugar until well coated. Place onto cookie sheet in consecutive rows and enough spacing. Cookies will spread out a little bit. Dust the tops with more confectioners' sugar before baking.
Bake for 7 minutes in conventional oven. After 7 minutes, rotate your pan, and bake for 7 more minutes to ensure they get a good amount light golden brown color. Cookies will look crackly. Do not over bake otherwise cookies will not have that soft center you want. Let cool on a cookie rack and dust with more confectioners' sugar. Keep the cookies in an air tight container.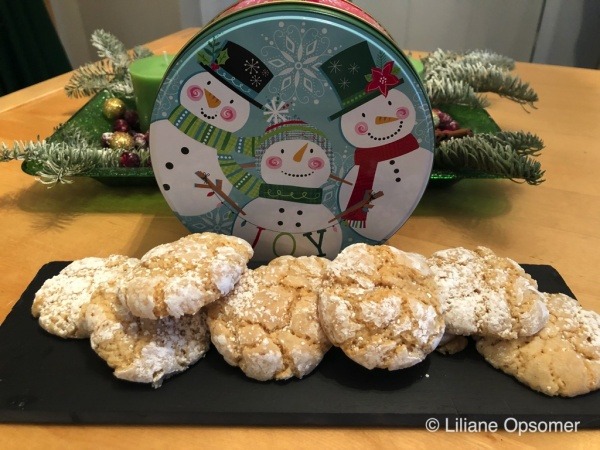 Note: Baking time varies depending on your oven. My cookies took 20 minutes to be done. The dough is a sticky affair and I used two tea spoons to scoop dough out of the bowl and into the powder sugar before rolling them into balls. After baking it helped to let the cookies cool off before transferring them to the cookie rack.
Staying at the Walt Disney World Swan or Dolphin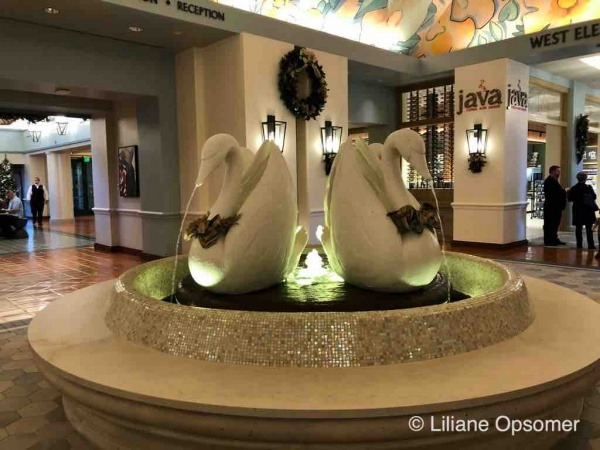 Rates for a room on Christmas Eve for a family of four start at $188 at the Dolphin and $229 at the Swan, plus taxes and resort fee. The resort fee is $30 plus tax per day, per room. Daily parking is an additional $25. For reservations, check out the website.
Did you like this article? Make sure to share it with your friends! Check below for easy ways to share!
Want to visit the Walt Disney World Resort? Contact The Magic for Less Travel for more information and a free, no-obligation quote.